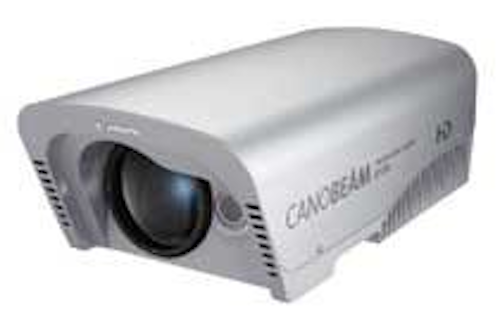 The point-to-point wireless technology is connecting disparate nodes at gigabit speeds.
by Patrick McLaughlin
Well recognized as a niche technology that wirelessly connects network nodes when the prospect of installing cable is impossible or at least impractical, free-space optics (FSO) is being deployed around the globe. The technology, which sometimes competes with microwave-based wireless systems for over-the-air transmission, typ-ically is deployed from building-to-building, either from a rooftop or through a window. The transmitter/receivers provide line-of-sight connections of Ethernet signals.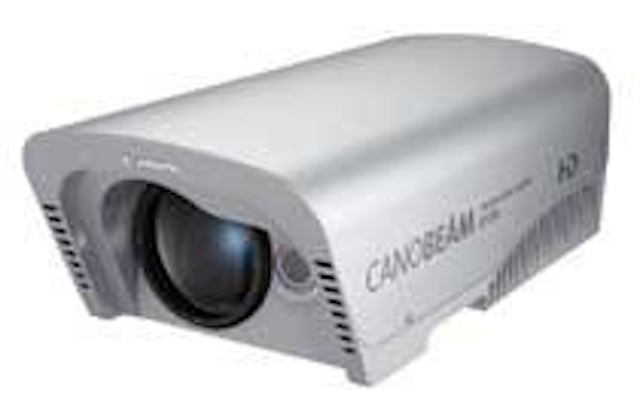 The DT-150 Canobeam Transceiver is the latest FSO offering from Canon USA Inc.'s Broadcast and Communications Division, and is used for HDTV sports and entertainment broadcast applications.
Click here to enlarge image
Business has been good, according to Peter Schoon, president of FSO integrator System Support Solutions (www.systemsupportsolutions.com). "Everything gets more efficient," he explains. "The products get better, and as a result our customers require less support from us." System Support Solutions is a dual-media provider, with a little less than half their business coming frommicrowave-based systems and the remainder from FSO systems.
On the choice between the two technology types, Schoon cites what is a typical situation for many of his clients: "A user may be ready to order an 800-meter FSO link, which will provide 99.5% availability at an attractive cost. For a 100%-available microwave link, the user will have to pay about an additional $10,000. The difference in uptime averages about three hours per month."
FSO or microwave?
"The new microwave products are competitive products to FSO in general," acknowledges Gordon Tubbs, director of marketing for the broadcast and communications division of Canon USA Inc., which offers the Canobeam FSO family of products (www.canobeam.com). "Users need the right tool for the right job, and there are advantages to both. In some cases microwave systems will travel long distances. FSO is unlicensed technology, which is as easy to install as microwave. FSO will always have its place, and there certainly is room in the market for both."
Lightpointe's (www.lightpointe.com) general manager Cathal Oscolai concurs: "There is a strong market for FSO," he says, "and it is continuing to grow. With the right strategy, I see the market expanding even further in years ahead. There are competitive technologies and circumstances in which one is more suitable than another. But there continues to be a strong case for FSO. When high bandwidth is in demand, FSO provides it at a reasonable price point and without licensing issues."
One of Canon's customer stories provides an example of when FSO likely wins the day over microwave. Nice Shoes—which provides commercial post-production services, not footwear—has offices on both sides of Park Avenue in Manhattan. As Canobeam describes the situation, "Microwave was not an option in this RF-heavy urban environment, and local fiber loops were not cost-effective. The company chose the Canobeam DT-130 Free Space Optics Transceiver, which provides secure, wireless 1.25-Gbit/sec data transmission." System Support Solutions installed the DT-130 set.
"Once we made the move across the street, the slower T-1s proved to be inadequate," says Nice Shoes engineer Blake Cornell. "The local loop was a monthly expenditure, but theCanobeam's speed allowed us to cut that cost out entirely."
Increased speed requirements
Speed is a common theme with many FSO users, according to both Tubbs and Oscolai. "We see much more interest in Gigabit systems than 100-Megabit systems," Tubbs notes. "We are still selling the 100-Mbit systems, but the [1-Gbit/sec-capable] DT-130 is what we're selling most today. That holds true across the board, including Asia and Europe."
Adds Lightpointe's Oscolai, "The underlying technologydevelopment has been progressively more Gigabit Ethernet. Users are migrating to Gigabit Ethernet in the backbone, and even to the desktop in some cases. When it comes time to connect a second location, the IT manager does not want a low-speed connection."
Oscolai continues, "There is still a market for Fast Ethernet. One of its advantages is that it can cover a slightly longer range than Gigabit. And they do remain popular for longer-range connections. We recommend Gigabit systems for connections up to 3,000 feet and Fast Ethernet goes up to 6,000 feet. But the trend is migrating from Fast to Gigabit Ethernet, and the shift has been happening for the past two or three years."
The business side
Both of these FSO equipment providers have expanded their business horizons over the past couple years. Canon established a partnership with Molex Premise Networks (www.molexpn.com) two years ago, and is using Molex's reach to distribute its products in many parts of the world. In 2007, it also introduced the Canobeam DT-150 HD transceiver, to address the dramatic growth in HDTV sports and entertainment productions, as well as the need for permanent HD and SD video links at broadcast facilities.
The DT-150 provides bidirectional, uncompressed 1.5-Gbit/sec transmission of embedded digital video, audio, and camera-control signals on a single stream without delay, the company says. It can also relay embedded video from multiple cameras or other video sources, along with embeddedreturn video and audio to the camera operator, camera-control signals, and robotic camera-control data.
"HD is such a common factor in everybody's lives now, especially at most broadcast facilities," Tubbs says. "By seamlessly providing users with affordable, wireless, point-to-point uncompressed digital transmissions, the DT-150 HD Canobeam is playing a major role in revolutionizing the broadcast industry as the transition to HDTV accelerates."
Lightpointe's major story of the past couple years has been its financial turnaround. The company filed Chapter 11 bankruptcy in mid-2006. "Since that time, we have been working to put a financial structure in place," Oscolai says. "Throughout Chapter 11, we remained in business, continuing to manufacture and sell FSO products. And we have experienced quite satisfactory sales goals over that time."
Oscolai adds, "Following the restructuring, we looked at the business and analyzed what worked well and what could be improved. One thing was very clear: pricing limited the market that we could address. The typical customer for FSO equipment is the IT manager for a large or medium enterprise. With the right price point, that becomes a very attractive option. It is a price-sensitive market and we aggressively pursue theenterprise market."
In March 2007, the company dropped the price of its FlightStrata 155E and FlightStrata G systems to $12,900 and $14,900, respectively. The company said that represented an average drop of $9,200 per system, and at the time said it was for March 2007 only. In May, Lightpointe announced reductions in list prices for those two product lines as well as the FlightLine 100 and FlightLite 100E systems.
System Support Solutions' Schoon says, "The biggest news in the FSO industry is Lightpointe slashing its prices." He says competitive pricing is one of three musts for FSO system providers' successful strategies. The other components of a successful business model, he says, are to have staff knowledgeable and committed to FSO, and to offer the latest technology—in particular, autotracking, which is the transceivers' ability to self-align. Not all systems have the capability, but those that do not reportedly are not selling well.
On the rise
FSO technology has, to a great degree,stabilized in the past few years. The challenges posed by fog and otherenvironmental conditions are now well known and can be planned for (or against). From all reports, the market for this technology is significant and worldwide. Integrators are seeing revenues rise while users' throughput rates do the same.
PATRICK McLAUGHLIN is chief editor of Cabling Installation & Maintenance.