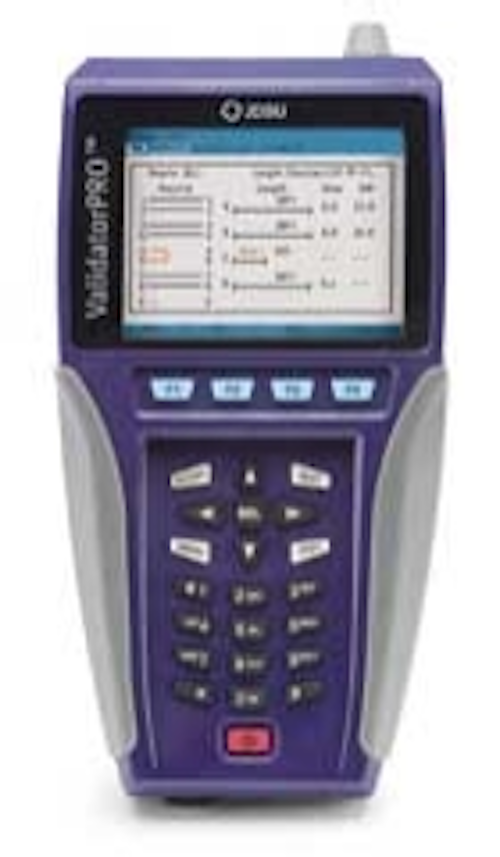 Copper, fiber, Wi-Fi certifier
The ValidatorPRO and ValidatorPRO-NT are handheld testers designed to allow enterprise network installers to speed-certify Ethernet cabling, perform optical power measurements, and verify connectivity of Wi-Fi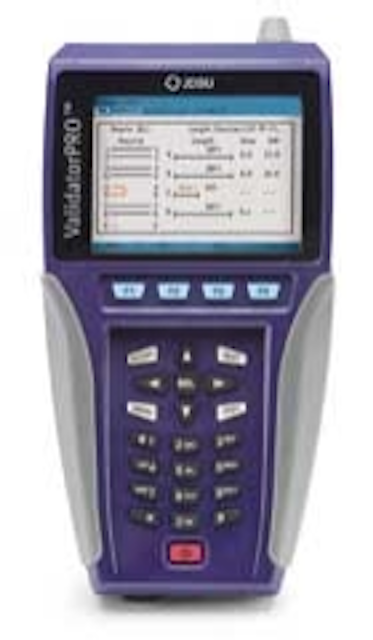 networks. Both new ValidatorPRO offerings perform Ethernet speed certification and include an optical power meter; the ValidatorPRO- NT adds PoE testing and wireless 802.11b/g/n PoE testing features. The ValidatorPRO/PRO-NT is described as a complete solution to economically ensure performance of copper, fiber, and wireless LAN installations. According to the company, the platform supports comprehensive test capability in increasingly complex networks that must now support voice, data, and video applications over copper, fiber or wireless LANs. The platform may reduce associated test and measurement costs because it enables installers and technicians to test copper cabling to desktops, check fiber installations in network rooms, and analyze wireless networks for mobile users, all with one tool. Building upon the existing Validator and Validator-NT tools, the company says the ValidatorPRO offers faster processing speed, more memory, and increased functionality to further optimize the installation process. Test capability includes speed certifying the data- carrying capabilities of copper Ethernet network cables up to 1 Gbit/sec by testing for noise in the network, detecting faults in the cabling, and ensuring that cables are able to support the speed capabilities of active equipment. The ValidatorPRO-NT adds active network tests to confirm network connectivity using port discovery, ping and link layer discovery protocol features. For networks that use Power over Ethernet, such as corporate VoIP networks, the ValidatorPRO-NT tests power availability to network devices.
JDSU
www.jdsu.com
48-port, 1U Cat 6A patch panel
Siemon has introduced a 48-port, 1U version of its Z-Max 6A modular patch panel. Available in both Category 6A/Class EA shielded and unshielded options, the Category 6A modular panels are designed to combine 10-Gbit/sec performance with ultra-high density patching. This provides users additional flexibility to deploy high-performance, Category 6A/Class EA cabling infrastructures within strict space limitations, while saving valuable rack and cabinet space in the data center or telecommunications room, maintains the company. The Z-Max 6A panel outlet is central to the patch panel's performance in high-density applications. The outlets feature exclusive diagonally oriented insulation displacement connector (IDC) contact technology that maximizes distance between contacts within side-stacked outlets compared with traditional rectangular contact layouts. Maximizing pair-to-pair separation between adjacent outlets enhances noise resistance in both the shielded and unshielded systems and minimizes alien crosstalk even in the densest Category 6A/Class EA patching environments. The patch panels also feature the company's modular Quick-Snap panel design, which allows panel outlets to be quickly snapped into place or removed to speed initial deployment and subsequent moves, adds and changes. Designed specifically for the Z-Max panels, the Cat 6A panel outlets use the same termination process as Z-Max hybrid outlets. Using the patent-pending Z-Tool, both shielded and unshielded panel outlets can be terminated in as little as 60 seconds from start to finish, including cable preparation, and can then be easily snapped into the panel. The Z-Max 6A panels' Quick Snap design also makes them suitable for use with Siemon's Z-Max 6A pre-terminated trunking cable assemblies. Equipped with Z-Max 6A panel outlets, Siemon trunks are configured specifically to customer need, allowing permanent links in high density environments like data centers to be quickly deployed to minimize installation time. Siemon's Z-MAX 6A line includes complete end-to-end Category 6A/Class EA systems in both shielded and unshielded configurations. The full Z-MAX 6A channel consists of Z-MAX 6A outlets, Siemon Category 6A cable, and Z-MAX 6A patch panels, as well as Smart-Plug-equipped Z-MAX 6A patch cords, which feature a design integrating a precisely tuned printed circuit board (PCB) into every plug for enhanced end-to-end system performance.
Siemon
www.siemon.com
Industrial Ethernet handbook
This 5-chapter, 168-page manual covers the technical details of Ethernet, comparing it to other fieldbus systems, and explaining its Open System Interconnection (ISO/OSI) Reference Model. The handbook goes on to describe the different versions of Ethernet and how they are typically applied with various topologies, interconnect hardware, and cabling. The book's annex details pertinent standards and application guidelines, such as EN, IEEE, IEC, UL, and HD/VDE. The annex also contains an extensive bibliography on Fieldbus and Ethernet technology, along with Internet links to other resources. Engineers, designers, and technicians can probe the guide to learn about the various layers (physical, data link, network, etc.) of the OSI Model and how they are used in a "shared" Ethernet system. A section on general requirements details installation, transmission, and environmental issues that impact network topologies, cable routing, and connections. A chapter on transmission technology and cabling discusses Power over Ethernet (PoE), and many other connectivity topics. A 26-page glossary provides comprehensive explanations of the most commonly used terms, standards, protocols, and acronyms associated with Ethernet.
Harting North America
www.harting-usa.com
Modular fiber platform
Adding to its SYSTIMAX 360 line, CommScope Enterprise Solutions has introduced its InstaPatch 360 system, billed as a factory-terminated and -tested modular fiber connectivity platform that allows installers to simply and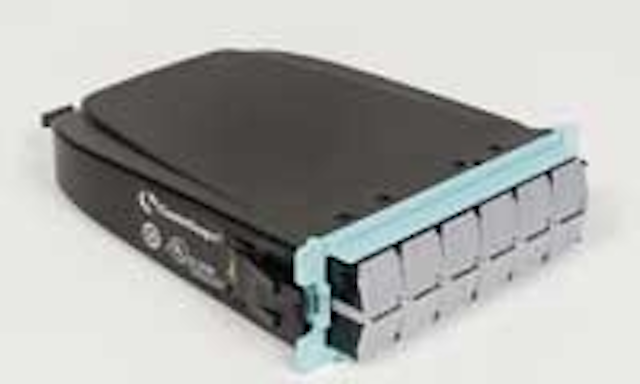 quickly connect system components together for improved density, performance and reliability. According to the company, the InstaPatch 360 system incorporates modules and pass-through panels that offer improved density, are reverse-compatible with standard Systimax 360 shelves, and are "intelligence-ready." The system's trunk cables, fanouts, and array cords are constructed with a loose-fiber cable design, minimizing stress on the optical fiber. In addition, the cable assemblies are terminated via CommScope's patented process for applying the MPO connector to a round cable sub-unit. Each InstaPATCH 360 modular panel is optimized to provide simplified cable management and maximize air flow within the data center. Other key features of the system, according to the company, include the incorporation of the company's LazrSpeed, OptiSpeed, and TeraSpeed fiber technologies; translucent integrated dust covers for each module to help simplify connecting fiber components; a modular approach that enables up to 96 fibers to be ready for service in the time it typically takes to make a single fiber connection; compatibility with the Systimax G2 modular cassette system; and readiness for ultra-high density deployments with MPO adapter panels and ruggedized fanout/array cable assemblies used to reach capacity levels of 384 fibers in 1RU shelf. The 4U modular shelf accommodates 1,152 fibers.
CommScope
www.commscope.com
Retrofit aisle-containment system
With the introduction of the Contain-IT Aisle Partitioning System (APS), IT professionals can now cost-effectively retrofit their existing rack installations to create hot and cold aisles that prevent air mixing and improve cooling efficiencies, the manufacturer says. The company notes that the mixing of hot and cold air within a data center exposes IT equipment to higher inlet temperatures, especially at the top of the rack, which can lead to equipment failures. In many uncontained data centers where there is no hot and cold air separation, computer room air conditioning (CRAC) units and other in-house cooling systems operate inefficiently as they over-supply an aisle with cool air to keep equipment from failing. This over-supply also results in cooler air temperatures going back to the CRAC, which then causes inefficient CRAC operation. According to Electrorack, the modular design of Contain-IT is a low-cost aisle-containment option, and allows it to be retrofitted to almost any rack system. The system comprises two basic elements: sliding doors and overhead panels. The sliding doors consume very little footprint, and are available with an auto-closing feature to help maintain the integrity of the aisle containment. The translucent panels help to facilitate light dispersion and are built-to-size to meet individual requirements.
Electrorack
www.electrorack.com
Preterminated Category 6 system
Belden has introduced its Belden 3600 preterminated cabling system, targeted for Category 6 installations in data centers and office environments. The 3600 preterminated cabling system is billed as easy and convenient to configure and install; according to Belden, the system can reduce installation time and labor costs by as much as 90 percent. Because all system components are factory-tested, there is no need for the extensive testing and troubleshooting typically required in cabling installations. In addition, the company maintains that the "green" system provides for plug-and-play installation and component reusability, resulting in lower cost and less waste. The system is supported under Belden's IBDN 3600 certification program, including guaranteed bandwidth of 280 MHz and Belden's 25-year IBDN product warranty. Core components of the Belden 3600 pre-terminated cabling system include the 3600 preterminated cable assemblies and the Category 6+ RJ-45 modular couplers. Each 23-AWG four-pair cable features Belden's bonded-pair technology. The assemblies are available in one-foot increments from 6- to 50-foot assembly lengths and in 5-foot increments from 55- to 295-foot lengths. The modular couplers, or inline couplers, bring modularity and flexibility to the system, Belden says, along with a higher level of RJ-45 plug-and-play performance. The coupler is reusable and reconfigurable for front and back patch-panel configurations.
Belden
www.belden.com
Data center monitoring software
Hitachi Data Systems Corp., a wholly owned subsidiary of Hitachi, Ltd., has introduced its Hitachi IT Operations Analyzer, version 1.2, billed as a comprehensive monitoring software for mid-market customers. According to the company, Hitachi IT Operations Analyzer 1.2 provides a customized application product interface (API) that four independent software vendors (ISVs) are currently integrating, and also includes expanded operating system, virtualization and switch support. The Hitachi IT Operations Analyzer software is designed to monitor and diagnose up to 250 heterogeneous servers, switch and storage nodes across the data center through a single unified interface. The company says the software provides easy-to-use, comprehensive monitoring capabilities that streamline IT operations and improve customer service levels while reducing the total cost of ownership. The updated software also extends its multiple operating system monitoring support, with the inclusion of Sun Microsystems' Solaris in addition to previous support options for Microsoft Windows and Red Hat Linux.
Hitachi Data Systems Corp.
www.hds.com
802.11n RF analysis manager
Xirrus, Inc. has released its RF Analysis Manager (RAM) software application for testing and troubleshooting of 802.11n wireless networks. The RAM application is part of a family of functionality packages for the Xirrus Wi-Fi Array platform, which includes the RF Performance Manager (RPM) and RF Security Manager (RSM). RAM is now available at no extra charge in the company's ArrayOS 4.0.6 release. Xirrus' RAM equips each Xirrus Wi-Fi Array with a powerful set of tools and features to optimally tune and verify an 802.11n installation, as well as give IT administrators the ability to troubleshoot issues that may occur within the wireless environment, the company says. The Wi-Fi Array enables the execution of wireless and networking analysis at the edge of the network where packets traverse the wireless-to-wired boundary. Unlike traditional thin access points that backhaul information gathered for analysis, Xirrus notes that its Wi-Fi Array includes an embedded Wi-Fi controller with the necessary computing and memory resources to provide these functions securely at the network's edge.
Xirrus
www.xirrus.com
12th Edition TDMM
BICSI has released the 12th edition of the Telecommunications Distribution Methods Manual (TDMM), a reference manual that covers all areas of design through construction, installation and maintenance. The 12th edition covers a wide range of topics including backbone and horizontal pathways, cabling and distribution, to data centers, bonding and grounding, testing and a variety of applications and environments. The TDMM, 12th edition, will be the basis for the RCDD and RITP exams under the NxtGEN Program beginning in January 2010. The TDMM now includes chapters that address electronic security, network design and data centers, reflecting the latest advances and the continued trend of IP convergence. In addition, a new chapter tackles the unique requirements for working in health care facilities.
BICSI
www.bicsi.org
PoE midspans with lightning protection
Microsemi Corp. , a manufacturer of high performance analog mixed signal integrated circuits and high reliability semiconductors, has introduced what it bills as the first power over Ethernet (PoE) midspan power injector to feature integrated protection from lightning strikes. The company's PowerDsine 9001G-40/SP is a single-port, high-power Gigabit solution for remotely powering both current and emerging high-power networking terminals and equipment while also providing surge protection optimized for outdoor devices such as security cameras and wireless LAN access points. Until now, claims the company, PoE could only be deployed safely outdoors with a surge-protection unit installed alongside it, to prevent direct or nearby lightning strikes from damaging or destroying both the powered devices and their network switch. Microsemi says the new midspan has been tested successfully to the GR-1089 lightning standard for surges up to 2500V/500A. It can power devices designed for either the IEEE 802.3af standard, or the recently ratified IEEE802.3at standard for high power over Ethernet applications. Delivering up to 40W of power, the 9001G-40/SP supports a range of applications that require higher power levels, including 802.11n access points, pan-tilt-zoom cameras and WiMAX customer premises equipment. It can power both existing 10/100Base-T network devices and emerging wireless 1000Base-T devices. The PD-9001G-40/SP Midspan is available in production for a unit list price of $119.
Microsemi
www.microsemi.com
Fiber-connector inspection probe
Digital Lightwave, Inc., a provider of optical networking test equipment and technology, has introduced its USB FibreVu Probe, a digital video inspection probe for field testing fiber-optic connector endfaces, and detection/analysis of connector defects. According to the company, with the USB FibreVu Probe, the user can see the fiber endface magnified on a PC screen or on a Digital Lightwave Network Information Computer's (NIC) color touch screen with up to 1500x magnification. Adapter tips are available to support all common connectors used in telecommunications, including LC, SC, ST, FC, MU and more, in both male and female versions to enable testing of both patch cords and bulkhead connections.
Digital Lightwave Inc.
www.lightwave.com