Berk-Tek enhances Category 6A UTP cable
Berk-Tek, a Nexans Company, (www.berktek.com) says it has recently completed process improvements to the LANmark-10G2 cable, resulting in what the company says is higher performance for the Category 6A UTP cable. Berk-Tek says it has increased all crosstalk parameters over the previous design, which was guaranteed to meet component performance as specified by ANSI/TIA/EIA-568-B.2-10 Category 6a.
As part of what the company calls its continuous product improvement process, the improved LANmark-10G2 cable now provides 2 dB of near-end crosstalk (NEXT) and power sum near-end crosstalk (PSNEXT) headroom, and 4 dB of far-end crosstalk (FEXT and PSFEXT) headroom over the defined cable performance standards as stated in the ANSI/TIA/EIA-568-B.2-10 document.

Berk-Tek says its LANmark-10G2 cable now provides 2 dB of near-end crosstalk (NEXT) and power sum near-end crosstalk (PSNEXT) headroom and 4 dB of far-end crosstalk (FEXT and PSFEXT) headroom over defined cable performance standards.
Click here to enlarge image
LANmark-10G2 is designed to support augmented Category 6 applications out to 100 meters. This cable is targeted for high-bandwidth, high-speed applications, such as data centers and medical imaging.
"The enhanced signal strength of this cable assures users that it will be less susceptible to outside noise and interference," says Jim Frey, Berk-Tek's copper product manager. "A higher performing cable will contribute even more to the reliability of our customers' entire network."
Frey says Berk-Tek has accomplished the improvements "without changing the outside diameter or the price. We used the same strategy with our recently enhanced Category 6 product line—more performance at no additional cost."
The LANmark-10G2 cable is part of the NetClear GTX Category 6a channel solution from Berk-Tek and Ortronics/Legrand.
---

AFL/BelAir Wi-Fi solution connects New England hotel
With million dollar views and a recently completed $34 million dollar resort-wide renovation, the Hyatt Regency Newport's (Rhode Island) private island location required high-performance mobile Wi-Fi coverage, enabling guests to maintain seamless connectivity throughout the facility. AFL Network Services (www.afltele.com) and BelAir Networks (www.belairnetworks.com) addressed these requirements as part of an end-to-end managed Wi-Fi service solution.
AFL Network Services provides Davidson Hotel Company, which bought the Newport facility in 2006, with an end–to-end managed Wi-Fi service solution to address their requirements for hotels and resorts. In Newport, AFL deployed eight BelAir100 wireless access points (WAP) to provide high-performance Wi-Fi coverage of 27,000 square feet of function space, including ballrooms, meeting rooms and pre-function areas.
AFL's end-to-end solution at Newport includes network design, installation, management, and ongoing support. The company also installed and supports an Internet connectivity management and billing system, along with a solution for application-specific traffic management and bandwidth shaping designed to ensure a consistent user experience.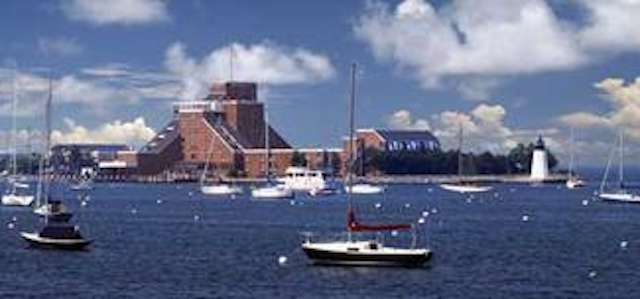 The recently renovated Hyatt Regency Newport (RI) now features end-to-end Wi-Fi capabilities installed by AFL Networks and BelAir Networks wireless products.
Click here to enlarge image
"Because we're providing an end-to-end managed Wi-Fi service solution, we want best-of-breed technology that's easy to manage, and, of course, cost is always an issue," says Kent Brown, director of access solutions at AFL Network Services. "Whatever the deployment situation—indoors, outdoors, in both new installations and network upgrades/ replacements—we've found that BelAir Networks' comprehensive portfolio of indoor and outdoor Wi-Fi networking products consistently deliver high-performance, highly reliable and very cost-effective Wi-Fi coverage that we can deploy quickly and manage both centrally and remotely."
With feature-rich BelAirOS operating system software and managed by BelView, BelAir Networks offers indoor access points and outdoor wireless nodes supporting both Wi-Fi and WiMAX, as well as public safety, defense, and intelligent transportation system (ITS) frequency bands. The company says its Wi-Fi deployments require less equipment and wiring than traditional Wi-Fi access points, reducing the cost, time, labor and maintenance associ- ated with the network deployment and its ongoing operation. Hosted software-based control enables centralized management and is designed to lower network capital expense by about 30%.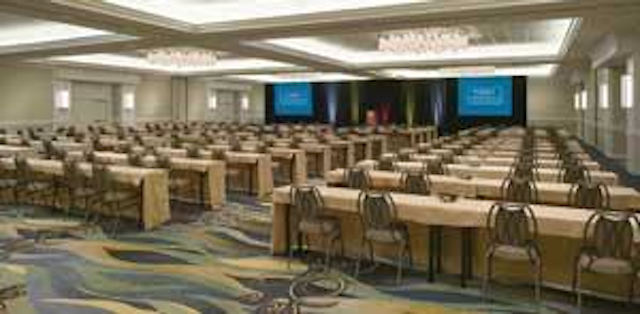 AFL deployed eight BelAir100 wireless access points to provide Wi-Fi coverage of 27,000 square feet of function space at the Hyatt Regency Newport,including ballrooms, meeting rooms, and pre-function areas.
Click here to enlarge image
"AFL's extensive networking experience and commitment to providing end-to-end managed Wi-Fi service solutions enables leading hospitality operators and management companies, such as Davidson Hotel Company, to address increasing demand for high-performance wireless networking driven by the growing number of Wi-Fi enabled mobile devices and applications," says Dave Park, vice president of product marketing for BelAir Networks. "With a managed Wi-Fi service model, hotels and resorts can address Wi-Fi demand and opportunities without creating additional strain on internal IT resources."
---

BICSI begins ITS Fundamentals career training program
Designed to provide a solid base of knowledge to those beginning a career in cabling ITS distribution design, BICSI's (www.bicsi.org) ITS Fundamentals Program consists of five courses, an examination, and certificate. Students with the necessary ITS job experience will be able to take the Fundamentals exam, and after successfully completing it, will continue their professional development by sitting for either the Registered Communications Distribution Designer (RCDD) exam or one of the BICSI Specialty tests.
The program's introduction marks the first milestone in the BICSI NxtGEN Program. "One of our first goals with BICSI NxtGEN is to create an educational experience and testing program to ensure that each candidate understands the basic concepts of ITS distribution design from all design perspectives, and then is capable of passing an examination on those basic concepts," says Jerry Bowman, RCDD, NTS, BICSI U.S. North-Central Region director and chairman of the BICSI NxtGEN Subcommittee.
Adds Ed Donelan, RCDD, NTS, TLT, and BICSI president, "The BICSI NxtGEN program will elevate the importance and recognition of existing RCDDs, make the RCDD and BICSI's Specialty programs more inclusive of IT, engineering and other professionals, and modernize the BICSI credentialing programs and make them more consistent with how professionals are credentialed today."
Vic Phillips, RCDD, OSP, past president and vice chairman of the BICSI NxtGEN Subcommittee, notes, "The Fundamentals Program is critical to the success of the BICSI NxtGEN project, as it provides the entry point for persons entering the distribution design arena. This is the basic building block of the RCDD or any of the specialties, as it is a prerequisite to those programs."
Listed in the order of recommended completion, the courses will be available through BICSI CONNECT, the online interactive learning network for ITS professionals. BICSI CONNECT offers students the ability to earn continuing education credits (CECs) at their own pace, without incurring travel expenses and at a reduced cost compared to traditional classes. Courses are:
Structured Cabling Systems—Structured Cabling Systems (SCS) is a complete collective configuration of cabling and associated hardware at a given site, which once installed provides a comprehensive infrastructure. This course discusses pathways, spaces, firestopping, codes and standards, all of which are a core focus of the ITS designer. (6 CECs /$189)
Media Selection —ITS designers must be aware of the various types of media (cable) that are available. Each type and configuration has specific uses and defined installation methods. This course focuses on the types and characteristics of ITS media and their installation procedures, so designers can make the most appropriate media choice for each design. (5 CECs /$149)
Grounding and Bonding—Grounding and bonding are an integral portion of the telecommunications infra- structure for providing a safe electrical operating environment. They are also instrumental in providing a reliable reference for the operation of electronic equipment. This course offers students the opportunity to advance their grounding and bonding knowledge by reviewing basic electrical theory, grounding system configurations and components. (3 CECs /$99)
ITS Network Design—The ITS Designer's responsibility doesn't end with structured cabling. In today's highly networked workplace, network inte-gration is a major topic for the ITS designer. This courses explores three separate networks; data, wireless, and data centers. (4 CECs /$125)
Project Management—Project management is required to manage and control projects with teams. It has become an important part of the ITS industry and an important and unique career path for the ITS design professional. This course reviews the common tools and techniques used to ensure a successful project completion. (2 CECs /$59)
Courses may be purchased separately or as a bundle. Individually purchased courses must be completed within 60 days of purchase. The final exam costs $100 for BICSI members and $250 for non-members. The exam may be attempted without completion of the courses. Individually purchased courses and exam total $721 for members and $871 for non-members.
---

Study: Stimulus bill could have positive impact on data centers
A recent opinion from Uptime Institute Inc. finds the American Recovery and Reinvestment Act of 2009 (aka, economic stimulus plan) "could have great and positive effects on the data center industry," especially in the area of energy consumption costs.
The Uptime Institute is an independent think tank offering expertise in uptime availability, reliability and resiliency of mission-critical enterprise computing. In its opinion, founder and president Kenneth Brill and co-author John Stanley (researcher and SAVE Project manager at the Institute) focused on the likely impact of the stimulus plan as well as President Obama's call on Feb. 24 for a carbon cap.
The authors believe the stimulus bill will "likely spur growth in certain kinds of IT services" as well as provide money for research and development of data center efficiency. The opinion specifically cites an anticipated need for more data centers with projected expansion of broadband coverage to rural America, and $17 billion in incentives for health care providers to adopt electronic health records that will also lead to greater need for IT and data center infrastructure.
In addition, the Institute authors find "the stimulus bill will (hopefully) make it easier for data centers to deliver their services with less energy consumption and reduced environmental impact," noting that of the $16.8 billion allocated for energy efficiency and renewable energy, "$50 million is allocated for improving the energy efficiency of information and communications technologies."
In his February speech to Congress, President Obama called for "legislation that places a market-based cap on carbon pollution," and authors Brill and Stanley note that "predictions are that a carbon tax equivalent of $200 to $400 per ton will be required to force rapid and fundamental changes in U.S. energy consumption behavior. If so, a cost estimate of $50 per ton may be low," and the annual operating expense per 1,000 servers "could be significantly higher than $200,000."
In its summary findings, the Institute authors believe the stimulus package will have "contradictory effects"— increasing demands for computing and energy use, "and at the same time will significantly increase the magnitude of Federal funds targeted at improving data center energy efficiency."
As for the project carbon cap impact, the authors say it "will hit IT-intensive companies especially hard, because their data centers represent between 8 and 30% of total enterprise energy consumption."
The Institute adds that "future cost increases for data center energy can be offset by implementing already-known best practices" made known over the past four years, but "that our industry has not yet taken full advantage of what is already possible."
The Uptime Institute says it has partnered with McKinsey & Company to develop "Revolutionizing Data Center Efficiency," which provides an agenda for "radically cutting data center energy consumption and restoring IT's declining economics."
For more information, including the full text of findings by authors Brill and Stanley, visit: www.uptimeinstitute.org