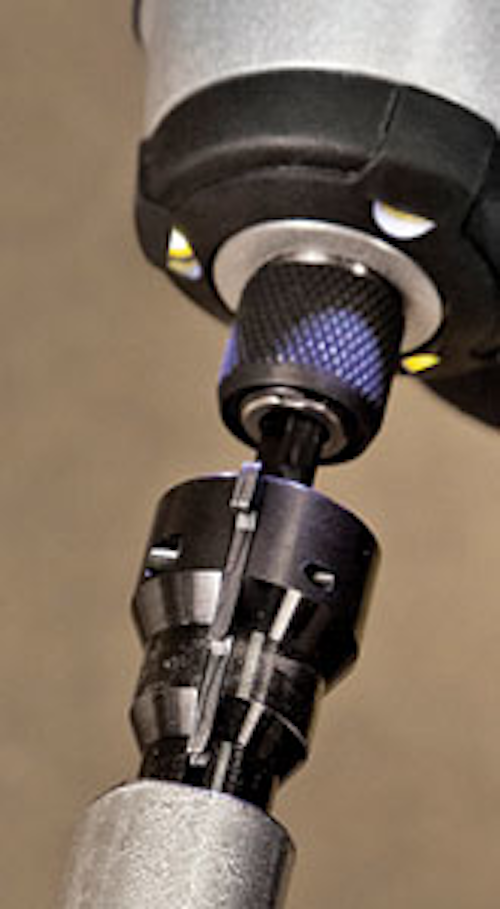 Compiled by Matt Vincent
From the November 2012 Issue of Cabling Installation & Maintenance Magazine
---
Drill head reams conduit
The Conduit Reaming Drill Head from Klein Tools fits into power-drill chucks and quick-release adapters; the replaceable blade reams half-inch, three-quarter-inch and one-inch conduit using a standard power tool. It includes a replaceable #2 square recess bit for installing conduit fittings. Replacement blades and bits are available. Klein says the head is designed to reduce the amount of time needed to ream and install conduit runs.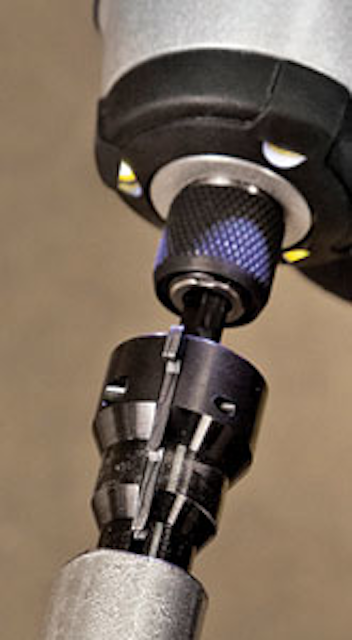 Klein Tools product manager Jon Ginsberg said, "This new tool reduces the time to ream conduit and install fittings while easing the wrist strain experienced using hand reamers on long conduit runs. Saving time and fatigue means saving money on the job."
---
TIA signs agreement with lighting-engineering society, eyes joint standard development
The Telecommunications Industry Association (TIA) recently joined the Illuminating Engineering Society (IES) in signing an honorary and friendship agreement to exchange information and promote harmonious standards development in the areas of intelligent building systems, energy efficiency and sustainability initiatives, as well as others, the association said.
"Convergence is here, today, and is extending well beyond the traditional phone and data services into others, like illumination," said TIA president Grant Seiffert. "The information communications technology industry is embracing these opportunities to support the connection and control of devices to realize optimized, energy-efficient operation."
An announcement of the agreement stated, "In today's converging world, communications are becoming an integral part of technological innovation. Both TIA and IES hope to continue to aid the continuing efforts to improve the energy efficiency of lighting systems, control systems and the communications network that connects them as these become even more important."
IES executive vice president William Hanley said, "The illumination industry has realized that the key to maximizing energy efficiency lies in the use of technologies that are integrated and work intelligently to control the function and operating time of building lighting systems. The key to these technologies is the ability to collect useful information and communicate that information to the lighting control system. Working with TIA to develop, enhance and promote these technologies will result in reduced energy consumption and lower costs while maintaining a productive, safe environment."
Seiffert added, "The participation of IES in our standards development program for intelligent building cabling and the Sustainable Technology Environments Program [STEP] will set the stage for additional improvements and opportunities in these markets."
---
Dock station turns iPad into on-wall touch-screen panel
Channel Vision's On-Wall Dock Station for second- and third-generation iPads enables users to securely mount the iPad to a wall, essentially creating a touch-screen controller that can be used in home theater, whole-house automation, security and audio-visual applications, Channel Vision says.
The dock station can be mounted vertically or horizontally; it includes a hinged cover that allows for quick access and removal of the iPad from the dock.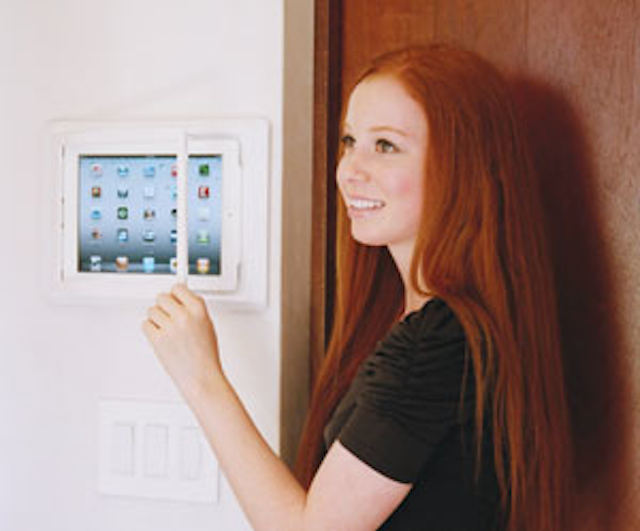 Darrel Hauk, Channel Vision's president and chief executive officer, says the dock station's "elegant design and functionality will enhance anyone's iPad experience. Whether you are watching movies, listening to music or viewing security cameras, the wireless On-Wall Dock Station is the perfect solution to securely mounting your iPad on the wall, while creating a home control system."
The company adds that it offers a security app that allows users to view cameras from their iPads.
---
Researcher: Fibre Channel port shipments to drop, prices to increase
A newly available storage area network (SAN) forecast report by Dell'Oro Group covering Fibre Channel switch and adapters says that through 2016, port shipments will decline while revenues increase. By 2016, the report says, FC switch and adapter revenues will approach $3 billion at a compound annual growth rate of about 2 percent.
Casey Quillin, senior analyst with Dell'Oro Group, commented, "Although Ethernet has become an increasingly popular storage network technology, Fibre Channel is being used to backend the Ethernet system. We forecast a portion of the server aggregation layer to shift away from Fibre Channel, which will result in a decline in port shipments in the outer years. However, we expect overall prices to rise with advanced data management features and the shift to 16 Gbits/sec, resulting in positive growth throughout our forecast horizon."
The report discusses SAN technologies other than Fibre Channel, including Fibre Channel over Ethernet.
---
NBI unveils free LEED Automation tool
New Buildings Institute (NBI), a non-profit organization working to improve the energy performance of commercial buildings, announced the official release of one of the first LEED Automation tools available to LEED project teams.
The Comnet Energy Modeling Portal is an online platform used to collect energy modeling simulation results, perform quality assurance checks, and submit the results to LEED Online to be assessed for the Energy & Atmosphere Prerequisite 2 and Energy & Atmosphere Credit 1 rankings. "Users of the portal can save substantial time and reduce errors in LEED submittals," notes Comnet's business manager, Jared Silliker. "Until now, energy modelers have had to sift through pages of output reports, locate the appropriate data, convert units, and then manually type this information into the LEED Online Templates."
Via the new tool, LEED Online users can upload modeling results directly from their simulation software to the Comnet Energy Modeling Portal. The portal can be used for new construction, core-and-shell, and schools projects. The tool filters results automatically, performs basic quality assurance checks, and sends the results directly to LEED Online. From the portal, users can review the official LEED Online template to ensure that it has been filled out appropriately.
"The Comnet portal will allow design teams to spend more time focusing on optimization of proposed designs, rather than non-value-adding tasks," asserts Roger Chang, principal and director of sustainability at Westlake Reed Leskosky, a building design firm based in Washington, D.C. "I envision at least a day's worth of time saved from not having to manually fill out forms [for EAp2 and EAc1]."
"The new Comnet portal will be a valuable, time-saving tool for LEED project teams," adds Scott Horst, senior vice president, USGBC. "LEED automation is changing the LEED certification landscape and helping accelerate the marketplace."
The portal supports exports from eQUEST, Trane TRACE 700 and EnergySoft's EnergyPro applications. Trane and EnergySoft utilize the Comnet XML Schema, which is publicly available for vendors to incorporate in their building energy modeling software to export standard data. Comnet is working with other modeling software vendors who are adding an XML output option.
The introductory fee per project ranges from $500 to $1,000 depending on project size.
"This is a non-profit initiative to improve and streamline the modeling process. We want to keep the fee low to maximize the use of the tool," concludes Comnet's Silliker. "We anticipate that the time modelers will save on submissions will make the nominal fee well worth it."
---
Tool-less blanking panels for racks
Polargy's PolarSnap Quick Install Tool-Less Blanking Panel incorporates a "hook-swing-snap" design that the company says enables installation and removal without tools. Its usability provides data center operators with improved flexibility in server rack maintenance, Polargy adds.
To install a panel, the user slides its pivot pins into a rack's mounting rail holes and snaps the slide tabs at the opposite end of the panel into the opposing rail. A gasket on the panel seals against the vertical rail, which prevents leakage of hot air.
Polargy's president, Cary Frame, commented, "The primary reason data center operators cite for failing to install blanking panels is the hassle of installation. This new design makes blanking-panel installation quick and easy, and gives racks a clean and professional appearance."
The PolarSnap panels are available in 1, 2, 3, 4, 5 and 6U sizes.
---
Outdoor industrial wireless Ethernet radio features built-in 3-port PoE switch
AvaLAN Wireless Systems has developed a high speed outdoor industrial wireless Ethernet radio that has the capacity to connect multiple IP surveillance cameras to a single wireless Ethernet connection.
The company has expanded its 100-Mbit/sec wireless radio product line to include two new units that incorporate an 802.3af Power over Ethernet (PoE) 3-port switch. This allows system integrators to place a single wireless Ethernet radio at a location and provide power and data connections for up to three Ethernet devices, such as megapixel IP cameras, notes AvaLAN. 48 VDC power is provided to the three devices via unused wires in their data cables.
The radios are packaged in rugged and weatherproof die-cast aluminum enclosures and are available in both directional and omnidirectional antenna configurations. Incorporating the latest MIMO technology and a user-friendly, robust interface, the AW58100 product line achieves very high data rates through a combination of multiple spatial streams and higher level orthogonal frequency division multiplexing (OFDM) modulation.
The AW58103HTS directional flat panel antenna version provides two 90° polarized 23 dBi gain units and is intended to serve in point-to-point bridge configurations or as a subscriber unit in point-to-multipoint connections. The AW58103HTM omnidirectional unit provides two 6 dBi gain antennas and is designed to serve as a multipoint mesh node.
The new products are fully compatible with the other models in AvaLAN's AW58100 line. The company says the new products enable the establishment of line-of-sight, point-to-point, point-to-multipoint or mesh wireless Ethernet connections that link "fringe" IP devices, such as video surveillance cameras or other devices needing robust and secure high data rates.
---
Preterminated 10GBase-T platform for data centers
CommScope has introduced a preterminated copper connectivity platform designed to enable easy deployment of large-scale cabling infrastructures in data centers, as well as provide a future migration path to higher performance systems. Currently available in North America and Latin America, InstaPatch Quattro is a 10GBase-T and 1GBase-T cassette and trunk-based connectivity system that combines high-performance with "plug-and-play" simplicity for fast data center deployment and easy modification as a network's needs evolve.
"Preterminated connectivity has grown in recent years as a trusted means for designing and deploying data center infrastructures," comments George Brooks, senior vice president, enterprise product line management, CommScope. "InstaPatch Quattro combines the performance and quality of our Systimax solutions along with the design freedom and installation ease associated with our InstaPatch fiber solutions. We believe this solution corresponds with our customers' infrastructure and data center needs today and for the future."
According to the company, the InstaPatch Quattro system is designed to install easily, adapt quickly and perform reliably even under demanding conditions. The system's products include panels, modular cassettes, trunk and breakout cables. The new platform is billed as an ideal solution for the deployment of pods and/or data center modules. With the addition of InstaPatch Quattro, CommScope now offers a full suite of high performance preterminated cabling solutions (copper, fiber and cabinet) that enable end-to-end fast deployment of connectivity, from core to aggregation to access layers.
Each InstaPatch Quattro component is factory tested and certified by Fluke Networks equipment to ensure consistency and quality. "Infrastructure succeeds when it is supported by accurate and reliable certification," comments David Veneski, director, datacom installer business unit, Fluke Networks. "We appreciate the opportunity to apply our expertise in testing to a cabling solution designed for tomorrow's data centers."
---
Wrench for use on transmission towers
The 100T series Triple Square Transmission Tower Wrench from Lowell Corporation is geared toward workers who must tighten nuts on utility towers. Each wrench has three square sizes in one permanent socket, to handle the most common nut sizes in tower fasteners, Lowell says. The 1-1/8x1-5/16x1-1/2-inch triple square socket allows for tolerances on 1-1/8-inch square nuts (5/8-inch bolts), 1-1/4-inch square nuts (3/4-inch bolts) and 1/3-8-inch nuts (7/8-inch bolts). The wrench also fits 1-1/2-inch hex bolts.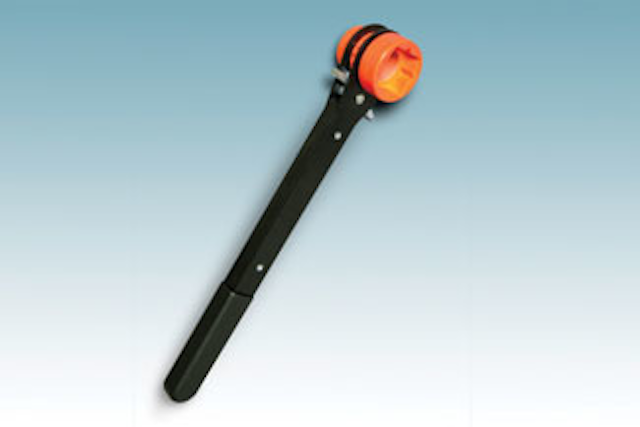 Three models are available. The 103T has a 12-inch handle and weighs 2-3/4 pounds. The 104T has a 15-inch handle and weighs 3 pounds. And the 105T has an 18-inch handle and weighs 3-1/4 pounds. "The long handles and a torque capability of 300 lb-ft bring plenty of turning power to any job," Lowell says.
The wrench head and socket's Bolt-Thru design makes it easy to tighten nuts on bolts of any threaded length, the company further explains. Other features include a stamped and riveted metal handle with a vinyl strap. The entire assembly is coated with an epoxy paint, which Lowell says adds durability and makes for easy cleaning.
---
Analyst rankings put Corning MobileAccess atop DAS market
As part of a competitive-assessment report, ABI Research ranked Corning MobileAccess number one in its latest distributed antenna system (DAS) equipment-vendor matrix. The report covers in-building wireless coverage. The matrix approach that ABI uses to rank equipment vendors evaluates companies with respect to innovation and implementation.
CommScope and TE Connectivity claim overall second and third place in the matrix, respectively. Corning MobileAccess ranked in the top three on both the innovation and implementation axes. It ranked tops in the innovation scale, followed by "next-generation vendors," as ABI practice director for mobile networks Aditya Kaul called them, Zinwave and Alvarion. The top three companies on the implementation axis were CommScope, Corning MobileAccess and TE Connectivity.
Kaul commented, "While traditional incumbents like CommScope and TE Connectivity still dominate the DAS market due to their size and footprint, it is emerging vendors like Corning MobileAccess who are grabbing market share on back of their technology innovation in areas like single-cable MIMO support, DAS optimization, and their unique Cat 5-based DAS solution for small enterprises.
"The next generation of vendors like Zinwave, Alvarion, SOLiD Technologies and Optiway are the ones to watch out for as they each bring unique DAS innovations that push the limits on cost, flexibility and scalability, especially when it comes to supporting multiple technologies and multiple operators on fewer infrastructure elements."
Kaul added, "The DAS market has seen major consolidation in the last few years, and as these fresh, small innovative vendors emerge onto the scene, it won't be surprising if some of the large traditional base-station vendors like Ericsson or Huawei make acquisitions, and establish a presence of DAS equipment in the indoor-coverage market, which is a hotbed of activity right now."
---
M12 plug for Gigabit Ethernet
Metz Connect has expanded its offering of M12 plug-connectors by introducing a new version of the X-coded M12 plug connector for Gigabit Ethernet applications. The introduction follows that of the two-pair D-coded M12 plug connectors for industrial Ethernet, which occurred in 2010.
The company explains that the X-coded M12 plug connectors are Category 6A, 500-MHz rated for Gigabit-range transmission rates. "Due to mechanical and electrical strength, they are perfectly suited for harsh industrial environments," the company says. "When inserted they are dirt- and moisture-resistant in accordance with IP67."
Additionally, the 360-degree shielding ensures electromagnetic interference immunity, Metz Connect says, as well as secure and reliable connections.
The Profinet User Organization has officially added the X-coded M12 plug connectors to its wiring manuals, Metz Connect says.
---
Vertical aisle-cocoon system for data centers
Cannon Technologies' Vertical Aisle cocooning system for data centers uniquely addresses air routing and containment for all types of racks, including OEM and non-Cannon systems, according to Cannon engineering manager Mark Awdas. The cocooning system ensures that the airflow is maintained to the correct direction and at full velocity, he added.
"The heat generated by high-density and high-power IT systems is significant, so cooling is of paramount importance," Awdas explained. "Data center designers have now settled on rapid-chilled air flows after experimenting with water, and even cryogenic, cooling methodologies." He further noted that containing airflow in a vertical direction, with the hot air rising and the cold air falling, presents a challenge. If the airflow leaks into adjacent compartments, the efficiency of a given aisle and potentially an entire section of the data center starts to fail, as more energy is required to ensure an adequate airflow is maintained.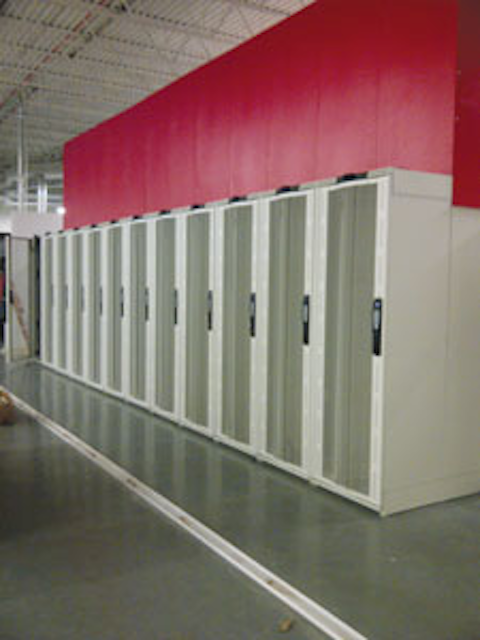 "This is where Cannon Technologies Vertical Aisle Cocooning enters the frame as a highly cost-effective cooling solution," Awdas said. "Such is the importance of cost-effective cooling in a modern data center that Intel has invested tens of millions of dollars over the years in developing its server chips to integrate with third-party cooling systems."
In fact, Awdas recalled, last July Intel revealed it would add new sensors to its server chips to assist companies in improving the efficiency of their data center cooling system, with the aim of reducing operating costs and extending the life of the equipment. Cannon Technologies' Vertical Aisle Cocooning is one technology that can assist data center owners and users in helping to minimize energy costs, and maintain hardware at its optimum temperature, thereby prolonging IT-systems life, Cannon said.
Awdas added, "Since our clients include governments, who use our technology in their classified data centers, this is why we have developed our Vertical Aisle Cocooning technology to ensure that the air flows in the direction or directions it is supposed to," Awdas said.
"All of Cannon Technologies' Aisle Cocooning features and benefits are maintained with the vertical offering, which has received a positive response from our beta test adopters of this advancement," he said. "The fact that this is both cost-effective and easy to deploy and maintain, is something our customers report as highly pleasing."
---
Panduit acquires data center monitoring specialist Unite Technologies
Panduit has announced its acquisition of Unite Technologies Ltd., a provider of energy management, power, security, and environmental monitoring systems for the enterprise and the data center.
Unite Technologies' expertise complements Panduit's in the network infrastructure management space and expands Panduit's UPI-based platform for the enterprise and the data center environment. Panduit says the acquisition brings an end-to-end physical-to-logical view for unmatched management of network physical infrastructure to Panduit's and Unite Technologies' customers.
"Unite Technologies brings innovative technology and a highly skilled team to Panduit," comments Tom Donovan, president of Panduit Corp. "Unite has a proven track record of success in helping forward-thinking customers measure and monitor energy usage, enabling energy management capabilities that address high priority business and operational objectives."
Today, Panduit's existing Physical Infrastructure Manager software platform and PanView iQ hardware help ensure that a client's physical infrastructure remains in alignment with organizational objectives by monitoring and analyzing data, allowing clients to make informed business decisions aligned to best practices, policies and procedures. The existing platform helps to define mission-critical business services, and is designed to map IT (e.g., servers, switches and software applications) to facilities (e.g., power, cooling, and cabling).
Combined with Unite Technologies' 6 Zone Data Center and Energy Management offering, Panduit's platform will now be able to provide: centralized tracking of IT infrastructure assets on a single platform; power consumption, energy management, and reporting; proactive capacity trend analysis and insights into capacity limitations and stranded capacity; access control, security, and environmental monitoring; process documentation of IT assets, moves, adds, and changes; visibility into under-utilized assets, resources, and unauthorized patch field changes; root cause analysis of physical network problems; and interoperability and integration with leading network, storage and power systems.
"The Unite solutions are an excellent complement to the Panduit offering," concludes Simon Terry, Unite Technologies' CEO. "We are thrilled to be joining the Panduit team. Our combined solution will help customers harness the power of infrastructure management in new data centers and maximize utilization of existing data centers."
---
WiFi Alliance now certifying TDLS devices
The WiFi Alliance announced that it has officially launched the WiFi Certified TDLS (Tunneled Direct Link Setup) program. TDLS devices are able to automatically create a secure, direct link between them after accessing the WiFi network, removing the need to transmit data through the access point.
WiFi Alliance contends that, in today's WiFi networks, faced with increased traffic and more demanding applications, TDLS links between devices stand to improve overall network performance, reduce latency caused by heavy AP traffic, and avoid interference, thereby improving the user experience. According to a press release, the new certification program will provide networks and users with the following benefits.
Increased performance: TDLS links optimize the performance of applications running over WiFi networks by avoiding delays caused by queuing and congestion through an AP.
Ease of use: TDLS links are formed automatically, with no user action required to set them up.
Optimized communication: TDLS-linked devices are able to communicate using the highest-performance technology common to them, even if the network's AP only supports a lower-bandwidth form of WiFi.
Highest available security: TDLS links are protected by the highest level of security supported by both devices, even if the network's AP does not support that level of security.
Power saving mechanisms: When battery-operated devices participate in a TDLS link, they can take advantage of advanced mechanisms to save power.
"The new TDLS certification program will improve the user experience with advanced applications such as media streaming, without requiring user intervention," commented Kelly Davis-Felner, marketing director of the WiFi Alliance. "WiFi Certified TDLS is another example of how WiFi technology keeps pace with the evolving demands of the marketplace."
The certification is only for client devices, such as tablets, handsets, notebooks, and consumer electronics. TDLS-certified devices can operate over WiFi Certified "n" technology, as well as previous versions of WiFi. It is not necessary to upgrade to a new AP in order to benefit from TDLS features. TDLS-certified devices are suitable for use in both enterprise and consumer networks.
Notably, although TDLS forms a direct link between two client devices, TDLS is not the same as, nor does it replace, WiFi Certified WiFi Direct, says the Alliance. TDLS operates in the background of a WiFi network to optimize performance, while WiFi Direct-certified devices can quickly connect to one another while on the go, even when a WiFi network is unavailable. Many devices will be certified for both solutions and use them in different situations.
The first products to be designated WiFi Certified TDLS, and which form the test suite for the certification program, are as follows: Broadcom's Dual-Band 11n Half MiniPCI; Marvell's Avastar 88W8787 Wireless Chipset; Ralink's 802.11 a/b/g/n Dual Band Station; and Realtek's 2X2 a/b/g/n miniCard Reference Design.
---
AFL unveils contractor-optimized OTDRs
AFL has introduced its new family of Contractor Series handheld OTDRs, designed to enable cost-effective troubleshooting of FTTx PONs and point-to-point metro/access networks.
As explained by the company, the new Noyes CS260 OTDR family offers two models:
The CS260-10 FTTx PON Activation and Troubleshooting OTDR: A 1625 nm Live PON OTDR providing 35 dB dynamic range, best-in-class 0.8 m event and 3.5 m attenuation dead zones, integrated PON power meter and Visual Fault Locator (VFL).
The CS260-20 Metro/Access Troubleshooting OTDR: 1310/1550 OTDR with 28 dB dynamic range, 0.8 m event and 3.5 m attenuation dead zones plus integrated Visual Fault Locator.
"A large number of network operators utilize contractors to install and verify new metro and broadband access networks, including Fiber-to-the-Home (FTTH) PONs," explained Michael Scholten, senior product marketing manager for AFL's Noyes Test and Inspection division. "Those same network operators often don't want to subcontract customer-facing network activation and maintenance tasks. These operators must equip their direct staff to verify signal levels at the subscriber, install and activate premise equipment, and troubleshoot any problems."
The CS260-10 and CS260-20 are billed as "purpose-built for optical network activation and troubleshooting tasks." With its integrated PON power meter, the CS260-10 enables technicians to verify PON power levels at an FTTx PON ONU or ONT. If downstream signals are absent or power is too low, the CS260-10's 1625 nm Live PON OTDR allows a technician to scan the network from the ONU/ONT or a network access point to locate fiber faults such as macrobends, breaks, poor splices and dirty or damaged connectors. The live PON OTDR utilizes an out-of-band 1625 nm wavelength to prevent disruption to the 1310, 1490 and 1550 nm signals present on an in-service PON.
The CS260-20 is designed to troubleshoot point-to-point metro/access networks operating in the 1310 and/or 1550 nm wavelength regions. Its short dead zones enable precise location of fiber faults. With 28 dB dynamic range, the CS260-20 can locate faults in networks up to 60 km (40 miles) in length.
Both CS260 models are derivatives of AFL's OFL280 and FLX380 FlexTester families and offer the same ease-of-use, high-contrast indoor/outdoor display and over 12 hours of continuous battery operation. Both models also include an integrated VFL designed to visually pinpoint the location of macrobends or breaks in splice closures, access terminals and splitter cabinets.
CS260 OTDR results may be saved in industry-standard .SOR files and uploaded to PC via the built-in USB interface. Windows-compatible TRM Test Results Manager software is supplied with the CS260s to support trace review, batch editing and professional test report generation.
---
Benchtop tester analyzes twisted-pair cables to 2 GHz
Another indication of the march toward 40-Gbit/sec transmission over twisted-pair cabling made itself visible recently with the introduction of the DCM brand ES-2G cable test system. Not a field tester, the DCM ES-2G test set is used in R&D labs by cable manufacturers and conducts "compliance testing of high-performance, individually shielded twisted-pair Cat 7/7a cables up to 2 GHz," explains the systems' manufacturer, Beta LaserMike.
"The ISTP [individually shielded twisted-pair] test heads provide an easy means for connecting the Cat 7 cable under test to the test system, minimizing external influences and providing proper isolation," the company says.
The set also is equipped with a UTP cable fixture, enabling cable manufacturers to test non-individually shielded twisted-pair cables as well.
"The base unit includes the automatic switching and baluns needed to interface the cable under test to an external vector network analyzer," Beta LaserMike explains. "The heart of the system is the Windows-based software engine that includes a simple, easy-to-use test program with automatic comparison to the test specification, full test reporting and data management."
As we previously reported, the IEEE has formed an 802.3 Next-Generation Base-T Study Group designed to measure industry interest and needs in the next generation of the IEEE 802.3 Base-T family of technologies for Ethernet transmission over twisted-pair cabling.
The study group's chair, Bill Woodruff, commented about the group's formation: "Because of the ability of the current IEEE 802.3 Base-T technologies to interoperate with legacy versions via the standard's 'autonegotiation' feature and thereby support cost-effective infrastructure upgrades, extension to 40-Gigabit Ethernet and higher speeds will be required in coming years."
Woodruff is an associate product line director with Broadcom. He added, "IEEE 802.3 Base-T continues to be one of the most successful technologies within the greater IEEE 802.3 family, and our new study group will gauge the timing and needs of extending the standard to support industry needs for server connectivity and other applications."
bulletin boards
Bought too much material for a job? Order cancelled? Stuck with short length reels? We are always offering you the highest price for your surplus wire and cable. Fax or mail us your inventory!
ALWAYS BUYING
ALWAYS SELLING
We guarantee that all stock material is priced lower than the factory and is always new and unused. Remember to call Live Wire with all your wire and cable needs, because in this competitive marketplace, a call to Live Wire could make the difference between writing an order and losing one.
LIVE WIRE & CABLE
1-888-897-6008
847-577-LIVE (5483) • FAX:847-577-5485
NOW on the Web at www.livew-c.com
E-mail: LIVE WIRECS@AOL.COM
showcase
INDEX OF ADVERTISERS
The index of advertisers is published as a service, and the publisher does not assume any liability for errors or omissions.