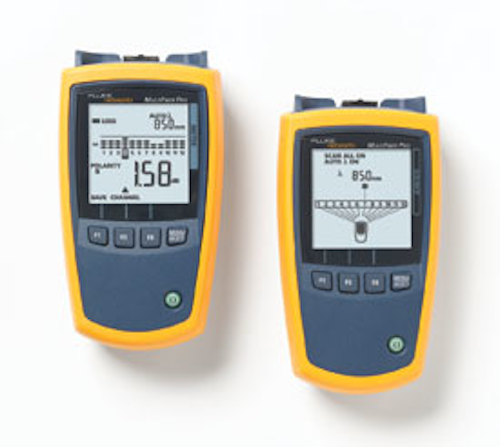 Compiled by Matt Vincent
From the October 2012 Issue of Cabling Installation & Maintenance Magazine
---
OLTS tests 12 MPO fibers at once
The MultiFiber Pro Optical Power Meter and Light Source from Fluke Networks tests all 12 fibers in an MPO-connected fiber trunk cable at one time. Fluke Networks says the ability to test all MPO fibers at once reduces testing time by nearly 95 percent.
Fluke Networks researched standard competitive products and processes for fiber-optic testing and determined that on average, it takes 6.5 minutes to set up and test the 12 fibers in an MPO trunk. "In today's market, few MPO fiber trunks are tested in the field," given the time it takes to conduct such tests, the company said. MultiFiber Pro reduces the test time to approximately 20 seconds, 14 seconds for setup and 6 seconds for testing, the company says. "For the average data center with 1,600 MPO trunks, the MultiFiber Pro tester can save contractors more than 155 hours of labor and $17,000 USD in costs, assuming an average burdened labor rate of $55 USD," Fluke Networks said.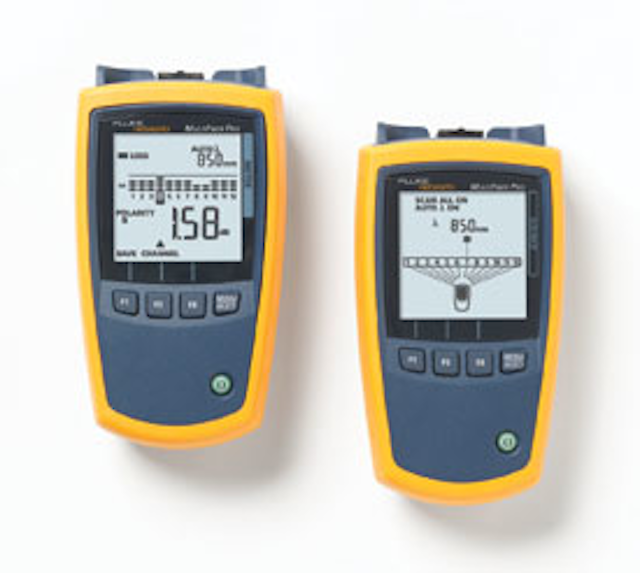 Jason Wilbur, vice president of datacom cabling and installation tools at Fluke Networks, said, "With rates of 40-Gbits/sec in data centers expected to grow by more than 175 percent by 2016 [according to Cisco Market Need for 40 Gigabit Ethernet Report, 2012], it's critical that we provide our customers with a solution that makes the MPO testing process both easy and cost-efficient. That need is compounded by the fact that preterminated MPO cables can be damaged or contaminated during transport and installation, and industry best practices dictate that validating performance is a critical step in ensuring data center performance."
The MultiFiber Pro OLTS includes the following features and functions.
• A single "Scan All" test function that automatically tests all 12 fibers in an MPO connector
• Built-in polarity verification for end-to-end connectivity of MPO trunk cables
• An interface that Fluke Networks describes as innovative and intuitive, displaying all 12 fiber test results
• On-board MPO connector that eliminates the need, cost and complexity associated with a fanout cord
• A "Select Individual Fiber" function that allows the user to troubleshoot a single fiber with more precision
• A shuttered fiber connector that eliminates the need for dust caps and increases reliability by reducing contamination
• Integration with LinkWare 7 for results management and reporting
---
AIR.U using Super WiFi to reach underserved college communities
A consortium including powerhouse names like Google and Microsoft, the United Negro College Fund and the New England Board of Higher Education is making it a mission to use Super WiFi (also called "whitespace WiFi") to provide broadband access to underserved college and university communities. Super WiFi makes use of unused television spectrum to achieve wireless connectivity.
The consortium is called AIR.U (Advanced Internet Regions) and according to the organization, it "will focus on upgrading broadband offerings in those communities that, because of their educational mission, have greater than average demand but often, because of their rural or small-town location, have below average broadband. The consortium's initial goal is to plan and deploy several pilot networks in diverse university communities and create a roadmap for the rapid deployment of sustainable, next-generation wireless networks as white space equipment becomes widely available in 2013."
Comments from several of the consortium's members emphasize that the effort will break down some economic barriers for many participating learning institutions. "Expanded broadband access has been an unaffordable hurdle in rural, underserved communities," said United Negro College Fund vice president for operations and technology Robert Rucker. Appalachian Regional Commission (ARC) federal co-chair Earl F. Gohl noted, "Appalachian communities cannot afford to wait for high-speed service to be delivered to them. Partnerships like this one put existing spectrum assets to work, and as a result, more quickly provide rural communities the high-speed service they need in order to compete with the rest of the world."
Transmitting on lower frequencies than today's WiFi systems enables Super WiFi signals "to penetrate further into buildings and cover much larger areas," the consortium said when announcing the initiative.
The idea for AIR.U arose out of the efforts of Gig.U, The University Community Next Generation Innovation Project, which describes itself as "a broad-based group of over 30 leading research universities from across the U.S. ... Gig.U seeks to accelerate the deployment of ultra-high-speed networks to leading U.S. universities and their surrounding communities." The AIR.U concept developed from a Gig.U request for information process, "in which a number of rural colleges, who were not eligible to join Gig.U, realized that their constituents needed gigabit connectivity just as much as larger research-based university communities," the organization said, adding that a number of respondents to the RFI "identified Super WiFi as a powerful, low-cost and well-suited path for providing this necessary upgrade ..."
A newly created organization, Declaration Networks Group, LLC, has been established to plan, deploy and operate Super WiFi technologies. In a frequently-asked-questions document, AIR.U explains, "The project will be coordinated through New America Foundation's Open Technology Institute, with the operational planning activities, including ultimate deployment and operation of Super WiFi networks, managed by Declaration Networks Group, LLC. Activities in the planning phase will be coordinated directly with colleges, universities and their communities along with support from the participating higher ed associations."
That document also explains that the program began in the summer of 2012 with its network and operational planning phase. Additionally, founding members will initially fund the project, then "additional funding sources will be applied as required to roll-out the pilot communities and to extend the deployment model beyond the pilot activity."
---
Handheld tester verifies cabling, network performance
Ideal Industries Networks is now shipping the NaviTEK II frontline technician tool, designed to conduct advanced active and passive network testing for copper- and fiber-based systems. The company adds that the tester "makes troubleshooting LAN physical and network layers more efficient with features ... including support for IPv6, 802.1X, Netscan and VLANs, and an advanced LCD screen to view pin-by-pin wiremaps."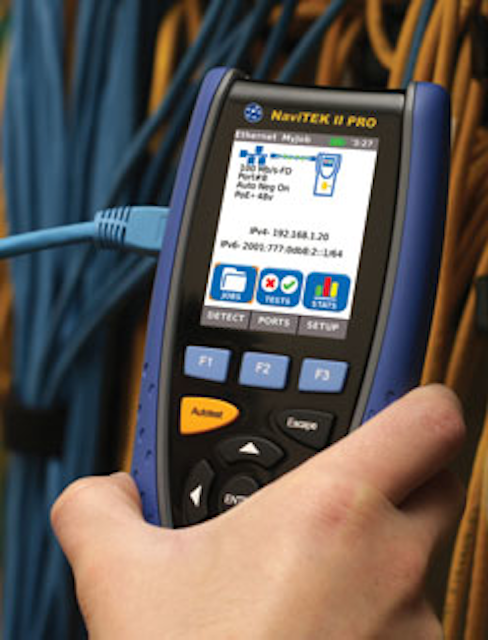 The NaviTEK II offers five-way navigation buttons as well as icons that its manufacturer describes as intuitive. "Another key to its time-saving design," the company says, "is the ability to test both cabling and network performance using the same RJ-45 interface, eliminating the need to disconnect the cable from the unit to switch between cable and network tests…Ping and traceroute are supported, as well as Netscan that autodiscovers IPv6 and IPv4 network nodes."
The NaviTEK II can store as many as 250 tests in five separate folders. The company points out that the tester's storage memory and its job-folder system help organize results from multiple jobs without having to offload the information onto a hard drive. The tool is available through major datacom and electrical distributors.
---
Temperature sensor enhances data center monitoring accuracy
RF Code has introduced an energy-efficient data center temperature sensor that enables long battery life while maintaining real-time alerting and meticulous monitoring accuracy. The sensor's technology enhancements use a power-saving platform pioneered by RF Code. The sensor is part of the company's data center monitoring and asset management solutions, a mix of active RFID hardware and integrated management software.
In addition to the sensor's hardware innovation, RF Code states that it has added "imaginative capabilities" to the unit's software. These include the ability to track temperature changes down to 0.1 degree Centigrade as well as giving customers the power to make data storage decisions that map to a company's individual needs. Used by a number of the world's largest companies, RF Code notes that its platform also integrates into many of the leading data center infrastructure management (DCIM) systems to help customers run more efficient data centers.
"Data center disasters can happen between temperature monitoring alerts sent by the sensor," comments Chris Gaskins, RF Code's vice president of product development. "Other solutions sacrifice alerting time to provide a long life battery. We challenged that conventional wisdom by developing a solution that says you can have it all: long battery life, rapid alerting and precise monitoring. All this on a matchbook-sized, peel and stick sensor that quickly sends information to the key data center personnel. Our solutions aim to preempt power management problems."
---
Tray increases surface contact area, reduces cable strain
The cross wires in Chatsworth Products Inc.'s (CPI) OnTrac Shaped Wire Mesh Tray provide a 400-percent increase in surface contact area for cables and reduces pressure and strain on the cables by 68 percent compared to other trays, the company says.
OnTrac Shaped Wire Mesh Tray from CPI incorporates flattened rather than round cross wires, which the company says increases the surface contact area for cables by 400 percent over other standard basket-style trays. The flattened cross wires also reduce pressure and strain by 68 percent for cables that come into contact with the tray, CPI adds. "This simple change allows Shaped Tray to increase cable support and contact area, while still implementing the same installation techniques, splices, support and accessories as CPI's standard wire mesh tray," the company said.
The increase in surface contact area allows the OnTrac Shaped Tray "to create point-to-point cable pathways in data centers and network equipment rooms that are ideal for supporting high performance high density cabling," CPI added.
The tray is made from 100-percent recycled steel and is pregalvanized, which CPI pointed out "eliminates environmental concerns about post-production chemical cleaning and plating, as well as application concerns about zinc whiskers." The tray accommodates the use of a bottom insert or liner to create a solid-bottom tray.
CPI continues to offer its OnTrac Standard Tray, which uses round cross wires. The two tray types have the same MSRP.
---
PoE option added to optical wireless system
Free-space optical (FSO) systems provider fSONA Networks has added a new power option for its SONAbeam FSO wireless links. The SONAbeam Z and E series can now be ordered with or upgraded to Power over Ethernet (PoE). The new option is intended to save operators time and money during installation by eliminating the need for separate cabling, the company says.
A SONAbeam Z or E system adapted with the PoE kit can be connected to any standard network port using the PoE kit, via an included injector. There will be three versions of the SONAbeam PoE kit, one each for North American, European and universal power-cord types. "Power over Ethernet simplifies installation by running both power and connectivity over the same type of cable," said fSONA President and CEO, Andrew Grieve. "This reduces time to deployment and increases ROI for our customers who want to avoid delays and get connected quickly."
The SONAbeam E series connects locations up to 1000 m apart at speeds up to 2.5 Gbits/sec (OC-48/STM-16). The SONAbeam Z series is optimized for links up to 500 m and also operates at speeds up to 2.5 Gbits/sec.
fSONA says the main benefit of its SONAbeam is to eliminate the substantial costs of digging up streets and sidewalks required to install fiber. Unlike other wireless solutions, the SONAbeam is immune to electro-magnetic (EM) and radio-frequency (RF) interference, and no licensing is required. The SONAbeam's high-powered laser transmitters are able to penetrate heavy rain, snow and fog far more effectively and consistently than any other available FSO technology, the company says.
---
Fiber-optic based AV transmitter wallplate
Extron Electronics' FOX T UWP 302 is a two-input fiber-optic transmitter for long-haul transmission of HDCP-compliant, HDMI, RGBHV or HD component video and stereo audio signals over singlemode or multimode fiber-optic cabling. It occupies a three-gang space and uses all-digital technology to provide pixel-for-pixel transmission of images up to 1920x1200, including HDTV 1080p/60, Extron says.
"AV system designers and integrators often need to send digital and analog video signals over fiber-optic cable from a single location," commented Casey Hall, vice president of sales and marketing with Extron. "The FOX T UWP 302 provides both HDMI and VGA inputs in a convenient wallplate design that blends with any environment."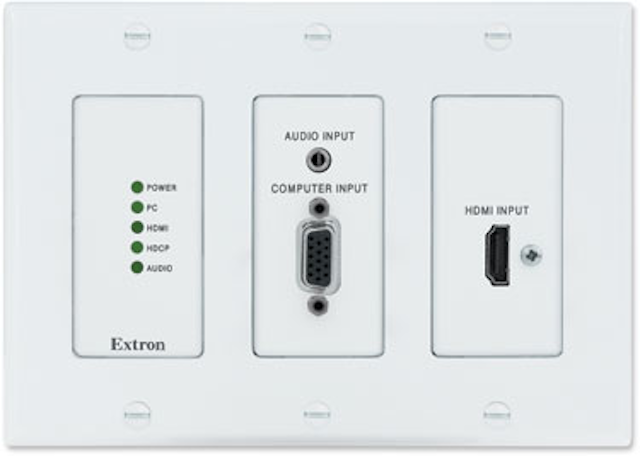 The transmitter digitizes analog signals to ensure high-quality transmission, the manufacturer notes. It also includes features such as EDID Minder, Key Minder, audio embedding with gain and attenuation control, auto-input switching, and real-time system monitoring, according to Extron.
EDID Minder manages EDID communication between sources and destination, and Key Minder continuously authenticates HDCP encryption for use with protected content.
---
Category 6A shielded jack tested to 600 MHz
The C6Amodule jack from BTR Netcom complies with the ISO/IEC 11801 Cat 6A component specification and is GHMT (Gesellschaft fur Hochfrequenzmesstechnik) certified. BTR Netcom says the modules "impress with their extremely high system integration capabilities and can be easily integrated into existing E-DAT modul and keystone system applications." The jack is available in the "modul" and "keystone" installation options.
The module has a 360-degree shield connection, the manufacturer explains, accommodating mating with patch cables in sizes AWG 26/7 - AWG 22/7 and AWG 24/1 - AWG 22/1. "The robust and reusable zinc diecast housing can be closed effortlessly by hand," BTR Netcom says. "With its closing, a secure and permanent bond is made with the cutting contacts. Other advantages are the strain relief via the latching clip directly on the charging unit, and smart cable management, which is also suitable for highly twisted cables. Optionally, a dust cover is also available for the C6Amodul."
BTR Netcom further explains the jack's role and value in a structured cabling system: "Internationally standardized and powerful network components are important for sustainable, structured cabling systems. The C6Amodul connection system presents the ideal solution. The flexible module provides an excellent basis for the entire cabling of buildings, regardless of the existing communication applications. ... It fulfills the Cat 6A/Class EA standard according to ISO/IEC 11801 ed.2.2:2011-06 for high demand applications in the range of up to 500 MHz bandwidth. Assembling requires no special tools, as it is simple and therefore cost-efficient. The component has been tested up to 600 MHz and the link up to 800 MHz. Because of the three available cable-feed variants (90, 180 and 270 degrees) the new module can also be used efficiently in small spaces."
---
Comtrol positions Industrial Ethernet switches for IP surveillance
Comtrol announced the release of its RocketLinx ES8105-GigE and RocketLinx ES8108-GigE Industrial unmanaged Ethernet switches. The new GigE family switches extend the capabilities of the company's RocketLinx line of Industrial Ethernet switches by introducing 5-port and 8-port full Gigabit models.
The RocketLinx GigE switches feature five (ES8105) and eight (ES8108) 10/100/1000 plug-and-play Ethernet ports, suitable for industrial and IP surveillance applications requiring reliable, high-bandwidth switches for uninterrupted data transmission. Like all RocketLinx switches, Comtrol says the ES8105-GigE and ES8108-GigE are specifically designed to meet the performance and environmental demands for applications requiring extended operating temperatures, rugged housings, and enhanced reliability.
"The RocketLinx line of Ethernet switches maintains a great reputation for reliability and performance among our industrial and surveillance customers due to its rugged design and advanced networking features," comments David Boldt, director of product management at Comtrol. "The introduction of the new ES8105-GigE and ES8108-GigE models builds on this reputation by delivering the same reliability and value in a full Gigabit Ethernet switch with the ease-of-setup and high bandwidth essential for supporting the latest generation of IP cameras."
In addition to rugged design for reliable operation, Comtrol notes that its RocketLinx GigE switches include features to ensure the delivery of mission-critical data via support for QoS, broadcast storm filtering, and 9.6K jumbo frame capability. The switches also feature redundant power inputs and a relay alarm for notification of fault conditions.
---
Fish tape is made of fiberglass, has laser-etched foot markers
Klein Tools has introduced a set of fiberglass fish tapes that have permanent, laser-etched measurements marked in descending one-foot increments. Klein says the tapes increase productivity by eliminating the measurement step when pulling wire or cable through conduit. "Cable installers can instantly and accurately measure the length of conduit runs while fishing by reading the amount of tape left to pay out," Klein Tools says. "This avoids expensive rework and wasted materials, saving both time and money."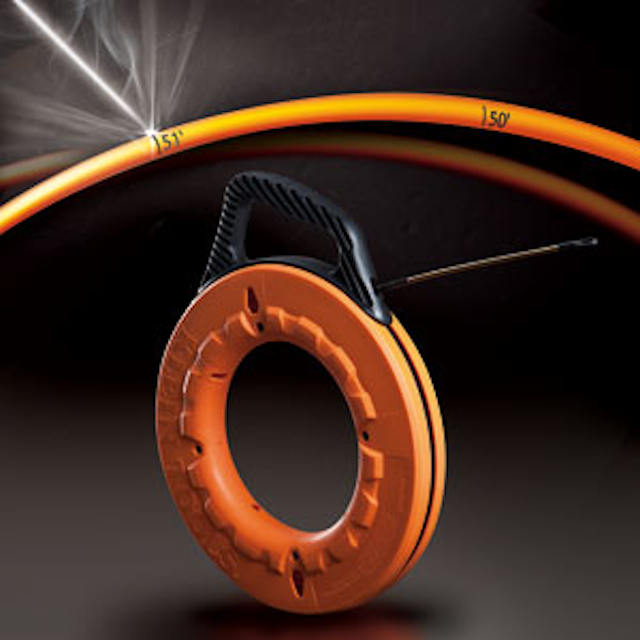 The tapes are available in 50-, 100- and 200-foot versions. Each has a seven-inch leader that pushes through crowded conduit, Klein says. Additionally, the company says, the fish-tape case saves time and effort because it takes up to 15 percent more tape in a single revolution.
Marina Wolk, product manager with Klein Tools, said, "Pulling wire and cable is very time-consuming as well as costly if you under- or over-estimate your material needs. Our laser-etched fiberglass fish tapes reduce installation time by combining measuring and fishing into one step. And the etched-in markings provide accurate measurements for materials, saving money on supplies."
---
RJ45 shielded connector with internal or external ground
Platinum Tools has updated its EZ-RJ45 shielded Category 5e and Category 6 connectors with internal or external ground. The connector simplifies twisted-pair terminations, Platinum Tools says, by allowing the wires to be inserted through the connector and out the front, which easily verifies the proper wiring order.
By pulling the connector down over the cable jacket and seating it tightly in the rear of the connector, electrical performance of the termination is optimized.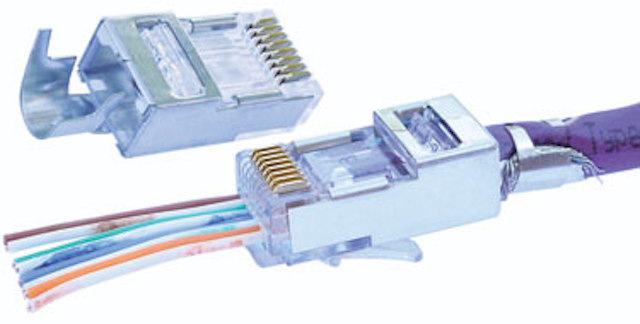 Platinum Tools lists the following characteristics of the upgraded EZ-RJ45 shielded connectors.
• Through holes allow wire pairs to be inserted through front of connector for faster termination
• Ease of verifying wire sequence reduces scrap
• Works with solid or stranded wire; separate connectors are not required, thereby reducing inventory requirements
• One-piece design eliminates need for bars or liners
Lee Sachs, Platinum's president and general manager, commented, "By shielding the EZ-RJ45, additional electrical isolation means the cables are even less susceptible to electrical interference caused by nearby equipment or wires and, in response, are less likely to cause interference themselves. Additionally, in applications where NEXT, FEXT and AXT are an issue, using shielded products can be the solution."
---
Enterprise wireless LAN market to double between 2011 and 2016
Market-research firm Dell'Oro Group recently released a report in which it projects the enterprise wireless LAN market segment will nearly double in size between 2011 and 2016. The total enterprise WLAN market will approach $5 billion in revenues in 2016, Dell'Oro says.
The enterprise market will represent just about half the overall WLAN market in 2016, the researcher says. The nearly-$10-billion total market size in 2016 will be 54 percent greater than its 2011 level. "Some emerging trends expected to drive this growth include deployment of service provider WiFi, the 802.11ac upgrade cycle, consumer video over WiFi, as well as a continuation of the bring-your-own-device [BYOD] trend," Dell'Oro said.
Wireless LAN research analyst Chris DePuy said, "With the 802.11ac upgrade cycle now underway, we are more confident in our projections. In addition, we are raising our forecast for service provider use of WiFi based on very strong growth trends now underway. We expect that by early next year, the availability of 5-GHz radio smartphones will stimulate a new phase in demand for both 802.11ac and service provider WiFi."
---
5 attributes reduce cable-ladder system's need for structural steel support
Cooper B-Line recently reported results of what it describes as extensive laboratory testing, which showed that its metallic cable ladder system can maintain its normal load-carrying capacity even when the system's structural steel supports are reduced by as much as two-thirds. The company says its testing showed the ladder systems "are able to be supported by fewer structural steel supports than are typically applied in heavy industrial environments," and company president Daniel Castillo added that this capability "provides end users with a system to reduce engineering complexity, procurement and installation costs."
The company points to five features in particular that enable this reduced support requirement.
• I-Beam side rail design. "This unique feature allows the system to carry up to 2.3 times more load than a traditional C-channel side rail," Cooper B-Line says.
• Ability to maximize options for proper materials selection while meeting each application's design criteria.
• Standard splice plates' ability to enhance the system's structural integrity and maximize splice-to-rail engagement for load-carrying optimization.
• Specialty splices' ability to enhance structural integrity while accommodating for thermal expansion and contraction in variable-climate applications.
• Fitting design that features tangents up to 100mm to maximize the system's strength.
A resource center on Cooper B-Line's website includes a material- and labor-savings calculator, test reports, and recommended support drawings.
---
MRJ21 preterminated copper cabling system for 10-GbE
The MRJ21 XG from TE Connectivity is a preterminated copper cabling system designed to deliver 10-Gbit Ethernet throughput in all architectures where copper cabling is required. It is based on TE Connectivity's MRJ21 high-density interface and, according to the manufacturer, helps facilitate management of data center rack and floor space, density and throughput, all while capitalizing on its ease-of-deployment and quick installation.
"Due to the ever-increasing penetration of 10GBase-T switches and blades in the data center, the need to quickly deploy a 10-GbE copper system with minimal white-space consumption has become critical," explained TE Connectivity when announcing the system. "The MRJ21 XG system, comprising cable assemblies, cassettes and Category 6A shielded patch cords, answers this challenge by delivering unparalleled space savings, density and throughput, with the rich feature set data center managers have come to expect from TE network infrastructure solutions."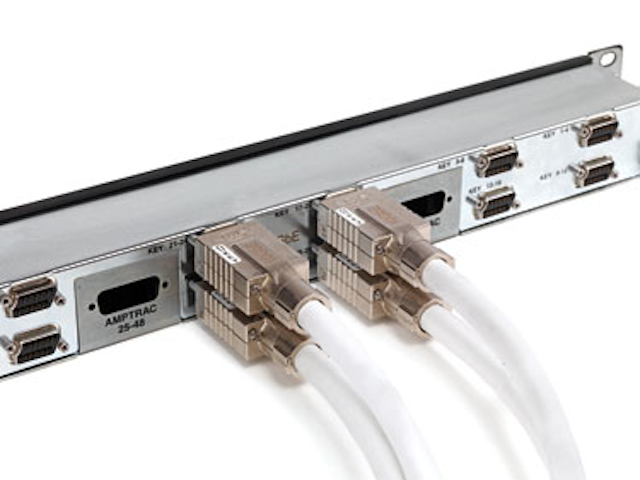 TE Connectivity lists the MRJ21 XG system's key attributes as follows.
1) Preterminated copper system delivering 10-GbE throughput while consuming 37 percent less space than traditional twisted-pair systems
2) Support of multiple 10-Gbit architectures, including top-of-rack, end-of-row and middle-of-row
3) Support for "green" IT initiatives by improving airflow and energy efficiency with lower cable volumes
4) Plug-and-play design that delivers greater ease of deployment and quick installation of additional capacity and service
5) A shielded construction that ensures the highest levels of immunity to crosstalk
---
Tool-less blanking panels for racks
Polargy's PolarSnap Quick Install Tool-Less Blanking Panels incorporates a "hook-swing-snap" design that the company says enables installation and removal without tools. Its usability provides data center operators with improved flexibility in server rack maintenance, Polargy adds.
To install a panel, the user slides its pivot pins into a rack's mounting rail holes and snaps the slide tabs at the opposite end of the panel into the opposing rail. A gasket on the panel seals against the vertical rail, which prevents leakage of hot air.
Polargy's president, Cary Frame, commented, "The primary reason data center operators cite for failing to install blanking panels is the hassle of installation. This new design makes blanking-panel installation quick and easy, and gives racks a clean and professional appearance."
The PolarSnap Quick Install blanking panels are available in 1, 2, 3, 4, 5 and 6U sizes.