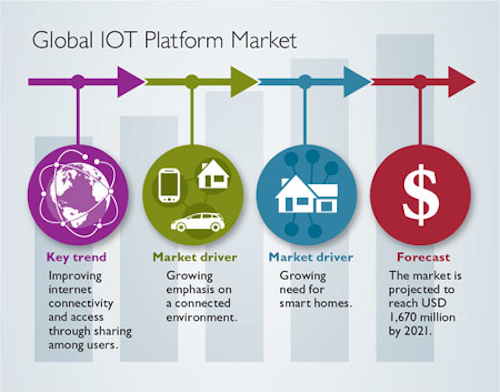 Technavio's latest report on the global IoT platform market provides an analysis of the most important trends expected to impact the market's outlook from 2017-2021. Essentially, the increase in the number of interconnected smart devices and sensors integrated into everyday consumer devices and physical assets is driving the market's growth, contends the analyst firm. In addition, advances in technology have resulted in low-cost, compact, and energy-efficient sensors and communication devices.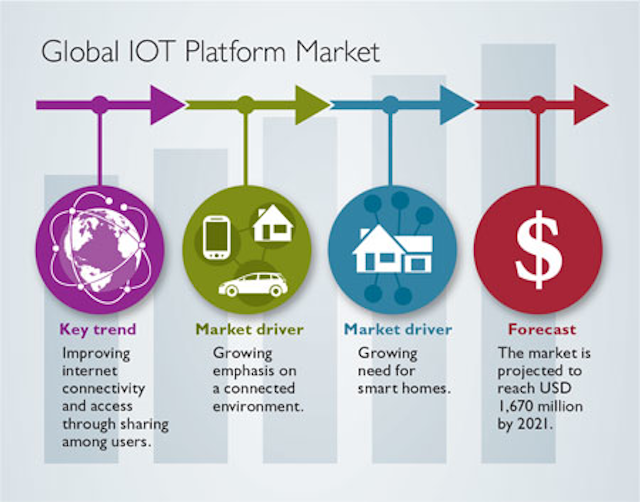 According to Technavio, the global IoT platform market was valued at USD 420 million in 2016, and is expected to grow at a CAGR of nearly 32 percent by 2021. Sunil Kumar Singh, lead analyst for Technavio, specializing in research on the embedded systems sector, confirms, "The global IoT platform market is growing at a significant rate. The growth stems from the growing demand for digital transformations from traditional industries who are looking to gain a competitive advantage in their respective markets."
The analyst defines an emerging trend as a factor that has the potential to significantly impact the market and contribute to its growth or decline. Specifically, the top three emerging trends driving the global IoT platform market, according to Technavio, are as follows.
Development of an open WiFi network: OpenWireless.org is a "cyber activist" group seeking to improve the internet connectivity and access by encouraging sharing among users. The organization has developed software that can convert the wireless router of a mobile device into a wireless access point. Technavio contends that, "if people accept and adopt this idea, then a ubiquitous public wireless network can be created." Adds Singh, "This untapped bandwidth can be utilized by using the sharing software developed by OpenWireless.org. The group plans to route the guest traffic over the anonymity software Tor or a VPN for enhanced privacy. It will use a protocol called EAP-TLS, which is the equivalent of HTTPS, to encrypt each user's link."
Growing diversity in IoT standards: Vendors across the IoT market have been working in tandem on an open-source platform to ensure interoperability among IoT devices while setting some standards for devices. The AllSeen Alliance, founded in 2013, was created to develop a larger ecosystem of vendors and products. As noted by Technavio, "Through the alliance, leading enterprises - including consumer electronics manufacturers, home appliance manufacturers, service providers, retailers, enterprise technology companies, innovative startups, and chipset manufacturers - have joined hands to develop AllJoyn," an open source software framework that makes it easy for devices and apps to discover and communicate with each other.
Industrial internet revolution: "The industrial internet of things (IIoT) is a combination of big data analytics and IoT," states Technavio. "It offers [several] opportunities for organizations across sectors such as agriculture, healthcare, manufacturing, mining, oil and gas, and transportation. Currently, these sectors account for 60 percent of the global economy." At present, IIoT is in its early stage but is poised for tremendous growth, adds the analyst. "The increase in the number of sensors shipped has fueled the global IIoT market," notes Singh.