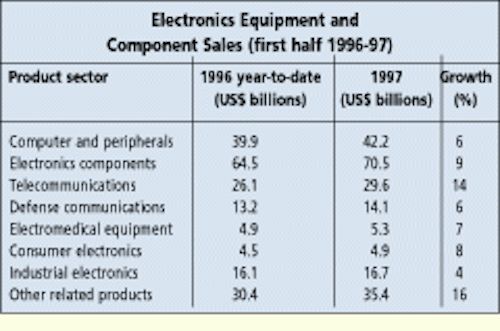 For the telecommunications cabling industry, 1997 was good, but 1998 promises to be even better.
Arlyn S. Powell, Jr.
No matter what yardstick you choose for the measurement, 1997 has been a pretty good year for the low-voltage cabling industry. Almost without exception, business indicators have been up, and the promise made by forecasters, observers, and everyone else who can get his or her hands on a pen or microphone is that times are going to continue to be good for the near future.
Let`s take a look at some of the numbers and statements published throughout the last year, both about what`s happening and what`s going to happen, and then we`ll provide some information on where you can get more market and business data if you need it.
The first indicator of the overall economic health of the U.S. electronics and telecommunications industries that one is likely to come across is the factory-sales and export figures provided by two trade associations, the Electronic Industries Association and its subsidiary, the Telecommunications Industry Association (eia/tia--both of Arlington, VA). Although year-end figures were not available at the time of this writing, quarterly reports of the two associations have been positive throughout 1997.
The eia, for example, reported in the fall that U.S. electronics exports for the first half of the year were up 10% over the same period in 1996, reaching $74 billion. The overseas market for U.S. telecommunications equipment was especially strong, showing 19% growth in the first half of 1997. The eia also reported that U.S. factory sales of electronic equipment, components, and related products jumped 9% in the first half of the year, reaching nearly $219 billion. Although every market sector showed growth during the period, the strongest was telecommunications, growing 14% to $29.6 billion.
In reporting the figures, tia president Matthew J. Flanigan said, "As new service providers, such as personal communication services and Internet service providers, continue to grow, we expect an increased demand for infrastructure equipment. With new orders for telecommunications equipment up nearly 21% over the first half of 1996, it appears that this demand, along with competition, is beginning to kick in and impact orders."
These indicators, although important, are very broad. How, for instance, do domestic factory sales of electronic equipment (or even telecommunications equipment) correlate to sales in the North American premises wiring and component markets? To answer that question, we have to turn from general trade- association statistics to the much more detailed market studies completed by market research firms. A number of research companies publish such studies, which may focus on cabling media (copper wire, optical fiber), market sectors (premises, outside plant), or applications (data communications, multimedia).
Premises market to grow
Both Frost & Sullivan (Mountain View, CA) and Insight Research Corp. (Livingston, NJ) released market research reports on the domestic premises wiring market in 1997.
The Frost & Sullivan report, North American Premises Wiring Systems Markets, revised annually, projects annual revenues for the North American premises-wiring market of $4.38 billion by 2003, compared to $2.3 billion in 1996. This compound annual growth rate (cagr) of 9.6% is driven mainly by cabling-system upgrades to meet higher-bandwidth needs.
The study distinguishes between market sectors for transmission media, such as optical-fiber and Category 5 unshielded twisted-pair (utp) cables, and connecting hardware, including fiber-optic connectors and 8-pin modular jacks. According to Frost & Sullivan, transmission media generated $1.22 billion in revenues in 1996, while connecting hardware produced $1.08 billion. By 2003, these figures are expected to jump to $2.52 billion and $1.86 billion, respectively. The market is driven by the trends toward installing optical fiber and Category 5 utp, which often cause end-users to change related hardware as they upgrade their networks.
Moves, adds, and changes are also a major factor in the market. The report notes, "During such movements, organizations tend to replace traditional cabling systems with more-advanced ones in anticipation of higher-capacity needs."
Among the product trends pointed out in the study are that raceways are gaining in popularity at the expense of traditional conduits, and multimedia outlets are finding wider use because they can typically handle a variety of different cabling media. Fiber-optic products are also enjoying sustained growth, while baluns and connecting blocks are seeing a reduction in use.
The report by Insight Research Corp. focuses on optical fiber rather than the entire premises market. Entitled Customer Premise Fiber: The Business and Residential Inside Wiring Revolution in Global Markets, 1996-2001, the study predicts that U.S. sales of fiber-optic cabling will grow from $460 million in 1996 to $2.1 billion by 2001, a cagr of 35%.
More than 99% of sales will be to the business market during this period, with residential installations remaining below 1%, according to the report. The North and South American markets account for about one-third of the total worldwide premises fiber market, which is projected to climb from $1.5 billion in 1996 to $7.6 billion by 2001. The Asian market is forecast to grow to over half the sales by the study`s end-date, while European market share is estimated to drop from 20% to 16%.
Wireless market also to grow
Two reports issued during 1997 on wireless customer premises equipment (cpe) agree that the market will grow, but its development will not be smooth. World Information Technologies (wit--Northport, NY) predicts, for instance, that the U.S. market for this equipment will rise from $4.8 billion in 1996 to $15.8 billion by 2002, a cagr of 21%. Different market sectors are expected to grow at different rates, and will in some cases compete with one another, according to the report On-premises Wireless Telecommunications Equipment. By 2010, new installations of wireless local loops will surpass new installations of wireline loops globally, the report states. wit predicts that the market for wireless loops will migrate from overseas to the United States.
A Frost & Sullivan report, North American Wireless cpe Market, puts the cagr for this market at 36.1%. It states, however, that growth will slow in 1997, only to rise again in 1998. "After that year," the report predicts, "the rate of growth will slow each year because the market will begin to become saturated. In addition, as the market expands, it is difficult for any market to sustain high growth rates." Revenues in 1996 for wireless cpe were estimated to be $252 million.
Datacom and telecom driving growth
Another way to look at the market for fiber-optic and low- voltage cabling and components is by what applications are driving it. Studies released during 1997 suggest that voice- and data- network building are having the biggest impact on the marketplace.
The 1997 MultiMedia Telecommunications Market Review and Forecast, issued by the tia and the MultiMedia Telecommunications Association (mmta--Washington, DC), pinpoints computer/telephony integration, wireless, and Integrated Services Digital Network (isdn) as the fastest-growing equipment categories in 1996. Overall, according to the report, telecommunications equipment and services grew by 11% last year, generating revenues of $298 billion. tia president Matthew J. Flanigan adds, "Double-digit growth for the entire communications industry is projected to continue through the year 2000."
The high-speed networking sector of the telecommunications market is one area where rapid growth can be expected, according to a report published by the Business Communications Co. (Norwalk, CT). High-speed Networking Technologies covers Asynchronous Transfer Mode (atm), 100VG-Anylan, 100Base-T, frame relay, isdn, switched multimegabit data service, and Synchronous Optical Network/Synchronous Digital Hierarchy, reporting on equipment and services combined. The U.S. market is projected to grow from $8.46 billion in 1995 to $88.26 billion in 2001, a cagr of 37%. The worldwide market is expected to grow at about the same rate, from $51.46 billion to $370.21 billion.
Another report, published by The Information Network (Williamsburg, VA) adds Gigabit Ethernet to the range of high-speed networking technologies. It states that Gigabit Ethernet adapter cards, which are expected to begin shipment next year, will total $1.4 billion by the year 2000. The price per adapter card is expected to drop sharply, as will the prices of 100Base-T and 100VG-Anylan adapter cards. These two technologies are forecast to generate sales of $2.64 billion by the year 2000, with 100VG-Anylan growing at -46.1% a year and 100Base-T at 80.6%.
Overall, the data-communications market will remain healthy, according to a survey published in Data Communications magazine (New York). U.S. wiring revenues, for instance, should grow from $2.19 billion in 1996 to a projected $2.68 billion in 1997, a rate of 22%. The domestic test-equipment market is also forecast to grow by 21%, from $507 million to $613 million.
wit reviewed the U.S. market for data and voice building communications cables and apparatus, concluding that it will total more than $2.6 billion in 1997. The report, titled Data and Voice Building Communications Wiring Cable and Apparatus--U.S. Markets, Technologies, and Opportunities: 1997-2001 Analysis and Forecasts, states that demand for these products will grow approximately 12.5% annually over the next five years, reaching $4.2 billion in 2001. An interesting sidelight is that this report includes statistics for cabling called Category 6 and 7, although neither type officially exists today. The study forecasts that demand for cabling exceeding Category 5 specifications will be strong, growing at more than 21% annually.
Market sectors vary in performance
Many different market sectors and subsectors combine to generate these overall sales figures. Some of the more interesting subsector projections include the following:
- The U.S. government information technology market is expected to remain about level from 1997 to 2002, when adjusted for inflation, according to a five-year forecast released by the eia. Total spending for 1997 was estimated to be $26.6 billion. Services are expected to increase, while equipment, software, and the number of personnel will decline.
- The Consumer Electronics Manufacturers Association (Arlington, VA), an arm of the eia, is estimating that consumer-electronics sales will reach $72.7 billion, a 6% increase over 1996, this year. Strongest growth comes in the area of home information (versus home entertainment), which accounts for $31.8 billion of the 1997 total. Including cordless phones, personal computers, printers, monitors, modems, and software, this category grew 13% over 1996`s sales total.
- wit began this year to study the residential wiring market, concluding that it will grow by an average annual rate of 16.9% through 2001, from $1.4 billion in 1995 to $3.7 billion. The report, which covers both transmission media and connecting devices, predicts that Category 5 utp and dual coaxial cable will be the main media serving the residential market for the foreseeable future.
- wit also studied the outside-plant market in 1997, estimating that optical fiber`s share will increase from 45% in 1996 to 67% in 2000. Copper cabling products will comprise the other 33% of the market.
What can we conclude from all this data? A number of trends are evident from study to study:
- The electronics, telecommunications, and cabling marketplaces are all healthy, growing from last year to this. All are projected to grow in 1998, and to continue growing until the year 2000 and beyond.
- The business marketplace will continue to converge on optical fiber and utp copper cable. The utp cable will be Category 5 or extended-performance Category 5 for the most part.
- The residential marketplace, driven by the information needs of the small office and home office, will increase sharply in size. Almost all the growth will be in copper cabling media, Category 5 utp, and coaxial cables.
- Overall, the market will continue to be driven by data- communications applications, and especially by high-speed networking applications. Expect Gigabit Ethernet, as well as other high-speed networking protocols, to show explosive growth. Voice networks, on the other hand, will remain flat.
- Wireless technology will become ever more important in business voice and data communications. As the wireless networking standard adopted this year takes hold and the market for premises wireless equipment shakes out, it will be necessary for cable-plant managers and cabling contractors to work wireless technology into their businesses. q
PennWell staff writers George Kotelly and Patrick McLaughlin and former staff writers Gail Leach Carvelli and Barbara E. Thompson contributed information to this report.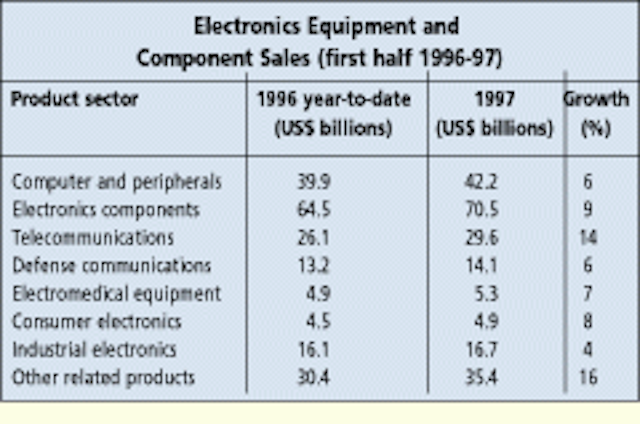 Click here to enlarge image