New Products
Transmitting video via UTP; Low-loss coax series; Server cable management ; MORE...
Sep 1st, 2004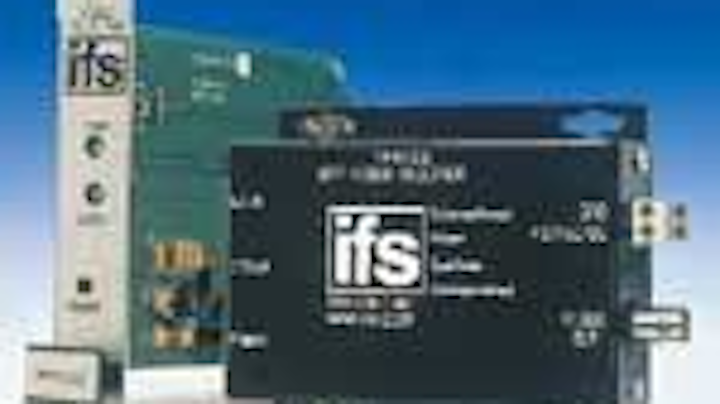 Transmitting video via UTP
Click here to enlarge image
The CopperLine TPT1000M and TPR1000 are environmentally hardened UTP video transmitters and receivers meant to send video over Category 5 cable. The IFS CopperLine video over UTP product line promises to deliver EIA/TIA RS250-C Medium Haul Video Performance at 1,500 feet and beyond. The system of active receivers and passive transmitters lets the product line be used with any manufacturers' passive transmitter, enabling that transmitter to extend distance with no compromise in video performance.
INTERNATIONAL FIBER SYSTEMS
www.ifs.com
Low-loss coax series
Click here to enlarge image
The SLA series of coaxial cable is specifically matched to the maximum frequency ranges of such connectors as N type, SMA, 2.92-mm, and 1.85-mm. Its low-loss double-shield builds on the technology developed for the company's LA290 cable and provides a combination of low attenuation and phase stability. The SLA series is ideally suited for instrument-grade applications. Its low-loss ability is achieved through the use of silver-plated inner and outer conductors, and microporous dielectric PTFE material. Low loss, phase stability, and shielding effectiveness of greater than 100 dB result from combining a helically served flat braid with a second shield of 97% minimum coverage round braid.
SEMFLEX
www.semflex.com
Server cable management
The Manage IT cable-management system for server cabinets is available in vertical and horizontal configurations, with pass-through ports for front/rear cable routing. The system alleviates network problems caused by loose connections and cable damage. It also provides integral retention of cable bundles, protecting them from damage due to twisting, stretching, nicks, or sharp bends that could affect signal quality and network performance. The system allows for toolless assembly, and can be mounted anywhere within the vertical trough or cabinet frame. With modular 9U sections that allow for customization, the vertical manager is available in three different kit sizes: 3.5-inch×9U for 700- and 800-mm standalone cabinets and 600-mm suited cabinets; 7.5-inch×9U for 700-mm suited cabinets; and 10-inch×9U for 800-mm suited cabinets. Also available is a 19-inch×2U horizontal manager for controlling cables and patch cords.
RITTAL CORP.
www.rittal-corp.com
Gel-free ribbon, Category 6 cables debut for all-weather use
Click here to enlarge image
A choice of gel-free ribbon fiber or 4-pair UTP copper cables are now available for indoor/outdoor installations, or for use in harsh environments. This summer, Sumitomo Electric Lightwave introduced what it calls a "flexible" 100 percent gel-free indoor/outdoor ribbon cable that features a bend diameter that the company claims is more than 40% smaller than that of comparable ribbon cables. The company says its cable provides approximately twice the flexibility of other ribbon cables, especially when installing in tight premise locations or in complex fiber pathways.
The riser-rated cable can be installed from the last termination in the outside plant going into the building, allowing for what the company claims will be a seamless and splice-free fiber flow. By incorporating water-blocking yarns into its patent-pending design, Sumitomo says it has removed the need for gels in the cable's core and central tube, thereby reducing installation preparation and labor costs. The cable can be used in direct-buried and lashed-aerial applications, and has a tensile strength of up to 600 pounds.
Click here to enlarge image
Also this summer, Draka Comteq USA announced development of its all-weather SuperCAT1000 Category 6 cable. The 4-pair UTP features a waterproof construction with durable jacketing system, and is built to connect small campuses or for harsh environment installations. Fully flooded with a UV- and abrasion-resistant black polyethylene jacket, SuperCAT1000 is designed to withstand temperature extremes of -70°C to +70°C. For additional protection in extreme environments, an optional steel or aluminum armor is offered. SuperCAT1000 can be direct-buried, installed inside a duct, or used in lashed-aerial installations.
SUMITOMO ELECTRIC LIGHTWAVE
www.sumitomoelectric.com
DRAKA COMTEQ USA
www.drakausa.com
Structured cabling system for multi-dwelling units
Click here to enlarge image
Connect is a series of complete structured cabling systems for multi-dwelling environments, such as apartments, townhouses, and condominiums. The system provides a single point of management and distribution for all media, including voice, high-speed data, audio/ video entertainment, Internet access, and security-monitoring equipment. The modular structured cabling solution provides residents with whole-home networking and is similar to the manufacturer's commercial offering. The system is centered around a discreet, low-profile enclosure that is available in 10-, 20-, and 36-inch heights, and holds a wide range of single-purpose and combination modules. The enclosure, which may be mounted between standard wall studs to be flush with the wall surface, is made from 16-gauge steel. It features a hinged door with key lock for security and accessibility. The base and door have a textured off-white finish that resists scratches and is compatible with any décor. Cable-management slots allow for versatility in organizing cables, and an electrical knockout is provided to accommodate AC requirements. The system also includes a comprehensive selection of panels to support voice, data, audio, and active and passive video, as well as blank and cable-management panels. Other components include a five-port 10Base-T hub with switchable uplink port, an eight-port 10/100Base-T switch, and a broadband router with a four-port 10/100Base-T switch. Also available are in-wall speakers, impedance-matching volume controls, a self-modulating camera, and a voice-line splitter.
ORTRONICS
www.ortronics.com
Residential network starter kit
The UniHome Plus 14 Starter Kit is suited for small network applications and multi-dwelling units. Each kit includes a UniHome Plus 14 enclosure, a basic 12-port voice module, and a 1×8 video distribution module, providing a total of 20 drops right out of the box. The system mounts between standard stud openings with self-adjusting mounting tabs to keep the enclosure square in the wall. It features a removable one-piece cover consisting of an integrated bezel and door to provide clean and secure installations. These enclosures also allow additional cables through the door from underneath while maintaining a closed door. The UniHome Plus 14 measures 14.25× 14×4.25 inches and is made of high-grade steel. It is powder-coated in white.
UNICOM
www.unicomlink.com
Panel-mount surge protector for residences
Click here to enlarge image
The 51110-001 Panel Mount is a surge protector designed for residential applications. It protects the home's power lines from high-energy transient voltage surges that can damage sensitive electronic circuits in computers, audio and video components, and electronic appliances. It will also protect the circuitry in the manufacturer's Decora Home Controls and other power-line carrier home-control systems without interfering with control signals. The 51110-001 is designed for mounting at the service entrance in houses, apartments, and condominiums to protect against transient surges entering the home through the AC power lines. It is rated for use in residential 120/240-V single-phase power lines and features a NEMA 4×-rated enclosure suitable for indoor and outdoor use that can be flush-mounted. The surge protector features a ..real-time diagnostic visual indicator that shows power and suppression for each protected phase. The device is rated for 40,000 Amps peak maximum surge current per mode (80kA per phase) with MOVs rated 150-V maximum continuous operating voltage to allow for tolerance to line voltage swells. It is rated for 1,600 Joules maximum energy dissipation, and is listed to UL Standard 1449.
LEVITON INTEGRATED NETWORKS
www.leviton.com
Wiring handbook with communications and electrical terms
The first new electrical dictionary in decades, compiled and edited by the National Electrical Contractors Association's executive director for standards and safety, focuses on terminology related to power and communications systems. NFPA's Illustrated Dictionary of Electrical Terms includes hundreds of terms and definitions taken from the National Electrical Code, National Fire Alarm Code, National Electrical Installation Standards, and other industry codes and standards. It is meant for professionals in the electrical construction industry, from electricians to contractors to consulting engineers. It is also suited for electrical apprentices and freshmen electrical engineering students. The 350-page book contains nearly 150 illustrations.
NATIONAL ELECTRICAL CONTRACTORS ASSOCIATION
www.necanet.org
High-performance residential coax, Category 5e cables
Offering what the manufacturer claims is performance typically found in commercial-grade cabling, these CM-rated Category 5e and 60%-shield Series 6 coaxial cables are designed to support high-speed data and video transmission rates for home installations. The Cat 5e cable also includes a cable footage marking system that shows exact footage remaining in the box as the cable is pulled. The coax cable has been designed to support applications that require 2.2-GHz bandwidth, compared to the 1-GHz limit typically offered by comparable coax.
SUPERIOR ESSEX
www.superioressex.com
Module simplifies multi-room audio
The integrated System Matching Module in the Spec-Grade sound system for multi-room audio installation includes the company's AutoSurge technology that ensures that all impedance-matching is performed at the central wiring point where speaker and amplifier output wiring converge (either in structured cabling enclosure or at a designated wall plate). The module is designed to eliminate the need for contractors to conduct mathematical calculations during installation. Operating in the background, the AutoSurge circuit activates to protect speakers from damaging power peaks and automatically resets after proper voltage is restored. All Spec-Grade speakers incorporated an additional layer of AutoSurge protection, helping contractors and users avoid installing or dealing with a "dead" damaged speaker.
LEVITON INTEGRATED NETWORKS
www.leviton.com/lin
Crown molding cabling channel
Click here to enlarge image
WireTracks CM is a cabling channel product designed for use in new or ..remodel crown molding applications. The removable crown molding bracketing system retains and conceals residential cabling and electrical wiring. It does not require wallboard cutting, and is removable so that homeowners can upgrade their cabling or wiring as needed.
WIRETRACKS
www.wiretracks.com
Color-designated connecting cables
The Silver Series and Direct Series of audio, video, and digital interconnect cables for residential installations now are specified by jacket material and color. The Silver Series cables are surrounded with a blue PVC jacket and a black vinyl mesh, with three gold stripes that wrap around the cable in a longitudinal swirl. They are designed to provide pure signal transfer and feature maximum shielding plus silver-plated center conductors. The Direct Series feature a flexible blue-gray PVC jacket, maintain the highest standards of OFHC copper conductors, and include multiple layers of shielding.
TRIBUTARIES
www.tributariescable.com
Wireless home gateway
Click here to enlarge image
The WiFi/DECT/VoIP wireless ADSL gateways from Inventel enable both data and voice transmission. The home gateway features an ADSL modem router to share a high-speed broadband connection. It integrates wireless technologies, including 802.11g and Digital Enhanced Cordless Telecommunications (DECT) for wireless voice and data communication. The gateway's configuration is managed through a user-friendly interface, and updates can be downloaded directly from the Web. Wireless security is ensured at several levels, including the implementation of WiFi Protected Access protocol. The product offers wireless services using either Voice over IP communication or the switched network. It is available in several versions, some of which can provide full connectivity to communicate with all current communication and entertainment devices including TVs, set-top boxes, hi-fi audio systems, and digital cameras. The unit includes four Ethernet ports and one USB port, a PCMCIA port to easily add a video extension, and a master USB to connect a printer or digital camera directly without going through a PC.
INVENTEL
www.inventel.com