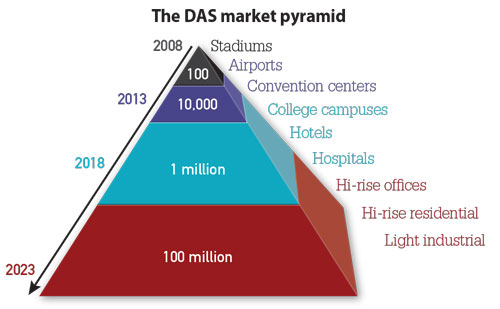 From the May, 2015 Issue of Cabling Installation & Maintenance Magazine
Multiple standards are under development, user need for connectivity is unrelenting, and Wall Street-style transactions are taking place in the busy market for distributed antenna systems.
By Patrick McLaughlin
The marketplace for on-premises distributed antenna system (DAS) construction is simultaneously established and emerging. Professionals throughout the communications industry are aware of the technology and its value, while at the same time activities like specification standardization, critical-mass market adoption, and vendor consolidation are reminders that the market as a whole is still taking shape.
Both the Telecommunications Industry Association (TIA; www.tiaonline.org) and BICSI (www.bicsi.org) are concurrently developing standards to address enterprise or on-premises DAS. In mid-2014 the TIA began work on what will be Telecommunications Systems Bulletin TSB-5018, tentatively titled Structured Cabling Infrastructure Standard to Support Distributed Antenna Systems. At that time the TIA explained, "This TSB specifies recommendations for DAS cabling infrastructure including cabling topology, architecture, design and installation practices, test procedures and components. A significant number of fire jurisdictions in North America have adopted standards for in-building public-safety radio-enhancement systems to ensure adequate in-building radio coverage for public-safety personnel during situations requiring a response by emergency personnel. Additionally, building components can act as a barrier for cellular communication. Therefore DAS is recommended to increase the signals."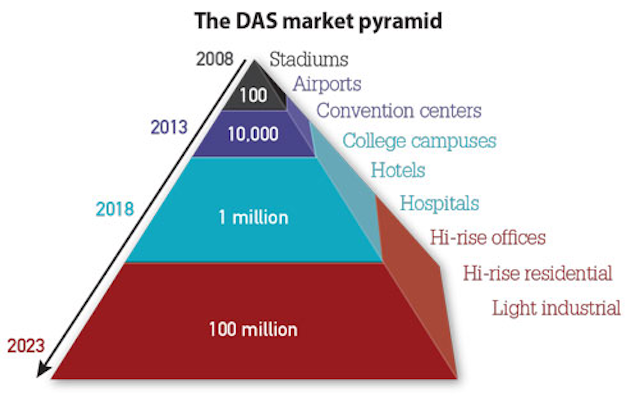 In a blog post back in September 2013, Mobile Experts principal analyst Joe Madden said DAS was being under-hyped. In the post he explained that as the market moves down this pyramid, from high-profile sites like stadiums to everyday sites like high-rise office buildings, potential DAS customers get more plentiful. Madden predicted that over time, the cost of DAS equipment would come down, thereby making ROI more attractive for property owners.
BICSI's Wireless Systems Subcommittee is working on Document D012 – Distributed Antenna System Design and Installation. The association explains on its website, "The document is expected to cover host systems such as commercial cellular, two-way analog and full digital voice (both public safety and business bands) for structure types such as commercial and government office buildings, industrial plants, hospitals, schools, colleges, hospitality (hotels and casinos), entertainment and meeting centers (stadiums, convention centers), retail, parking garages, outdoor campus environments."
Precedents have been established for both BICSI and TIA to publish standards on similar topics--data centers, educational facilities, healthcare environments, grounding and bonding--and having those standards generally recognized as complementary to, rather than competitive with, each other. The associations' ultimate publication of DAS standards is likely to follow those precedents.
Building the pyramid
The fact that standards are under development, rather than already published, for on-premises DAS is a sign that the DAS industry and its technology are relatively young, and/or that the technology is yet to penetrate the market deeply. That sentiment was described in September 2013 by Joe Madden, principal analyst at Mobile Experts LLC (www.mobile-experts.net). In a blog post titled "DAS is under-hyped" dated September 26, 2013, Madden opined, "Distributed antenna systems are becoming big business, with a global growth rate of 20 percent this year [2013] and higher numbers in key markets like North America." He detailed six reasons DAS is important: 1) it can include WiFi; 2) it is preferred by city governments; 3) small cells make great signal sources for DAS; 4) small cells can use DAS as a backhaul; 5) outdoor DAS is quicker than towers; 6) mobile operators are spending on DAS.
In this article we're reproducing a pyramid Madden included in his post, explaining the types of premises that are prospects for DAS and the approximate numbers of them. Looking forward from 2013, Madden projected, "A big part of the world needs DAS. The industry has started with stadiums and airports. As we run out of stadiums to cover, we will be turning to convention centers, shopping malls, hotels, hospitals, college campuses and other areas. Over time, Mobile Experts predicts that the cost of DAS equipment will come down, making the ROI more attractive for building owners, operators and the neutral hosting companies. There may only be 100 blockbuster stadiums in the world, but there are millions of buildings that fall into the other vertical markets."
Kim Purdie, director of product management for wireless products with Superior Essex (www.superioressex.com), said that over the past several years, DAS has penetrated markets "down the pyramid" as Mobile Experts might put it. And as these more-plentiful but lower-profile user organizations have adopted DAS, mobile carriers have been decreasingly willing to fund the projects. "Over the past four to five years carriers had been funding the lion's share of DAS installations," Purdie said, adding that the carriers' incentives for doing so include legitimately servicing the connectivity needs of high numbers of their customers, as well as the publicity gained from providing connectivity in high-profile venues. Indeed, after the Super Bowl in early February, AT&T and Verizon each issued boastful statements about the capacity they supported inside University of Phoenix Stadium on game night. But as Mobile Experts' Madden pointed out, only so many of those venues exist.
Importance of availability
As the market moves down the pyramid and end-users are more likely to fund a DAS installation, those users also face the demands of project managing the install. As we have covered in this magazine previously, working with the carrier to obtain the wireless signal is a monumentally important--and sometimes monumentally challenging--task. But other challenges exist also. Purdie pointed out that frequently, product availability can be a dealmaker or breaker for potential suppliers to a DAS project.
"The implementation team is responsible for installing on-time and on-budget," she explained. "Lead time for cable can be six weeks from one supplier and three days from another." She recalled a recent stadium project for which Superior Essex cable was used. The stadium already had a DAS, and the project was a revision/upgrade. The user needed RF feeder coaxial cable on a week-and-a-half's notice, so that timeframe immediately put some manufacturers in and others out.
These sentiments from Purdie echo the statement she made when Superior Essex introduced a plenum fiber/copper hybrid cable for DAS in September 2014. At that time she noted, "The surge in DAS deployments places an increased demand on contractors to complete installations faster. The Superior Essex hybrid cable helps reduce the installation time by eliminating the need for two separate cable pulls." DAS projects are like other cabling projects in that time is always of the essence, and there never seems to be enough of it.
Other manufacturers also have come out with product lines aimed specifically at DAS deployments. For example, when Senko Advanced Components (www.senko.com) organized its harsh-environment-ready fiber-optic connectivity products into its latest catalog, the company pointed out several products that serve DAS installations. Senko marketing manager Simone Baldassarri pointed out in particular that the company's plug-and-play fanout assemblies can be deployed in carrier-owned long-haul DAS networks as well as customer-owned on-premises DAS.
The assembly "is our latest IP fanout solution that allows the use of a preterminated feeder cable fitted with the IP-MPO connector with up to 24 fibers," the company stated. "This provides a quick connection of the main feeder cable to the preterminated fanout, which ensures maximum configuration flexibility for complex, inconsistent network rollout programs and future upgrades." The assemblies are available in configurations from 3 to 12 leads.
By and large the cabling supporting distributed antenna systems is "mix-and-match" interoperable, enabling project owners to use a currently available component rather than having to delay a project if a proprietary-system component was unavailable.
Acquisition implications
A couple recently announced corporate acquisitions are likely to have some impact on the DAS marketplace. January's announcement that CommScope (www.commscope.com) agreed to acquire TE Connectivity's (www.te.com) telecommunications, enterprise, and wireless businesses means these two prominent DAS providers will be under a single umbrella when the deal is finalized, which is expected to be sometime in 2015.
The two companies offer distinct DAS technologies. Recently CommScope announced that it began network-operator trials with its ION-E wireless infrastructure. When announcing ION-E's readiness for such trials in September 2014, CommScope explained the infrastructure system "features multi-operator, multi-technology and multi-band capabilities and utilizes the structured cabling infrastructure common to most commercial buildings. The structured cabling architecture makes it easy for IT installers to deploy a comprehensive, future-ready RF solution. The ION-E can bring almost any wireless signal to any of its universal access points deployed inside an enterprise building, enabling Cloud-RAN [a centralized, cloud-based radio access network]."
Also at that time, CommScope's senior vice president and general manager for distributed coverage and capacity solutions, Matt Melester, said, "What was once a niche market--using distributed antenna systems to bring wireless coverage to hard-to-reach areas--has become a primary focus for most network operators and increasingly many IT organizations. When you consider that upwards of 80 percent of mobile data traffic is indoors, and that businesses continue to adopt BYOD policies, it is little wonder why."
When the CommScope-TE Connectivity acquisition is complete, professionals in the DAS market will observe with interest the approach the company takes to the combined DAS portfolios.
On April 1, Corning (www.corning.com) announced it had acquired iBwave (www.ibwave.com), a provider of software that designs in-building wireless networks including DAS. iBwave has been referred to as "the AutoCAD of the RF world," in DAS circles. Corning entered the DAS market when it acquired MobileAccess in 2011.
When announcing the acquisition Corning said iBwave's "software and professional services are used by more than 600 global leading telecom operators, system integrators, and equipment manufacturers in more than 80 countries." The company continues to operate under the iBwave name as a wholly owned subsidiary of Corning. It is part of the Corning Optical Communications business segment.
The competitive advantages Corning may gain from this acquisition remain to be seen, but the deal could help Corning via the sales channel. iBwave's DAS design capabilities have proven themselves to be simple and widely adopted tools among system designers and as such, have gained a wide customer base for iBwave, as Corning noted when making the acquisition. Those customers are now customers of Corning, albeit through a wholly owned subsidiary.
Patrick McLaughlin is our chief editor.
More CIM Articles
Archived CIM Issues