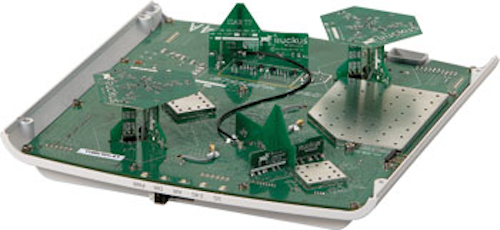 From the May, 2015 Issue of Cabling Installation & Maintenance Magazine
With the arrival of the first 802.11ac Wave 2 devices, the need for an adequate supporting cabling system becomes increasingly important.
By Patrick McLaughlin
Large or small, businesses increasingly are considering wireless-communication capability as a fundamental operational tool. And whether the wireless-transmission speed is measured in the low-Megabits-per-second or the multiple-Gigabits-per-second range, the ability to provide sufficient wireless connectivity--to internal or external clients--is emerging as a must.
The situation facing small, public-serving businesses may be considered the entry level. In spring 2014 Comcast Business (business.comcast.com) publicized results of a survey it commissioned, in which 602 principals and IT decision makers from companies with 1 to 10 employees participated. Carried out by business-to-business consulting firm Bredin (www.bredin.com), the survey uncovered that "offering free WiFi works better at keeping customers happy than common waiting-area conveniences like candy, water or magazines," Comcast said when publicizing the results. (Editor's note: We suspect the 602 companies participating in the survey must not have been offering Cabling Installation & Maintenance magazine in their waiting areas; otherwise the survey results surely would have been different.)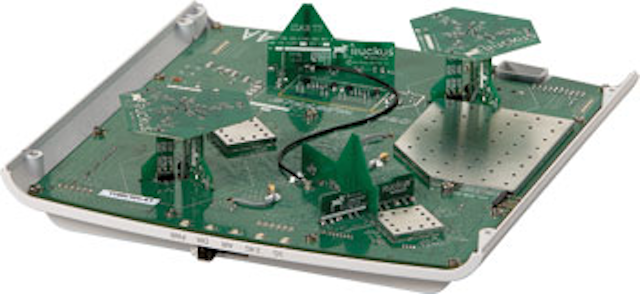 This is what Ruckus Wireless's ZoneFlex R710, an 802.11ac Wave 2 access point, looks like on the inside. When announcing the access point in April, Ruckus said, "With four discrete, dual-band smart antenna arrays, [it] is capable of dynamically creating over 4,000 unique directional antenna patterns per radio."

Small-business needs
Comcast refers to these 1- to 10-employee operations as "Main Street businesses," and said at the time that those offering WiFi, "coffee shops, bars, restaurants, retailers, doctor's offices and others, are leveraging the services to attract new clientele, improve customer loyalty and raise their profile within the community. Respondents who indicated they do not currently offer WiFi also understand the benefits of offering the service in their location, and overwhelmingly their intention is to offer it in the near future."
In spring 2015 we caught up with Mike Tighe, executive director of data services at Comcast Business, to discuss the relevance of those survey results a year later and also discuss the wireless-speed requirements that Comcast sees from its Main Street business customers. "Many small-business customers first used WiFi to differentiate their business," from others, Tighe explained. "If customers are getting poor or no WiFi, it rubs off on the brand." Concerning wireless speeds and specifications for Main Street businesses, he commented, "802.11b/g/n more than meets most needs today."
Tighe also emphasized: "Most of our small-business customers are not in the technology business, and they don't want to be in the business of tech support. The common thought process is that most small businesses don't have dedicated IT staff until they reach about 50 employees." With that in mind, he said, Comcast Business offerings like site surveys, range extension, and business-customer-specific technical support fit well with Main Street businesses. And while he could not reveal specific plans for future upgrades to these business-service capabilities, Tighe did say, "We are always pressing the envelope to provide more speed, and there are clear paths forward to double or triple speed. WiFi is not an afterthought to us."
The Comcast Business website lists its highest-level Internet access package as providing 150-Mbit/sec download and 20-Mbit/sec upload speeds. So as a practical matter the wired backhaul for its WiFi service supports those data rates as a maximum.
Same concept, different numbers
For enterprise-class wireless local area network (LAN) deployments, the numbers may be different but the concept is similar. The real data-transmission speeds at access points must be supported by a higher-speed wired backhaul.
In a recent post to the Oberon Wireless blog (www.oberonwireless.com), the company's co-founder and engineering director, Scott Thompson, addressed a number of the data-rate and associated cabling issues surrounding the next generation of wireless LANs--802.11ac Wave 2. "802.11ac Wave 2 supports up to eight spatial streams," Thompson explained. "However, in practice, Wave 2 products will support four spatial streams, while expanding the channel width from 80 MHz to 160 MHz. The total number of clients an AP can support simultaneously is dependent on the number of spatial streams demanded by the client devices. For example a 4-spatial-stream (4SS) access point can support four, 1SS clients (such as smart phones), or one 2SS client (tablets) plus two 1SS clients simultaneously. Access points can have 25 or more client devices connected at the same time, but with 802.11ac Wave 2 products, the AP can now connect simultaneously to multiple clients.
"The most important question for cabling professionals," he continued, "is 'What is the data rate that the cabled infrastructure needs to support?' The answer is complicated because it is dependent on the makeup of client devices, bands engaged, and other factors."
Those complicating factors are beginning to become reality for early adopters because, at just about the time Thompson was blogging about 802.11ac Wave 2, the first Wave 2 AP was announced. In April Ruckus Wireless (www.ruckuswireless.com) announced its ZoneFlex R710 Wave 2 AP, saying the access point will be available in the April-June quarter. The company said the ZoneFlex R710 supports "major technical advances in the 802.11ac standard that allow the simultaneous transmission of multiple client streams to different devices over the same frequency--a highly anticipated new capability called multi-user multiple-input/multiple-output (MU-MIMO). This enables over two times the density of mobile devices versus Wave 1, and aggregate data rates exceeding two Gigabits per second."
Ruckus added that ZoneFlex R710 supports up to four spatial streams. The company incorporated its patented BeamFlex+ adaptive antenna technology into the device. "With four discreet, dual-band smart antenna arrays, the ZoneFlex R710 is capable of dynamically creating over 4,000 unique directional antenna patterns per radio, mitigating up to 15 dB of RF [radio frequency] interference while also reducing co-channel interference," Ruckus explained. "Dual-polarized smart antennas also allow the R710 to automatically adapt to the changing physical orientation of mobile client devices such as smart phones and tablets, thereby helping to maximize uplink performance and offer unmatched reception of weak mobile client signals."
The AP is equipped with dual Gigabit Ethernet ports that can be aggregated to satisfy peak throughput requirements, Ruckus said.
If, as expected, the promise of 802.11ac Wave 2 speeds is delivered, dual-Gigabit ports will be insufficient backhaul in the near future. The Telecommunications Industry Association's TSB-162-A Telecommunications Cabling Guidelines for Wireless Access Points, published in late 2013, recommends the use of Category 6A cabling or Om3 fiber, each of which is capable of supporting 10 Gbits/sec. Why such a high-performance cabling recommendation for Wave 2 if the first product appearing on the market only has dual-Gigabit ports? In his blog post, Thompson points out, "It appears that a 1-Gbit/sec cabled infrastructure is adequate for 2015, but what will happen beyond this year? … The FCC can potentially add another 50 percent to current bandwidth at 5 GHz, and manufacturers can (will) begin to manufacture 8SS access points which, when connected to 8 individual 1SS clients, will require 1.8-Gbit/sec TCP throughput. If the AP has a dual band radio (5 GHz and 2.4 GHz), as most do, the cabling infrastructure must support the throughput of both radio systems. This information must be gleaned from the AP manufacturer's spec sheet. Modulation, coding, and beamforming techniques will continue to advance, providing higher data rates. Also, access points designed according to the IEEE 802.3ad standard at 60 GHz will require approximately 5-Gbit/sec TCP throughput connectivity."
Wave 2 means 2.5, 5
Over the past several months we have chronicled, here in this magazine and on our website cablinginstall.com, the development of technology and standards that will support 2.5- and 5-Gbit/sec transmission over twisted-pair cabling. Although work within IEEE 802.3 remains in relatively early stages, the general belief is that the 2.5GBase-T standard will recommend the installed base of Category 5e as a supporting infrastructure while the 5GBase-T standard will recommend the installed base of Category 6. As has been the 802.3 Group's consistent modus operandi over many years, whenever the installed base of cabling can be leveraged for new technology, the group strives to do so. That is the case with 2.5 and 5GBase-T.
In an interview with Cabling Installation & Maintenance last fall, representatives of the Ethernet Alliance (www.ethernetalliance.org) stressed that the 2.5 and 5GBase-T projects specifically address existing infrastructures. "We're not talking about greenfield installations," a representative of the Alliance said, adding that the general recommendation when installing new cabling is to install the best available. In fact, to some extent that recommendation is proving its worth in the form of these 2.5 and 5GBase-T efforts. Take the example of users who had the option, upwards of 20 years ago, to install Category 5 or the not-yet-standardized Category 5e cabling as they looked ahead to 1000Base-T networking. Those who chose pre-standard Category 5e that met the later-published Category 5e specifications not only got an infrastructure that supported 1000Base-T, but now also witness the IEEE determined to define specifications that will enable 2.5-Gbit/sec transmission over that same cabling.
And Category 6, often chided as being the cabling system without an application to support, will finally get that application in the form of 5GBase-T. Users who chose Category 6 based on it being the best-available unshielded twisted-pair medium at their time of investment, with double the bandwidth capacity of Category 5e (200 to 100 MHz), are seeing the networking community invest time and effort into specifying the means by which that Category 6 cabling will support 5-Gbit/sec transmission.
On the topic of pre-standard products, a recent announcement from Cisco has brought the 2.5 and 5G possibilities into the realm of reality. In January Cisco announced, through a blog post, that it is adding 2.5- and 5-Gbit/sec ports to several of its switches. The company's vice president and general manager for enterprise networking, Jeff Reed, said in a January 20 post that the Catalyst 4500E, 3850 and 3560-CX switch models will incorporate these speeds. "Today we take the next big step in our wireless strategy by introducing Cisco Catalyst Multigigabit technology across several campus switches," Reed noted. "As the industry anticipates the shipment of 802.11ac Wave 2 APs and the future 802.11x, enterprises are now readying to take full advantage of the increase in wireless bandwidth and the ability to run several wireless streams simultaneously on the same AP," he continued. "11ac Wave 2 offers tremendous opportunities, but also has challenges. How can you enable 6.8G wireless speeds [the theoretical high end of 802.11ac capability] being promised by 11ac when your wired port is limited to 1G because of Cat 5e cables?"
From the looks of it, today, just about the only thing you can't yet obtain related to 2.5 and 5GBase-T are the standards themselves.
Patrick McLaughlin is our chief editor.
Cabling, installing 802.11ac wireless
In his blog post titled "Why will IEEE 802.11ac change the Wireless Experience? – Part II," Oberon co-founder and engineering director Scott Thompson offered nine cabling and installation considerations for "ac." "Given that new WiFi deployments with 802.11ac will be mission-critical, it is all the more important to plan for effective cabling, location and positioning of access points," he said. "The antennas will be required to effectively create spatial streams and beamform to multiple clients. APs should be positioned to achieve optimum antenna coverage and performance, and may be located densely to serve high densities of client devices."
Thompson noted the following considerations are important.
Per TIA TSB-162-A, provide at least one Category 6A cable to each AP location. Many designers are prudently planning on two cables to each AP location.
Plan for APs to serve no more than 25 clients, per TIA-4966 Standard for Educational Facilities. Thus, a classroom for 100 students will require at least 4 APs. (Many very high density installations may require up to 100 clients to connect to a WAP, but this is a special case.)
Mount APs in the ceiling if possible, in a high location above obstructions where possible.
Do not mount APs above suspended ceilings. The ceiling tiles and gridwork attenuate and disrupt the signal.
Mount access points in the preferred horizontal orientation, whether in the ceiling or on a wall, rather than flat on the wall. All leading AP manufacturers recommend this.
In auditoriums and classrooms, it may be beneficial to use directive antennas to provide zones of coverage.
In auditoriums, stadiums, and large classrooms, it may not be possible to mount APs in the ceiling. An alternative is to mount APs underneath seating to achieve the density required. APs should be properly protected in this environment.
Physically protect the AP and antenna from the environment.
Plan for high density AP installations. A professional installation will provide the physical security, code compliance, and aesthetics mandated by the installation environment.
The Oberon blog post illustrates several of the considerations cited here. The post also goes into significant detail about IEEE 802.11ac issues including Wave 1 and Wave 2, the potential for changes in the Federal Communications Commission's channel plan, single-user and multi-user (SU and MU) MIMO, and realities of TCP as well as over-the-air data rates. You can read Scott Thompson's blog post in its entirety at oberonwireless.com/news/blog.
More CIM Articles
Archived CIM Issues