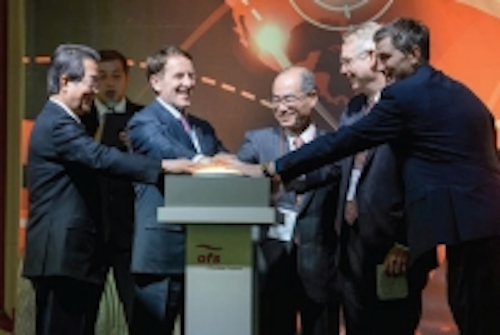 From the May, 2015 Issue of Cabling Installation & Maintenance Magazine
Ethernet Alliance issues 2015 Ethernet Roadmap
At OFC 2015 (March 24-26) in Los Angeles, the Ethernet Alliance released its 2015 Ethernet Roadmap. The first-ever publicly available industry roadmap from the technology consortium is illustrated, outlining the ongoing development and evolution of Ethernet through the end of the decade, and bears a companion white paper.
The consortium notes that Ethernet, the world's most widely adopted networking technology, saw a period of rapid change and diversification in 2014. Four new speeds--2.5 Gigabit per second (Gbit/sec); 5 Gbit/sec; 25 Gbit/sec; and 400 Gbit/sec Ethernet--are currently in development by the IEEE, while the industry is also considering 50 and 200 Gbit/sec Ethernet. While seemingly chaotic, this emerging diversification is leading to a new, different, and exciting future for Ethernet, contends the industry group. The Ethernet Alliance says it developed the 2015 Ethernet Roadmap to bring clarity to this mix of speeds, application spaces, and market drivers in the near-term, as well as explore speeds beyond 2020, which could be 800 Gbit/sec; 1 Terabit per second (Tbit/sec); 1.6 Tbit/sec; 6.4 Tbit/sec; and 10 Tbit/sec Ethernet.
"Ethernet is constantly evolving and diversifying into new markets and application spaces. Such expansion is successful when there is greater visibility about a technology's future. The 2015 Ethernet Roadmap will allow the industry to peer into Ethernet's future," said Scott Kipp, president, Ethernet Alliance and principal technologist at Brocade.
Kipp added, "The roadmap, developed by our members, will help users understand where Ethernet is going. Such insight will heighten confidence to the market that Ethernet has a clear path forward and help further drive adoption of Ethernet solutions."
The Ethernet Alliance says its 2015 Ethernet Roadmap provides practical guidance to the development of Ethernet, and offers an in-depth look at Ethernet's accelerating evolution and expansion in four key areas: consumer and residential; enterprise and campus; hyperscale data centers; and service providers. The roadmap provides visibility into the underlying technologies, including electrical and optical infrastructures. It further highlights the different areas' rate progressions, while emphasizing the changing dynamics and challenges within the Ethernet ecosystem, which includes support for wireless technologies such as 802.11ac.
"Today's Ethernet landscape is vastly different than in years past. Ethernet's growing diversification is happening from within as people seek to bring the benefits of Ethernet to a multitude of different market spaces. It's no longer being driven by speed increases in just factors of 10," contends John D'Ambrosia, chairman, Ethernet Alliance, and chief Ethernet technologist at Dell. "We're now at an inflection point where charting a clear course for Ethernet's future has become an imperative. This roadmap will help impart needed clarity by detailing the coming wave of future Ethernet speeds and broadening range of application spaces, while illustrating how standards innovation continues to address emerging market demands."
---
OFS opens new fiber-optic cable factory in Russia
OFS, a wholly-owned subsidiary of Furukawa Electric Co., Ltd., and Russia's Sviazstroy-1 have announced the joint opening of a new optical fiber cable factory in the Maslovski Industrial Zone of Voronezh, Russia.
"Today, OFS Sviazstroy-1 is one of the top Russian optical fiber cable factories," said Vladislav Kalashnikov, general manager of OFS Sviazstroy-1. "This new factory is expected to create additional jobs and will increase the joint venture's manufacturing capacity significantly." OFS is the majority shareholder and Sviazstroy-1 is minority shareholder in the factory joint venture.
"With the extra capacity of the new factory, we can better serve the growing demands of our customers developing transcontinental telecommunications backbones," said Michael Pavlychev, managing director for OFS Russia and CIS. The joint venture, founded in 1999, was created by OFS and Sviazstroy-1. Capacity expansion was required in 2007 to meet the market demands. The second phase of expansion was the construction of a new plant in the Maslovski Industrial Zone of Voronezh from 2012 to 2014.
"The new location of the fiber-optic cable manufacturing facility is an ideal fit for OFS Sviasztroy-1, with Voronezh city government's emphasis on attracting and supporting growing, successful and technologically enhanced businesses," added plant general manager Kalashnikov.
Voronezh is a large, industrial and cultural city located in the central part of Russia (about 500 km south of Moscow) with a population of just over a million citizens and a developed infrastructure. OFS asserts that each year the city has realized growth in industry, schools and medical centers, along with excellent business opportunities for commercial and individual businesses, attracting more and more residents to Voronezh and the surrounding regions.
The OFS Sviazstroy -1 Cable Company specializes in development and production of fiber-optic cables for the telecommunications industry. It is the only Russian manufacturer that uses cabling technology licensed from OFS.
---
Sumitomo reboots Lynx2 splice-on fiber-optic connectors for faster field terminations
Sumitomo Electric Lightwave has released the next generation of its Lynx2-PLUS CustomFit splice-on connectors, with a fresh design geared to enable faster real-time and on-site fiber-optic terminations, enhanced cabling installation procedure, and improved packaging for data center, enterprise network, FTTx, fiber distribution hub, and other communication provider connectivity applications.
With the patented Lynx2-PLUS field installable splice-on connectors, termination time for 2- and 3-mm cord applications has been reduced by half, for complete connectorization in approximately 2 minutes, and for 250- and 900-micron in 96 seconds or less, says the company. The new connectors no longer require furcation tubing for 2- and 3-mm applications, resulting in shorter, more aesthetic connectors. The finished product mirrors factory preterminated jumpers, trunks, harnesses, and arrays, contends Sumitomo.
Compatible with all SC, LC, FC and ST style fiber-optic connectors, Sumitomo says the Lynx2-PLUS offers real-time, on-site flexibility and immediate scalability for quick MACs, repairs, and restorations for minimal downtime. Notably, the connectors also eliminate crimping tools, gels, splice trays, and the inventory of varying lengths of preterminated jumpers streamlining fiber termination and infrastructure design. The company adds that the product line's new 4-ct. packaging improves efficiency with faster package entry, easier component access, and a more efficient assembly process.
As with the previously launched Lynx2-MPO connector, with the new connectors, customized, on-site, real-time field terminations and cable builds at exact lengths are made possible, enabling quick, easy, and reliable customized permanent field terminations without the shorts, excess slack, and logistic delays of preterminated cables. The new splice-on connectors provide APC, UPC, and PC (MMF) polishing options and yield average insertion losses of 0.15 dB for singlemode fiber and 0.10 dB for multimode fiber. The connectors are compatible with Sumitomo's Quantum Fusion Splicers and can also be used with other splicer brands.
"With the release of the Lynx2-PLUS, we maintained all of the quality standards of the Lynx2, while providing our customers with even faster deployments, increased productivity, and reduced costs," says Joshua Seawell, the company's director of lightwave network products.
---
Platinum Tools unveils new cable tracing tone and probe set
Platinum Tools, a specialist in products for the preparation, installation and hand termination of wire and cable, recently launched a new tone and probe set.
Platinum's new Tone and Probe Set (P/N TP150) began shipping in March with an MSRP of $29.95. The probe features a recessed push-button that activates tone scanning when needed, a tapered tip that allows easy penetration of cable bundles, a side thumb wheel that adjusts volume and turns off power to reserve battery power, and sensitivity of 100Hz-300KHz. The tone generator features include a slide switch to select Tone/Off/Cont, a continuity mode to verify if a wire is broken, alligator clips to test pairs, and an RJ11 connector for data or phone lines.
"With the Platinum Tools Tone and Probe Set's steady tone, push-to-scan button, and a clear loudspeaker, you can quickly trace and identify cable locations on jacks or through walls," explained George Jang, Platinum Tools product manager. "Wire bundles are easily penetrated with the tapered probe tip and the probe volume is controlled with a thumbwheel. With common send and receive frequencies, the TP150 is versatile enough to be used with other tone generators or probes."
Panduit's preconfigured IDF streamlines industrial network installations
Panduit Corp. recently announced the launch of its preconfigured Industrial Distribution Frame (IDF), specifically engineered to deploy and protect rack-mount Ethernet switches in industrial applications.
Steve Timian, vice president at Panduit, comments, "The preconfigured IDF includes detailed deployment instructions and built-in features that save time normally spent designing, procuring, and installing. The IDF has been optimized with 3x the cooling capacity over typical deployments to improve network availability. Overall, the IDF provides customers with the means to simply deploy robust, scalable industrial networks."
The company claims the new product's design provides consistent equipment deployment with 25-percent faster installation than an IDF installation that is not preconfigured, and can significantly lower the risk of downtime due to switch overheating. Panduit says the Pre-Configured IDF is UL 508A Listed and UL Type 4/12, IP66 Rated to ensure safety and reliability. The wall mount, dual hinged enclosure accommodates up to five switches with front and rear access for quick and easy maintenance.
"The market demand for industrial device connectivity is rapidly accelerating on the plant and factory floor, driven by emerging technologies, such as the Internet of Things (IoT) and cloud computing," asserts Craig Resnick, vice president, ARC Advisory Group. "This rapidly growing market requires additional industrial strength infrastructure solutions that are designed for quick deployment, to withstand harsh environments, and shorten the time to perform functions ranging from diagnostics and maintenance to upgrades and expansion."
Resnick added, "The Panduit preconfigured IDF addresses these issues, in addition to extending the lifecycle of the equipment such as switches and UPS systems installed in the enclosure. This is accomplished by creating an enclosure environment that maintains the installed devices' designed operating temperature ranges as well as the NEMA or IP protection ratings for the devices."
---
Wireless network tool solves for active PIM testing over CPRI
At the Mobile World Congress 2015, CommScope unveiled its Optical PIM Tester, which the company says will change the way operators test for a costly source of interference in advanced wireless networks, i.e. passive intermodulation (PIM), by turning what has typically been a reactionary procedure into a proactive process.
A revolutionary test methodology is introduced with the affordable, portable tester, contends the company. For the first time, a single technician can now connect directly to the baseband unit at the bottom of the tower and perform a "truly active" PIM test over the Common Public Radio Interface (CPRI).
"As PIM requirements become more stringent as demanded by LTE networks, it gets harder to determine if there is a PIM problem needing remediation," said Morgan Kurk, senior vice president, wireless, CommScope. "The Optical PIM Tester utilizes an interface that is not susceptible to creating PIM and thus prevents testing from becoming part of the problem. Its simplicity enables PIM testing to become part of standard network acceptance and preventative maintenance processes."
Additionally, the company notes that the Optical PIM Tester can easily be included within every technician's arsenal thanks to its compact size and ease of use. It provides an interface that is accessible from a smartphone, tablet or notebook computer. Entire technical crews including tower climbers no longer need to be sent out to a site to test for PIM by disconnecting coaxial cable from antennas, potentially introducing new PIM in the test process, the company points out.
PIM is interference resulting from the mixing of two or more frequencies in a passive circuit, notes CommScope. If the interference coincides with a network's transmit frequencies, it can cripple network performance and throughput. PIM can occur from a loose or poorly made cabling connection, an incorrectly torqued connector or a poorly manufactured or installed antenna, filter, or remote radio head--and can degrade the network dramatically. For example, just a one-decibel drop in uplink sensitivity due to PIM can reduce wireless coverage in an LTE network by 11 percent, claims the company.
---
Report: ICT downtime costs businesses $4 million per year
Technology researcher Infonetics Research, now part of IHS, Inc., recently conducted in-depth surveys with 205 medium and large businesses in North America and discovered that companies are losing as much as $100 million per year to downtime related to information and communication technology (ICT).
"Businesses participating in our ICT downtime survey are losing almost $4 million a year to downtime on average, about half a percent of their total revenue," comments Matthias Machowinski, directing analyst for enterprise networks and video at Infonetics Research.
Infonetics' survey, The Cost of Server, Application, and Network Downtime, explores the frequency, length, cost and causes of ICT downtime, including those related to the network, security, servers, applications and devices. To help IT managers calculate the impact of downtime at their own organizations, for the survey, Infonetics developed a customizable downtime calculator that computes the cost of both outages and degradations by type and source.
According to the survey, the most common causes of ICT downtime are failures of equipment, software and third-party services; power outages; and human error. Infonetics' respondent organizations said they experience an average of two outages and four degradations per month, with each event lasting around six hours. Businesses' top strategies for reducing ICT downtime include implementing network monitoring to speed discovery of outages, building more redundancy into systems, and training and hiring staff.
"Fixing the downtime issue is the smallest cost component," adds Machowinski. "The real cost is the toll downtime takes on employee productivity and company revenue, illustrating the criticality of ICT infrastructure in the day-to-day operations of an organization."
---
U.S. Dept. of Labor taps PCIA for wireless workforce training
PCIA, The Wireless Infrastructure Association announced that it has signed a new memorandum of understanding to expand its partnership responsibilities on "a path-breaking Department of Labor (DoL) initiative aimed at creating the wireless workforce of the future."
Under terms of the agreement, PCIA will help the DoL-credentialed Telecommunications Industry Registered Apprenticeship Program (TIRAP) create effective apprenticeship programs to serve the needs of the wireless infrastructure industry. PCIA and TIRAP will collaborate to establish a comprehensive, industry-wide solution for wireless training credentialing, with the goal of establishing a common vernacular.
The TIRAP Board also voted to elect Jonathan Adelstein, PCIA's president and CEO, to serve on its executive board. Adelstein, a strong proponent of training military veterans and displaced workers for careers in wireless infrastructure, joins a distinguished group. Chaired by Scott Kisting, senior vice president for risk and compliance for Midwest Underground Technology, Inc., TIRAP's board is composed of senior executives with wireless infrastructure, equipment distribution, and telecommunications companies, including several PCIA members.
"We're honored that PCIA has been given an opportunity to strengthen its role in shaping a program so important to America's economic and technological future," Adelstein said. "TIRAP will set the credentialing requirements for the workers that we need to build and upgrade wireless broadband networks, helping us meet the rapidly growing demand for mobile data. Our goal is to deploy wireless infrastructure safely and with the highest quality of workmanship."
A former member of the Federal Communications Commission (FCC), PCIA's Adelstein was among the dignitaries who spoke at an October 14 FCC event that launched TIRAP. Also speaking were FCC Chairman Tom Wheeler and DoL Secretary Thomas Perez.
"The TIRAP board is delighted that Jonathan and PCIA have agreed to take on additional responsibilities," added PCIA board chairman Kisting. "PCIA has the expertise and resources to help TIRAP achieve its objective of understanding the industry's needs in regards to training a highly skilled, safe, and motivated wireless workforce."
The mandate of TIRAP will be to establish apprenticeships to train workers to deploy, upgrade, and maintain wireless network facilities. The new announcement marks the first time that DoL has certified an apprenticeship program with an industry consortium instead of an individual company, notes PCIA.
PCIA says it has developed a national plan to standardize wireless worker training and safety programs. Among other initiatives, PCIA helped secure federal support for a wireless training program at Virginia State University, is providing assistance to a comparable program at Aiken (SC) Technical College, and is partnering with Warriors4Wireless to strengthen other programs designed to help America's returning veterans develop marketable career skills.
---
Structured cabling industry watchdog CCCA counts 4 new member companies
Graybar, Hitachi Cable America, Prysmian Group, and Teknor Apex have become members of the Communications Cable & Connectivity Association (CCCA), joining the 22 other corporations in the work of the organization.
"These four new members recognize the value of the CCCA programs and are interested in joining the efforts to strengthen those programs that support the integrity and health of the industry," commented Eric Lawrence of Berk-Tek, current CCCA board chairman.
CCCA describes itself as a non-profit association comprising prominent manufacturers, distributors and material suppliers who are committed to serve as a major resource for well-researched, science-based information on the technologies and issues vital to the structured cabling industry. The organization addresses quality, performance, non-compliance, fire safety, sustainability and counterfeit issues and how they affect the structured cabling industry as a whole and all those served by using the products. Programs range from the education on dangers of non-compliant and/or counterfeit products, to the most effective use of structured cabling in the data center, to collaborations on best practices for the design of sustainable cabling infrastructure projects.
When announcing these new members, the CCCA described them as follows.
Graybar, a Fortune 500 corporation and one of the largest employee-owned companies in North America, is a leader in the distribution of high quality electrical, communications and data networking products. Through its network of more than 250 North American distribution facilities, it stocks and sells products from thousands of manufacturers.
The Performance Cable Systems & Materials Division of Hitachi Cable America Inc., located in Manchester, NH, manufactures more than 4,000 different cable products with a complete line of high-performance copper and fiber optic cables for the communication industry. Hitachi Cable America, Inc. is a unit of Hitachi Metals, Ltd. which is held by Hitachi, Ltd., Japan (TSE: 6501), headquartered in Tokyo, Japan.
Prysmian Group is a world leader in the energy and telecom cables and systems industry with more than 130 years of experience, about 19,000 employees across 50 countries and 91 plants. Strongly positioned in the high-tech markets, in the telecom sector the group manufactures cables and accessories for the voice, video and data transmission industry, offering a complete range of optical fibers, optical and copper cables and connectivity systems. Prysmian is a public company, listed on the Milan Stock Exchange in the FTSE MIB index.
Teknor Apex Company is a diversified material science company using complementary technologies to serve common markets, manufacturing for eight divisions in nine locations in the U.S., and one each in Singapore, China, Belgium and the United Kingdom. It is a privately held company founded in 1924 and headquartered in Pawtucket, RI.
---
TIA licenses CNet Training to enhance ICT standards courseware, data center education
The Telecommunications Industry Association (TIA) says it has licensed CNet Training to develop courseware incorporating 25 TIA standards, including the ANSI/TIA-942, ANSI/TIA-568, and ANSI/TIA-569 series. CNet Training is an international network infrastructure and data center education provider.
The license enables every program in the CNet Training framework to include contemporary references to TIA standards. In addition to being able to include TIA standards in its programs, CNet will also have the right to participate, vote, and have access to working papers of the TIA Engineering Committee that defines ICT infrastructure systems.
"TIA is excited to join with CNet Training and others in the industry to enhance training related to network infrastructure and data centers," says Stephanie Montgomery, TIA's acting vice president of technology and standards. "TIA has been developing quality technical standards for the network since 1988, and we are dedicated to supporting and improving the network which drives communications around the globe. Engaging with CNet Training will extend our reach and help the broader industry, and we encourage companies to bring their technical work to TIA so that together we can continue advancing the future of the network."
Founded in 1996, CNet Training focuses on data center and network infrastructure training based on its Global Data Centre and Network Infrastructure Education Framework. The company offers training worldwide and is headquartered in Suffolk, UK.
"We are delighted to have this official authorization from TIA and look forward to working with the TIA Engineering committee," comments Andrew Stevens, CNet Training's managing director. "One of CNet Training's primary goals since we began delivering network infrastructure education back in 1996 has been to ensure quality of design and delivery of our programs and to ensure that our clients receive the correct level of technical insight for their job roles. Now working closely with TIA, we feel confident that we can share these standards across our entire education framework, providing even greater insight and added value for our clients and making a bigger impact on the industry itself."
---
Astronauts perform cable installation on International Space Station
Between February 21 and March 1, NASA astronauts Barry Wilmore (commander) and Terry Virts (flight engineer) performed cable installation tasks over the course of three spacewalks along the International Space Station (ISS). Dubbed by NASA as the "Cable Guys," Wilmore and Virts ventured out of the ISS to attach power and data cables to the port and starboard sides of Pressurized Mating Adapter-2, NASA explained, "at the forward end of the Harmony module where the first of two International Docking Adapters will be installed later this year."
Wilmore had one previous spacewalk before embarking on this series of cable-installation walks. These were Virts's first three spacewalks.
NASA further explained that the docking adapters for which the cabling work was required were built by Boeing; the adapters will be delivered to the ISS this year. "Boeing's Crew Space Transportation (CST)-100 and SpaceX's Crew Dragon will use the adapters to deliver astronauts to the space station later this decade."
During their February 21 and 25 spacewalks, the crew routed more than 300 feet of cable. On March 1 Wilmore and Virts installed cables for C2V2--the Common Communications for Visiting Vehicles system. As the March 1 work was being completed, NASA provided the following update: "Approximately three hours into today's spacewalk, NASA astronauts Terry Virts and Barry Wilmore have installed cables for the C2V2 system and completed tasks along the port side of the space station's truss. To complete the system's installation, they will route the remaining cables along the starboard side."
The two completed their "spacewalk trilogy" at approximately 12:30pm EST on March 1, NASA said. In total the astronauts completed installing 400 feet of cable and several antennas associated with the C2V2.
NASA said that during the three spacewalks Virts accumulated 19 hours and 2 minutes outside the International Space Station. With one prior spacewalk before the cable-installation trilogy, Wilmore has now spent 25 hours and 36 minutes "in the void of space" as NASA described it.
---
Ventoux Learning Network adding 7 more TDMM chapters to its online RCDD prep courses
As we reported in our March issue, Ventoux Learning Network earlier this year launched a series of instructor-led online (ILO) courses aimed at preparing students to take BICSI's Registered Communications Distribution Designer (RCDD) exam. The exam is based on BICSI's Telecommunications Distribution Methods Manual (TDMM), and each of Ventoux's courses covers one chapter of the TDMM.
At that time Ventoux's David Cranmer--a BICSI master instructor and past president, and former executive director of BICSI--explained, "As master instructor I've taught hundreds of students and as past president and former CEO/executive director I have talked to many members about their training needs. From that experience, I've selected chapters from the TDMM which many students find difficult, so that a BICSI RCDD candidate can choose what to review." Ventoux began by offering individual courses on five TDMM chapters.
The response to Ventoux's initial rolling out of courses was significant, and Cranmer said a question that came up frequently was if (or when) Ventoux would offer courses on additional TDMM chapters. Ventoux surveyed interested parties, and recently reported on those survey results as well as its plans based on them. "The final tally for the survey is 81% for and 19% against adding the remainder of the chapters from the TDMM to the a-la-carte selection of review courses," Cranmer said. While such a vast majority favored the addition of courses on all TDMM chapters, Cranmer pointed out, "Realizing that of the 100 questions on the RCDD exam, 80% come from the core chapters and only 20% come from the non-core chapters, it's prudent to spend the majority of your time studying the core chapters. For that reason, I'll only be adding the 7 remaining core chapters to my selection of courses."
As of April, Ventoux's course calendar includes the initial 5 courses (Chapter 1 – Principles of Transmission; Chapter 2 – Electromagnetic Compatibility; Chapter 7 – Firestop Systems; Chapter 8 – Bonding and Grounding; Chapter 9 – Power Distribution) as well as the following 7 core chapters of the TDMM.
Chapter 3 – Telecommunications Spaces
Chapter 4 – Backbone Distribution Systems
Chapter 5 – Horizontal Distribution Systems
Chapter 6 – ITS Cables and Connecting Hardware
Chapter 10 – Telecommunications Administration
Chapter 11 – Field Testing of Structured Cabling
Chapter 15 – Data Networks
Complete information is available at ventouxlearningnetwork.com
---
Fluke Networks adds online test setup and configuration capabilities to its LinkWare Live service
Fluke Networks recently introduced LinkWare Live Professional, its next-generation test-result management system that adds to the capabilities the company introduced last fall with LinkWare Live Essentials. Fluke Networks says LinkWare Live Pro "further streamlines workflow for contractor project managers and field technicians, providing cabling certification project status on any smart, mobile device. LinkWare Live Professional supports browser-based, remote tester configuration and real-time reconciliation between the project manager's test setup and the field technician's uploaded results."
The company added that LinkWare Live Professional allows project managers to gain more visibility and control on the jobsite, helping to ensure cabling installation projects can be finished on time.
LinkWare Live Professional and LinkWare Live Essentials are available as free services for owners of Fluke Networks' Versiv test platform. After 2015, LinkWare Live Professional will become a monthly subscription service.
When LinkWare Live Essentials launched in fall 2014, it enabled contractors to upload copper and fiber certification test results straight from testers in the field--thereby eliminating wasted time and cutting the risk of lost or corrupt test results. "The service became an immediate success," Fluke Networks noted, "with thousands of new users signed up since its launch.
"LinkWare Live Professional builds on those capabilities by offering two-way interaction among the always-mobile project manager, technicians and their test equipment to eliminate errors and monitor job progress," the company explained. "They can now set up new jobs for multiple testers, assign cable IDs and configure test limits with just a few keystrokes, and push them to the cloud for access by testers anywhere in the world."
When a job is complete, field technicians upload results directly from the tester to the LinkWare Live cloud service, which automatically assigns copper and fiber test results to the correct project. Project managers can verify that results comply with the setup configuration they deployed to their testers and technicians in the field, and then more-quickly generate LinkWare Reports to deliver to customers.
Fluke Networks also explained that LinkWare Live Pro streamlines contractor workflows, and accelerates payments from customers to contractors, through its following new features.
Two-way communication between the tester and the cloud
Browser-based test setup and configuration, with the ability to generate cable IDs
Test setup corrections and updates to Versiv devices without removing those devices from the field
Notifications of incorrect test settings
Free storage of up to 200,000 copper or 10,000 fiber results (links), or a combination of the two
Jason Wilbur, vice president and general manager of the Fluke Networks' data-communications installation business, explained, "With the launch of LinkWare Live Essentials last year, we helped our Versiv customers save time and money by dramatically simplifying test-results management, eliminating problems associated with improper test setups and lost test results. Now less than six months later we are introducing LinkWare Live Professional, which allows project managers, engineers and consultants to properly configure copper and fiber cabling certification projects in the cloud, deploy these configurations to testers in the field at the push of a button, and monitor the actual progress onsite in near-real-time as technicians sync their test results. With LinkWare Live Professional, they can support their cable installation teams all over the world from anywhere in the world."
Dustan Buckley is vice president at Lubbock, Texas-based low-voltage cabling provider Extreme Packets Inc. and a LinkWare Live Pro user. Buckley commented, "Our previous method of cable certification was slow and required a lot of manual coordination with jobsites and customers. LinkWare Live Professional allows us to bypass many of these steps. Our project manager can now set up jobs in advance, go onsite to install the cables, certify them, upload the results and activate everything--all before lunch. We can use any smart device to determine what has and hasn't been completed."
More CIM Articles
Archived CIM Issues