From the March, 2015 Issue of Cabling Installation & Maintenance Magazine
Compiled by Matt Vincent
Belkin's WeMo home sensors expand Internet of Things ecosystem

Continuing to expand its Internet of Things ecosystem, WeMo, a Belkin brand, introduced a group of new home sensors at the 2015 International CES in Las Vegas (Jan. 6-9). Including a window and door sensor, personal keychain sensor, room motion sensor and alarm sensor, the WeMo product line is "designed to make the entire home smarter, more intuitive and more contextually aware," says Belkin.
The new home sensors allow users to monitor their entire home from anywhere using a mobile device and the WeMo Link, a WiFi-to-Zigbee bridge that connects the sensors to the home's wireless network. Subscription-free and easy to install and use, the four new WeMo sensors provide peace of mind within the home and can alert users when things are amiss, notes the company. Through the WeMo app, users can set schedules and receive alerts and notifications, as well as program the sensors as triggers to activate other WeMo devices. With a one-year battery life, the WeMo Sensors are designed to provide long-lasting home awareness.
"The International CES is the biggest coming-out party of the year for WeMo and the perfect place to showcase the full breadth of the WeMo ecosystem and how it will raise the bar on home awareness," said Ohad Zeira, director of product management for WeMo. "2015 is the year that WeMo gets even smarter, with simple, easy to use sensors taking the first step towards full, anticipatory home automation that responds and reacts without direct human input and makes the whole home more conscious and connected."
The new products, as described by Belkin, are as follows.
WeMo Door and Window Sensor (F7C038): A magnetic contact sensor that detects an open or closed state on any window or door in the home, the WeMo Door and Window Sensor allows users to check for unexpected entry into the home while away or even in a different room. The sensor works with any type of door or window within the home, including standard interior/exterior doors, sliding doors, refrigerator doors, even safes and jewelry boxes. Easily check in to see if windows or doors were left open by mistake or receive a notification if someone has gained unexpected entry to the home. The sensors work with other WeMo devices and can be programmed to automate a variety of tasks including heating or cooling. For example, paired with a WeMo Insight Switch and a window A/C unit, the sensor can automate air conditioning to only turn on when the window is closed, helping to save money and energy.
WeMo Keychain Sensor (F7C039): The WeMo Keychain Sensor is a small fob designed to be placed on a keychain, collar or in a bag that lets users keep track of family members' whereabouts based on the sensor's connection to the WeMo Link. Through the WeMo app, users can see when family members arrive or leave home, set up customized alerts for different family members, and even configure a small button on the keychain sensor to control any other WeMo device simply when pressed. The WeMo Keychain Sensor is designed for working parents so they know when their kids have arrived home from school, or for pet owners to know if their animals have strayed too far from home.
WeMo Alarm Sensor (F7C040): The WeMo Alarm sensor enhances current alarm systems with monitoring capabilities, and is an ideal solution for retrofitting offline alarm systems for use with smart devices. The small sensor sits next to existing home alarms and notifies users if they are activated via a mobile alert. Designed to distinguish between the sound of an alarm and other ambient noises in your house, the sensor uses a proprietary algorithm to accurately identify an individual user's alarms, reducing the possibility of a false notification. Through the WeMo app, users can set up a list of emergency contact options, making it easy to react immediately to fires, gas and carbon monoxide leaks, even when away.
WeMo Room Motion Sensor (F7C041): The WeMo Room Motion Sensor is an infrared sensor that detects heat signatures for precise, room motion detection, even in large rooms and hallways. Immune to pets, the sensor reduces the possibility of false alarms, and offers a broad 30-foot range and 90-degree field of view. Designed for indoor applications, the sensor can be used to safeguard a private room, ensure home security while away or automate other electronic devices via motion. Through the WeMo app, via the sensor users can check the last detected movement within a room, set mobile motion alerts and notifications, and configure uses with other devices in the WeMo ecosystem. For example, the motion sensor can be used in combination with a WeMo Light Switch to automatically turn on lights in the hallway, so children can have an easier time getting to the bathroom at night.
WeMo Water with Echo Technology (F7C042): Representing the next generation of WeMo sensors, WeMo Water with Echo Technology uses advanced machine learning algorithms to provide unprecedented insight into household water usage. From a single sensor attached at one point on the home's plumbing system, WeMo Water monitors, analyzes and relays information about water consumption throughout the entire home. The sensor works by sensing and analyzing the pressure change vibrations caused by water events such as turning on a faucet or flushing a toilet, and does not require the WeMo Link. WeMo Water can accurately calculate water consumption duration and cost per object or even alert users to potentially devastating damages and leaks. Beyond water and cost savings advantages, WeMo Water opens the door for using the home's existing infrastructure to create predictive, anticipatory automation that lives up to the full promise of the connected home.
---
Aerohive's new wireless AP enables outdoor 802.11ac Gigabit WiFi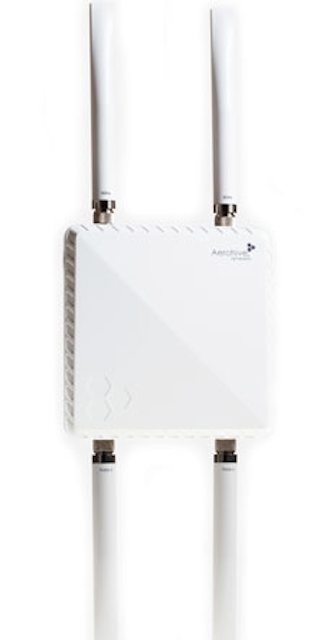 Aerohive Networks recently introduced its new outdoor Gigabit WiFi 802.11ac access point. Designed to meet the growing demand for outdoor high-speed connectivity, the Aerohive 802.11ac AP1130 provides highly resilient network access even in extremely challenging physical environments.
According to the company, lightweight and elegantly designed, the new unit supports easy installation in the most challenging outdoor locales. Highly visible LEDs monitor client and backhaul connections, supported by accurate audible and visual tuning mechanisms for positioning directional antennas over long-range, point-to-point mesh connections.
The AP1130 also provides integrated tools for enabling long distance point-to-point and point-to-multipoint links. With an audible buzzer feature to assist with antenna alignment and latency controls to assure high-speed transmission across distance, as well as certified omnidirectional and high-power directional antennas, the AP1130 is ready for any type of deployment. The AP1130 is also equipped with both Power over Ethernet (PoE) and DC input options, and can be deployed using almost any power source, including batteries or solar/wind power.
"Today, outdoor access is required by almost every line of business such as warehousing, manufacturing and logistical organizations," states Adam Conway, vice president of product management, Aerohive. "This is especially true in challenging physical environments, where WiFi has become the primary access method for many specialized devices and systems used for location monitoring, security and control. The new AP1130 is designed to address this area of connectivity where 802.11ac is a staple to support the mobile-first business and commerce of today."
The AP1130 joins Aerohive's AP family that is currently in deployment globally for WiFi connected access for the most extreme conditions and climates. For example, Sumitomo Metal Mining Pogo in Alaska operates with the help of Aerohive's AP170 in temperatures from minus 50 below to above 100 degrees Fahrenheit. Separately, Aerohive notes that its WiFi access points enabled the International Non-governmental Organizations (INGO) teams working in Haiti after the country's 2010 catastrophic 7.0 earthquake to coordinate medical programs, mass-burial efforts and UN and US military duties.
---
Anixter appoints distinguished law professor as board member
Communications network infrastructure distributor Anixter recently announced the appointment of Scott R. Peppet to its board of directors. Peppet is a professor of law at the University of Colorado Law School, with expertise in contracts, negotiations, complex transactions, legal ethics, privacy law and technology. He was awarded the school's 2013 Jules Milstein Faculty Scholarship Award, as well as the 2010 Invited Scott Lecture and the 2002 Excellence in Teaching Awards.
"We look forward to the in-depth knowledge and new perspectives that Scott will bring to Anixter as we move forward and grow our business," commented Sam Zell, chairman of Anixter's board of directors. Scott's outstanding record of leadership and deep experience in the legal field make him an outstanding addition to our board."
Peppet has served on the board of directors of GP Strategies, White Plains, NY; previously, he was a lecturer on law at Harvard Law School and a senior fellow on negotiation at the Harvard Negotiation Research Project. He has served as a member of the Investment Committee of Equity Group Investments since 2014 and the Ownership Committee of Equity International since 2012.
Peppet graduated magna cum laude from Harvard Law School in 1996 where he served as the editor of the Harvard Law Review and co-editor-in-chief of the Harvard Negotiation Law Review; and graduated magna cum laude from Cornell University in 1991.
---
RCDD prep courses available online a-la-carte
Ventoux Learning Network has released a series of a-la-carte courses for students preparing to take the BICSI Registered Communications Distribution Designer (RCDD) exam. The notoriously challenging exam is based on BICSI's Telecommunications Distribution Methods Manual (TDMM), and a cottage industry serves to train students specifically for the test. Many of these training options are multiple-day, classrom-based experiences.
Ventoux is led by David Cranmer, a BICSI past president and also former executive director/CEO of BICSI. When announcing the launch of these a-la-carte options, Cranmer explained, "Each course will be offered as an instructor-led online course, where the students and instructor will be able to see and communicate with each other in a live setting. Each course will touch on every page of the particular chapter and will concentrate on the sections that the class finds most difficult. The courses will be structured as a Q&A session with periodic exercises to reinforce concepts. All courses are based on BICSI's 13th Edition TDMM.
"We have tried to schedule classes so they will be convenient to you no matter where you are in the world. If you need a specific time, let us know and we will be happy to work with you."
Classes began on January 12.
Cranmer also stated, "As a master instructor I've taught hundreds of students and as past president and former CEO/executive director I have talked to many members about their training needs. And from that experience, I've selected chapters from the TDMM which many students find difficult, so that a BICSI RCDD candidate can choose what to review."
To begin with, Ventoux made the following chapter-based courses available: Chapter 1 (Principles of Transmission); Chapter 2 (Electromagnetic Compatibility); Chapter 7 (Firestopping); Chapter 8 (Bonding and Grounding); Chapter 9 (Power Distribution).
Cranmer said once the program launched he received multiple inquiries about the possibility of adding courses on other TDMM chapters. Ventoux may choose to do so; we will keep you posted. You can find more information at www.ventouxlearningnetwork.com.