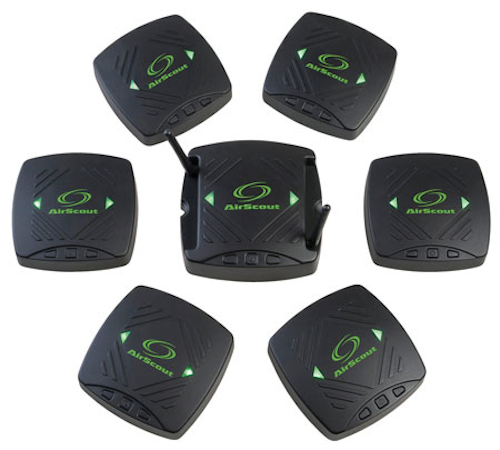 From the August, 2015 Issue of Cabling Installation & Maintenance Magazine
WiFi-readiness test platform
Greenlee, A Textron Company, has introduced its AirScout WiFi-readiness test system. Greenlee says the AirScout system is designed to characterize a WiFi environment, optimize wireless network setup, and produce a simple, on-screen report that a technician can immediately share with the customer. The company adds that the system goes beyond simple test and measurement by validating a home for WiFi readiness and identifying solutions to solve potential problems.
"AirScout brings intelligence to the process by measuring multiple locations simultaneously, then using the data to select the best channel and optimum location of the wireless access point," states Greenlee. "To do this, the system surveys the WiFi environment, produces a heat map, and provides a Quality of Experience (QoE) score that can immediately be shared with the subscriber. Armed with this information, the technician can educate the consumer about their WiFi coverage, ensure the WiFi setup meets their expectations, enabling upsell opportunities where there are gaps and provide a birth certificate for future reference."
"AirScout takes testing to the next level, bringing the rigor of real-world WiFi performance testing into an easy-to-use automated solution that provides visibility into the subscribers' WiFi experience," comments Jason Byrne, director of product management for Greenlee Communications. "Currently, most technicians installing services have limited tools to support WiFi network installations, if any."
Byrne adds, "The actual customer's WiFi user experience is a blind spot that is costing the operators millions in customer support, truck rolls, and increased churn. Our system produces easy-to-understand, on-screen results that can be immediately shared with the consumer, helping them to understand what to expect from their WiFi network."
Greenlee Communications
greenleecommunications.com

WiFi design software
iBwave Design Version 6.6 achieves two main goals beyond the capabilities of earlier versions: enhanced WiFi capabilities and elimination of the most time-consuming tasks. Both the Design Enterprise and Lite versions now offer one-click reporting. "Survey reports, proposals, and closeout packages can all be created with the click of a button, saving up to 25 hours versus manually having to compile the reports," iBwave explains. Annotation reports, output maps, survey-measurement reports, and export functions are now automated.
Design Enterprise now also includes new WiFi capabilities, allowing users to "design both cellular and WiFi networks in a more-integrated way as part of the same design, and share the results with all your teams," iBwave says. Version 6.6 improves the following features: WiFi propagation model calibration; speed of importing measurements from iBwave's own WiFi RF collection tool or AirMagnet; viewing and managing survey measurements from iBwave Mobile; consideration of WiFi survey measurements for interface maps; and new output maps for best server AP and best server channel.
Additionally, with a button click, users can display the dominance of the in-building network over the macro network (Dominance over Macro Output Map).
iBwave
ibwave.com
More CIM Articles
Archived CIM Issues