10U, 8-slot fiber-optic enclosure expands port replication to simplify cable management
CABLExpress, a division of CXtec, expanded its H-Series high-density fiber-optic enclosure line to include a 10U 8-slot enclosure, providing additional port replication options for data center professionals. The company says the enclosure features increased space between ports, decreasing cabling congestion and simplifying cable management.
"Each data center has specific needs and challenges based on the organization it's designed to support, and a one-size-fits-all approach isn't always the most beneficial," notes Josh Taylor, senior product manager at CABLExpress.
CABLExpress asserts that its H-Series enclosures are "ideal for port replication solutions, which facilitate a direct, one-to-one relationship between the active fiber-optic hardware and the passive structured cabling environment." The enclosures are part of the CABLExpress Skinny-Trunk Solution, a comprehensive fiber-optic cabling system.
Specifically, the H-Series 10U 8-slot enclosure features: vertical and horizontal mounting configurations, allowing full port replication of Brocade, Cisco and Arista enterprise-class switches; capacity for up to 384 ports; and ultra-low-loss components, for flexibility in fiber network design.
Taylor concludes, "It's important to provide options that allow data center professionals to choose what will work best for their environments, while simplifying cable management, minimizing the risk of downtime, and reducing installation time."
---
Berk-Tek Leviton Technologies: Our Category 6A UTP system can handle 100-watt PoE
Berk-Tek Leviton Technologies recently announced that its CX6850 Category 6A Premium+ UTP System was successfully tested to deliver 100-watt Power over Ethernet (PoE). "The ability to deliver 100 watts supports emerging PoE standards, such as the draft IEEE 802.3bt (Type 4) PoE standard scheduled for ratification in 2017," the companies said in a joint statement announcing the successful test.
Dean Lipke, senior director of product management, copper, power, connected home with Leviton, commented, "Next-generation powered devices, such as wireless access points and large-display HDTVs, will require greater bandwidth than Gigabit Ethernet and more delivered power, so designers need to build these networks with these future needs in mind. The CX6850 Cat 6A Premium+ UTP System has undergone rigorous lab testing by Berk-Tek and Leviton, and the system demonstrates the ability to meet the need for higher bandwidth and power, while limiting the temperature rise in large cable bundles and remaining within the cable's listed rating."
The CX6850 system includes Berk-Tek LANmark-XTP cable, Leviton Atlas-X1 component-rated connectors and patch cords, and Leviton component-rated 110-style patch panels. "Along with the ability to support power at 100 watts, LANmark-XTP cable includes innovative noise-cancelling XTP technology for superior alien crosstalk suppression," the companies added.
Brian Simmons, copper product manager at Berk-Tek, added, "Using a CX6850 system for PoE delivery provides significant benefits over Cat 6 or 5e. LANmark-XTP cables provide better heat dissipation, and are listed to 75 degrees Celsius, which allows the cables to be installed in larger bundles than with lower-grade cables, saving pathway space and avoiding channel length de-rating due to insertion loss. This in turn enables longer cable runs."
---
Infinera adds 100 GbE, SDN protocol support to Cloud Xpress data center interconnect family
Infinera has expanded its Cloud Xpress portfolio with a platform that offers client-side 100 Gigabit Ethernet (100GbE). The company has also added common software-defined networking (SDN) protocols and MACsec encryption support across the product line.
The company introduced the Cloud Xpress last year to meet the data center interconnect and cloud networking requirements of cloud service providers, Internet content providers, Internet exchanges, large enterprises, and related customers. The new platform makes good on Infinera's promise to support 100GbE client-side interfaces on the Cloud Xpress; the previous versions supported 10GbE and 40GbE, respectively.
Each new example of the 2RU Cloud Xpress platform will support five 100GbE interfaces or twenty 10GbE interfaces. The 100GbE platform offers a typical power consumption of 500 W.
"100GbE is finally becoming available on data center switches and achieving cost-effective pricing on routers, creating an emerging demand for 100GbE client-side interfaces on optical equipment designed for metro data center interconnect," observes Andrew Schmitt, research director, carrier transport networking at IHS, via an Infinera press release. "Infinera is shipping 10GbE and 40GbE; adding 100GbE is a well-timed extension to the Cloud Xpress family and helps it retain a leadership position in this emerging product category."
Meanwhile, the company also announced support across its Cloud Xpress portfolio for NETCONF and YANG, two popular SDN protocols. The systems also will support LLDP discovery protocols for data center automation. The MACsec support addresses the need for secure connections between data centers.
Infinera has already announced several customers for the Cloud Xpress. The platform's 100GbE capabilities also drew kudos from data center mega-provider Equinix.
"Infinera's Cloud Xpress is a cloud-optimized platform offering the highest density and terabit scalability to interconnect our data centers while maintaining a very low power footprint," concludes Teri Francis, vice president of technology at Equinix. "This enables our customers to access cloud and network nodes between data centers across the metro with high performance and great efficiency. The new 100-Gbit/sec interfaces will definitely expand the potential applications for Cloud Xpress."
---
Legrand to acquire Raritan
Legrand North America announced that a definitive agreement has been signed for it to acquire Raritan, a New Jersey-based company specializing in data center infrastructure solutions.
The scope of the acquisition would include Raritan's intelligent power and KVM businesses, while its data center infrastructure management (DCIM) software business would spin off into Sunbird Software, a new company and strategic partner of Raritan to be chaired by Ching-I Hsu, CEO and founder of Raritan.
"Legrand would provide a home for Raritan's intelligent power business that best maximizes the value of its existing people, expertise, and brand, as Raritan's products complement and enhance Legrand's existing portfolio," comments Hsu. "In addition, Raritan's corporate culture closely aligns with Legrand's, demonstrating a client-focused, high-integrity, innovation-based approach to business."
The transaction was expected to be completed upon the satisfaction of agreed closing conditions, including the receipt of all required consents and U.S. and foreign regulatory approvals. If approved, it is anticipated that following closing, Raritan would operate as an independent business within Legrand.
Legrand notes that the intelligent power market is expected to grow rapidly due to industry trends toward increased power density and clients' need to maximize capacity and energy efficiency. The company says the acquisition further supports its commitment to sustainability by delivering additional solutions that help customers monitor and manage their energy consumption.
"The complementary strengths of these businesses and product offerings would be unmatched by any other supplier in this industry," concludes John Selldorff, president and CEO of Legrand North America. "The combined leadership team looks forward to making a real difference for global data center customers, now and for the future."
---
Emerson upgrades data center thermal controls
Emerson Network Power has upgraded its Liebert iCOM thermal controls platform, which the company says is "designed to offer data center managers higher energy efficiency, greater protection and deeper, actionable insight at the cooling unit and thermal management system levels."
Now available in North America, the next generation of Emerson's Liebert iCOM unit and supervisory system controls make up "an easy-to-use infrastructure optimization system for monitoring and managing the data center environment, and controlling the operation of data center thermal management systems," says the company.
At the cooling unit level, the Liebert iCOM unit control comes factory-installed on certain Emerson Network Power data center thermal management systems, and also is available as a retrofit for existing systems. The company says the unit's intuitive, full-color touch screen simplifies operation, saves time and reduces human error.
The new system is designed to eliminate single points of failure to protect the cooling unit, in the event that adverse conditions arise at the system level. Self-optimizing features address events before they become problems. For instance, if refrigerant pressures were to approach unsafe thresholds, the Liebert iCOM unit control would lower fan speed and compressor capacity to avoid a unit shutdown.
At the supervisory level, Emerson says the new Liebert iCOM-S control offers a unique way to "harmonize and optimize" thermal system performance across the data center, gain quick access to actionable data, and automate system diagnostics and trending. The system employs machine-to-machine communication and advanced algorithms that utilize data from rack inlet sensors, pressure sensors and supply air temperatures to optimize airflow and temperature for the highest protection and efficiency.
"The Liebert iCOM controls let managers protect, harmonize and optimize thermal systems more intuitively than ever before," comments John Peter Valiulis, vice president, North America marketing, thermal management, Emerson Network Power. "Its most powerful capabilities are in protecting the data center at the cooling unit level and in auto-tuning the multiple thermal system components across the entire data center, operating them in tandem in the most efficient and reliable manner. This 'teamwork mode' can result in cooling energy savings of up to 50 percent."
---
Prysmian ships record 1,728-fiber cable for Australian data center
Prysmian Group says it has supplied a 1,728-fiber cable for telecom and data center services supplier Vocus in a data center in Sydney, Australia. The fiber density is a record for a single cable, the company asserts.
"This is a first for the telecommunications industry, globally," said Alex West, COO at Vocus. "As part of our commitment to building the fiber network of the new millennium, we've been trialing this Flextube fiber cable in smaller formats for three years, and to see a world first being installed now is very exciting."
Vocus, which serves customers in Australia and New Zealand, faced the challenge of having to cram as many fibers as possible into a single conduit during a "one shot" installation for a data center customer. Prysmian said it combined its Flextube fiber cable technology with its new BendBrightXS 200-µm fiber to enable the high fiber count. The new fiber enabled Prysmian to increase the Flextube cable's fiber count from a previous high of 720 to the 1,728 used in this application. The cable measures 23 mm in diameter, Prysmian says.
"One of the main benefits of this cable is the reduced cost per fiber pair," Vocus's West continued. "It costs roughly the same to install a 1,728-fiber Flextube cable as it does to install a traditional 624-fiber loose-tube cable. Using the large-fiber-count 1,728-fiber cable more than halves the cost per installed fiber. This is a great advantage in what is a very competitive market."
---
Range extenders boost WiFi signals
Linksys has announced the newest addition to its WiFi range extender family, the Linksys AC1200 Amplify WiFi Range Extender (RE6700).
The company says the new range extender was developed to provide customers with a WiFi signal boost (up to 10,000 square feet) into rooms throughout a home via a simple, elegant, easy-to-install solution that would blend in with home décor. The new unit's built-in power outlet maintains use of an existing wall outlet with pass-through functionality--a new and unique offering for Linksys Wireless-AC range extenders, notes the company.
WiFi range extenders help eliminate frustrating wireless dead zones by detecting, then amplifying a router's WiFi signal so it extends to the remote areas of a home, basement, or backyard. But if a range extender is not installed in an optimal location, users may not benefit. Linksys says its Spot Finder Technology enables users to visually identify the best spatial placement for the range extender in a home, using their smartphone, tablet or laptop. The Spot Finder Technology automatically activates when the unit's setup process is launched. Users simply follow a few prompts for a hassle-free setup in bringing improved WiFi performance to a home's existing dead zones.
To further enhance the high-speed wireless experience, Linksys says the new unit also incorporates its Auto CrossBand technology, which allows for simultaneous use of both wireless bands for providing high speed data transfer to help with uninterrupted music/video streaming and gaming. According to the company, the Auto CrossBand capability will identify the best backhaul path for relaying traffic from/to a given WiFi client.
For example, the RE6700 will use 5-GHz backhaul to relay the traffic from/to a nearby 5-GHz client with strong signals. Alternatively, the RE6700 may use 2.4-GHz backhaul to relay the traffic from/to a distant 5-GHz client with weak signals. According to Linksys, the result is reduced dropped data packets, faster media transfer speeds, and a stronger, more consistent signal throughout the home.
The RE6700 also incorporates beamforming technology that focuses and strengthens the WiFi signal, while two external antennas boost performance and throughput. Other features include: a Gigabit port for connecting a single wired device, or plugging in a Gigabit switch for connecting multiple wired devices to a wireless network; a 3.5-mm audio jack that allows users to connect speakers to the range extender to stream music wirelessly from an iOS or Android smartphone, tablet, or laptop; and compatibility with any router or gateway including routers supplied by service providers.
---
Bel announces new leadership for Power, Connectivity businesses
Bel Fuse Inc. formally announced the promotions of Dennis Ackerman to president of Bel Power Solutions, and Peter Bittner to president of Bel Connectivity Solutions.
Daniel Bernstein, Bel's president and CEO, commented, "Bel is fortunate to have two such talented and dedicated executives to take charge of our Power Solutions and Connectivity Solutions businesses, during this period of rapid growth for our company. These well-earned promotions reflect the significant contributions Dennis and Pete have made to the success of Bel's growth strategy."
Dennis Ackerman, 52 years old, joined Bel in 1986 and has held the positions of customer service manager, sales manager, purchasing manager and operations manager. In 2001, he was named Bel's vice president of operations. In addition, Ackerman is currently a director of Dongguan Transpower Electric Products Company Limited. He has an MBA degree from Fairleigh Dickinson University.
Bel's CEO Bernstein said, "Dennis Ackerman has guided the recent development and integration of our Power business, most significantly since our acquisition of Power One last year. Under Dennis's leadership, Bel Power is reestablishing itself in key markets, and has dramatically improved the quality, service and delivery performance of our manufacturing facilities in China in just the past few months. Our customers are responding positively to the gains Dennis has helped achieve. With Dennis at the helm, we see a bright future for Bel Power Solutions."
Peter Bittner, 45 years old, began his career in 1991 at Stewart Connector Systems. He joined Insilco Technologies, Stewart Connector's parent company, in 1999, serving as industry marketing manager. Following Insilco's acquisition by Bel in 2003, Bittner was named general manager of Stewart Connector. Later, he assumed responsibility for the acquired Cinch Connector business and the acquired Gigacom Interconnect, Array Connector and Fibreco businesses. He holds a Bachelor of Science degree in business management.
Bernstein noted, "Pete Bittner played an indispensable role in the restructuring of our Cinch Connectors business in the United States, as well as the integration of its sales and marketing team into our global Connectivity Solutions business, formerly Emerson Network Power Connectivity Solutions, which we also acquired last year. We are confident that Pete will continue to excel with his expanded responsibilities at Bel Connectivity Solutions."
---
FreeAxez fine tunes underfloor cable management systems for increased sustainability
FreeAxez, a provider of whole-building adaptive cabling distribution systems, announced the latest versions of its Gridd and Gridd Power systems. The new systems provide easy underfloor access to a facility's cables and wiring, providing high performance and versatility for today's modern commercial and high-technology environments, the company said.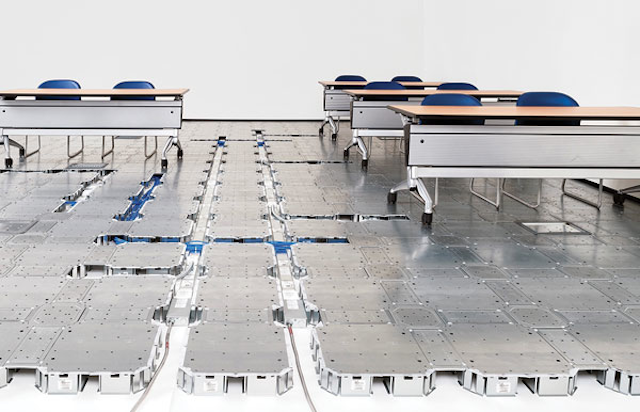 The new products signify the next generation of cable management systems, contends the company. Gridd is a UL-listed, modular, all-steel, adaptive cabling distribution system that safely distributes cables throughout a building directly beneath the finished floor. Gridd Power is a 50 amp electrical bus track system that allows devices and furniture to easily connect to electricity in the Gridd system.
"Whole building cabling distribution systems are the future of commercial and high tech environments," comments Earl Geertgens, CEO of FreeAxez. "Gridd is a catalyst for adaptive and collaborative space as it allows for commercial layouts to be reconfigured easily, quickly, and at a significant cost savings to traditional raised flooring systems and other wiring methods."
Gridd is a safer and more flexible solution than competing products, asserts the company, negating the need to access wiring in awkward or inaccessible spaces. With 25 years' experience in this product category, FreeAxez says it "has created a revolutionary design that solves long-standing sustainable challenges attributed to traditional methods of cable distribution in buildings by facilitating adaptive reuse and enhancing building resiliency, material reduction, indoor air quality, fire safety and the overall health, safety, and welfare of building occupants."
The Gridd system significantly reduces the time, hassle and costs associated with traditional wiring methods, adds the company. Installation takes less than half the time of a post and panel raised floor, claims FreeAxez, leading to significant savings in labor costs. The Gridd system can be repositioned, redeployed, reused or recycled in its original state, in any building, adds the company. FreeAxez offers clients hands on support throughout every phase of the project, including lifetime support of every building that its Gridd system is employed.
---
Report: Fragmented DAS market hits $2.2 billion
IHS subsidiary Infonetics Research reports that worldwide distributed antenna system (DAS) revenue reached $2.2 billion in 2014, growing 11 percent over 2013, powered by the Asia Pacific and North American regions.
According to the firm's latest report, in 2014 versus 2013, distributed antenna system revenue was up 17 percent in Asia Pacific, and up 11 percent in North America. IHS/Infonetics believes that China and the US will remain the world's two largest DAS markets through at least 2019, due to the number and magnitude of their sports/entertainment stadiums, convention centers, transport stations and ports.
"China's already in the process of shifting from macro LTE coverage buildouts to capacity and coverage enhancements," said Stéphane Téral, research director for mobile infrastructure and carrier economics at IHS/Infonetics. "In 2014, Comba Telecom, Asia Pacific's DAS bellwether, increased its wireless enhancement business 17 percent year-over-year, showcasing a solid comeback for DAS activity in China. This is a complete reversal of fortune for China after a double-digit decline last year."
The new research also notes that the DAS vendor ecosystem is fragmented, with CommScope, Corning and TE Connectivity leading the North American market and Hong Kong-based Comba Telecom dominating in Asia Pacific, mainly due to major spender China Mobile.
The biannual IHS/Infonetics DAS Equipment market research report tracks and forecasts distributed antenna system equipment units and revenue by vendor, geographic region and category (in-building, outdoor, LTE, multi-standard). Vendors tracked include Axell Wireless, Comba, CommScope, Corning, Ericsson, JMA, Kathrein-Werke KG, Optiway, SOLiD, TE Connectivity, Zinwave and others.
---
Fortinet acquiring wireless LAN provider Meru Networks
Cyber-security solution provider Fortinet announced recently that it has agreed to acquire wireless LAN equipment manufacturer Meru Networks for $1.63 per share, or approximately $44 million. Meru reported $90.9 million in revenue for the year ended December 2014. The companies said the deal is expected to close in the third quarter of 2015.
"This acquisition is synergistic with Fortinet's secure wireless vision and enterprise growth focus," Fortinet said, adding that the deal "broadens the company's solutions portfolio, and expands its opportunity to uniquely address the $5 billion global enterprise WiFi market with integrated and intelligent secure wireless solutions."
Fortinet also commented that the "expansion of the network to unknown and untrusted mobile devices creates significant IT security risks amidst the most dangerous cyber threat environment enterprises have ever experienced." The company contends its own innovative convergence of security and wireless technologies "is critical, and creates value for customers by broadening an integrated, secure network fabric and enabling protection of transmitted information, while allowing efficient management of the network and devices."
Fortinet offers its FortiAP brand wireless access points as well as the FortiWiFi brand integrated security appliances, which are aimed at branch offices and small businesses.
"The addition of Meru's intelligent WiFi solutions to the Fortinet portfolio extends the delivery of a secure, uninterrupted user experience, anytime, anywhere, providing peak performance in environments requiring high capacity load and a high density of wireless users, such as enterprise, education, healthcare, and hospitality."
Among Meru's product and technology portfolio is software-defined network (SDN)-enabled WiFi system software that the company says "seamlessly manages and secures wired and wireless LANs, as well as efficiently provisions WiFi-enabled end-user devices." Meru also provides a range of access points and controllers.
Dr. Bami Bastani, president and chief executive officer of Meru, commented, "The combination of Fortinet and Meru is expected to strengthen our position in the overall enterprise wireless market, addressing the requirements of CIOs to provide secure, uninterrupted connectivity for their highly mobile end users. Meru's technology differentiation, and its position as the only ONF-certified SDN wireless solution, along with Fortinet's core, edge, and access security solutions, will provide a broader solutions portfolio."
Fortinet's founder, chairman, and chief executive officer Ken Xie concluded, "The acquisition of Meru Networks maps to our overall security vision of combining strong network security with ubiquitous connectivity," adding that he expects the deal to accelerate innovation. Meru has approximately 14,000 customers and Fortinet has approximately 210,000 customers worldwide.
---
TE Connectivity's powered fiber cable, PoE extender connect HD cameras at large FL golf course
TE Connectivity announced that Jade Communications of Boca Raton, FL has designed in TE's powered fiber cable system and PoE extender to slash deployment costs at a golf course.
The 36-camera system at a south Florida golf course, with HD cameras located up to 10,700 feet from the power source, was initially designed with dedicated fiber and power runs to each camera. By designing the system with TE's powered fiber cable system and PoE extender, however, Jade Communications said it was able to save $142,000 (14.5 percent) in network build-out costs.
TE says its powered fiber cable system "provides a complete rack-to-device vision for both powering and communicating with network access devices such as small cells, HD cameras and WiFi access points. The powered fiber cable system eliminates the complexity of device installation and allows devices like WiFi APs or HD cameras to be placed exactly where they are needed for maximum effectiveness, by combining power and optical fiber communications into one system," adds the company. The system is powered by a centrally located, 48V DC, NEC Class II and SELV compliant power supply.
The system's PoE extender is a small device that incorporates electrical power management, circuit protection electronics, and an optical-to-electrical media converter in an environmentally sealed enclosure. The PoE extender device terminates the powered fiber cable in a weatherproof housing, and provides a single RJ45 jack output for PoE/PoE+ output. Featuring plug-and-play installation, the PoE extender is billed as a simple, unobtrusive way to deploy PoE devices in large buildings, or in urban and suburban areas.
"Our powered fiber cable system and PoE extender were designed to reduce deployment costs and bring power and connectivity to devices up to two miles away from the power source," says Mark Hesling, global vice president of product management at TE Connectivity. "It is an ideal solution for this golf course application, and well-suited for deployments in urban centers and campuses where installers want to save money and time by delivering PoE power and Gigabit speed connectivity in the same cable."
---
Report: IoT integration driving new business into $34B building management systems market
More than eight million building management systems (BMS) will be integrated with some form of Internet of Things (IoT) platform, application or service by 2020, according to a recent report from ABI Research. However, the analyst warns that, like many suppliers in established markets today, commercial building management system vendors face both opportunities and threats when navigating the emerging IoT ecosystem.
According to ABI, the market opportunity for these systems is that IoT integration transforms the traditional BMS from an unconnected monolithic system, into part of a wider and integrated sensing and control network. Support for open BMS connectivity to third-party applications means BMS operation can be informed by a range of external events, such as changing weather conditions or variable energy pricing. At the same time, new sensors and actuators within the building environment can control the BMS according to space allocation, building occupancy and other dynamic factors.
"But the increased flexibility and functionality for BMSes offered by IoT technologies and services is also creating a more complex competitive environment," adds Jonathan Collins, principal analyst at ABI Research. "In fact, new BMS competitors such as SaaS energy management platforms, m2M AEP platforms, and even PC energy management players are now also potential new partners."
While BMS players understand they cannot deliver a full range of services on their own, they are also wary of losing control over BMS implementations and missing out on new IoT-enabled revenue opportunities "Apart from hardware sales, it is applications and services that will drive much of the value from the IoT-integrated BMSes of the future," adds Dan Shey, practice director at ABI Research.
---
Black Box inks distribution agreement with Herman ProAV
Black Box announced a new distribution agreement with Herman ProAV. The distribution agreement includes a wide range of Black Box products for professional AV and broadcast industries. Customers can now conveniently purchase these Black Box products, the company said, and access the most current Black Box product, pricing, and inventory information through Herman ProAV.
"We're pleased to join with Herman ProAV to better serve the commercial AV market," says Jay Jenkins, strategic account manager at Black Box. "Their value-add services, like project staging and logistics management, combined with our leading-edge technologies for AV-over-IP, HDBaseT and 4K, result in a winning combination for clients."
Under the new partnership, Herman ProAV will distribute Black Box products across the continental U.S. The product offering will encompass networking, IT infrastructure and cabling, AV solutions, digital signage solutions and high-performance KVM products.
With two distinct and complementary divisions, Herman ProAV and Herman Integration Services, Herman bills itself as a single source for industry-leading products, procurement and supply chain solutions, as well as technical labor resources. Systems integrators rely on Herman for complete project coordination and trained, experience personnel.
"The breadth of unique Black Box products enables Herman ProAV to offer innovative products and solutions to our customers all from one source," comments Herman ProAV executive VP, Jeffrey Wolf. "We are excited to partner with Black Box for their brand-name recognition and strength of their product offerings to best meet the needs of our customers."
---
Dallas Fort Worth Airport taps Dali Wireless for public safety DAS
Dali Wireless announced that it has been selected by Dallas Fort Worth (DFW) Airport to provide in-building public safety coverage to allow first responders to handle mission-critical communications quickly and efficiently.
As one of the busiest airports in the world, DFW Airport requires a solution that not only provides public safety coverage and access at all times, but also has the flexibility and scalability to meet the airport's existing and future requirements. Dali Wireless was chosen to design and install an all-digital distributed antenna system (DAS) to provide coverage and access throughout the DFW terminals for public safety.
The installed system will provide first responders and other emergency services personnel clear, secure, uninterrupted communications critical during emergency situations. The project, covering all five terminals of the airport, is part of the Dallas Fort Worth (DFW) Airport's Critical Communications Infrastructure to support public safety and homeland security.
According to a company press statement, the system installation at DFW Airport will cover an area of over 12,000,000 square feet, and consist of the Dali t-Series PS solution. The t-Series PS line consists of a headend, the tHost PS, and medium and high power remote units, the t37 PS and t43 PS. Dali says the t-Series PS is an end-to-end digital platform which enables a greater reach without signal degradation and noise interference, ensuring superior signal performance.
In addition, the company says the system's deployment configuration can cater to any topology (star, daisy-chained and hybrid), and with Dali's ability to support long fiber runs over a single fiber between the headend and the remotes, the base station resources can be centralized. This flexibility, scalability and long reach enable easy management and cost-savings, adds the company. Additionally, with an all-digital platform that is software configurable, Dali says its t-Series PS solution enables DFW Airport to easily adapt to changing requirements, including FirstNet, P25 Phase I & II, narrowband and broadband public safety.
"We are pleased to be selected by DFW Airport," comments Lance Craft, vice president of sales, Dali Wireless. "By integrating our state-of-the-art public safety solution with DFW's critical communications infrastructure, the first responders and other emergency personnel will have tomorrow's radio communications system today."
---
AFL acquires Australian cabling manufacturing, design, integration firm AFC Group
AFL announced on May 4 that it had acquired AFC, a manufacturer, designer, and integrator of fiber-optic and copper communications infrastructure that serves Australia, New Zealand, and Hong Kong. The name AFC stands for Australian Fibreoptic Communications, but the company has grown its business and offers an array of copper cabling as well as testing technologies. "AFC will join the AFL family expanding the company's global offering of solutions to the telecommunications, utility, enterprise, and industrial markets," AFL said.
"AFL has served the Australian market for over 20 years, primarily in the power-utility market," the company further explained. "To establish an in-country presence, AFL acquired Optical Cable Services in 2013. With AFL's vision to provide differentiating and innovative solutions in the South Pacific, AFC was the perfect addition to the AFL portfolio." AFL will continue operations in AFC's existing facilities, which include the cities of Melbourne, Sydney, Perth, Brisbane, Canberra, Adelaide, Auckland, and Hong Kong, the company added.
The acquisition expands AFL's product and technology offerings in that geographic region to include fiber-optic cable, fiber management systems, and fiber enclosures, as well as splicers, test equipment, and a set of communication network products.
Kurt Dallas, executive vice president of cable and connectivity for AFL, commented, "AFL is truly excited to have AFC as part of AFL. During our initial discussions, it was clear very quickly that AFC was a special company. AFC's impressive team of professionals has consistently delivered exceptional quality and innovative solutions to their customers."
Tony Macleod, founder and chief executive officer of AFC, added, "From a cultural perspective, AFC and AFL are a terrific match. This acquisition better positions us to expand our customer reach and capabilities. We are delighted to join the AFL family."
---
Study claims cloud RAN small cells reduce costs dramatically versus DAS
Airvana, a provider of small cell solutions, and Real Wireless, advisors in wireless technology, recently announced a study claiming that a Cloud RAN (or C-RAN) small cell system can reduce costs by 69 percent, as compared to traditional distributed antenna system (DAS) solutions.
The Real Wireless study concluded that C-RAN small cells were less expensive in all scenarios considered, including multi-operator deployments where DAS has previously been considered superior to small cells. Further, the study examined the use of C-RAN LTE small cells as an alternative to LTE DAS in both upgrades of existing DAS and in new "greenfield" DAS deployments. Both large and small building deployments were analyzed, as well as both active and passive DAS.
For the study, Airvana's OneCell was used as the basis of the comparison to DAS. The C-RAN architecture achieves performance and economic benefits by centralizing "baseband" and scheduling functions, the core processing by which the system allocates wireless resources among users and services.
Airvana says its OneCell platform uses a C-RAN architecture that expands the technology's range even further by tightly coordinating the LTE access points throughout a building to behave as a single cell, eliminating interference and handovers.
Professor Simon Saunders, Real Wireless director of technology, led the study team. "While we have long seen the potential for enterprise small cells, this is the first time a definitive cost comparison has been conducted," he said. "Significant savings are encountered even for multi-operator situations and smaller buildings, heralding potentially explosive growth on the tiny (<2 percent) penetration of dedicated wireless solutions in office buildings to date."
The analysis found that many of the savings of Airvana's OneCell C-RAN approach derive from its simplified "WiFi-like" deployment model, using standard Ethernet LANs for in-building distribution rather than fiber/coax cabling and remote radio heads. This approach generated significant savings in solution design, cabling materials, installation labor, and project management, found the study.
---
TIA adds members; executive honored
The Telecommunications Industry Association (TIA) announced that the TIA board of directors has approved 12 companies and organizations as new members.
The new companies joining TIA represent businesses from across the technology and telecommunications industry. Among those joining TIA are a mobile cloud computing company, telecommunications tower builders, and cabling manufacturers.
The new members are as follows: AESA Cortaillod; Affirmed Networks, Inc.; Bennett and Pless; Consolidated Engineering; Convergent Connectivity Technology; GetVoIP.com; Northern Virginia Technology Council; Safety LMS Training; Semaan Engineering Solutions Holdings, LLC; Strategic Edge Group; TowerMRL, Inc.; and Tusa Consulting Services.
The approval of these new members follows the addition of Scott Belcher as TIA's CEO late last year.
Separately, the TIA announced that its vice president of technology and standards, Stephanie Montgomery, was selected to receive ANSI's 2015 Meritorious Service Award. ANSI, the American National Standards Institute, bestows this honor on individuals in recognition of outstanding contributions to the U.S. voluntary standardization system.
Montgomery manages TIA's standards efforts; the association's standards committees, including TR-42, have combined to develop more than 1,000 standards. Montgomery oversees the establishment of committee procedures; the implementation, development and advancement of new programs; and overall promotion of TIA standards programs.
John Siemon, vice president of global operations and chief technology officer of The Siemon Company, commented, "I have known Stephanie Montgomery since she joined TIA in 1994 and she could not be more deserving of this award. Stephanie's many accomplishments are a natural byproduct of her professional abilities. The admiration and respect she has earned are a direct result of exceptional interpersonal skills that inspire excellence in others and contribute greatly to success of projects and activities she has undertaken in support of TIA's members like me."