Wireless access point installation kits
Available for existing or new construction, hard-lid or suspended ceilings, Oberon's wireless access point kits make installation as simple as recessed lighting, the company says.
Aug 6th, 2015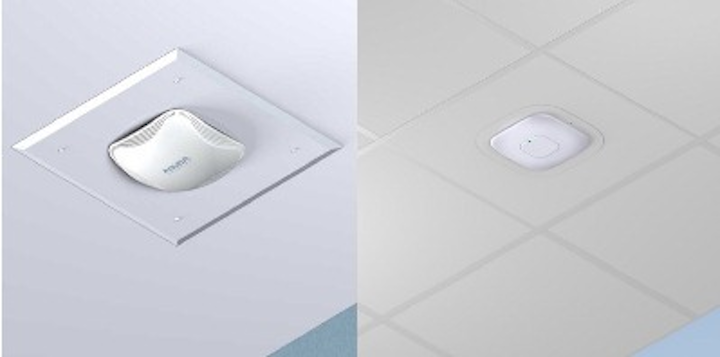 Oberon Inc. says that network designers and technicians will benefit from using the company's new Oberon Wireless Access Point Installation Kits, whether those installations "involve hundreds of access points in high-traffic areas or just one in an office setting." Oberon describes the kits as economical and easy to install, adding they are suitable for use with a variety of vendors' access points, including many Cisco and Aruba Networks models.
Models 1042 and 1043 (pictured, left) are used with hard-lid ceilings and Model 1044 (pictured, right) is used with suspended ceilings. 1042 is for existing environments and 1043 is for new construction. Oberon said the three models are variations on a single theme: "A method of installing wireless access points that makes the process as easy to implement as recessed lighting."
The company further explained that a cutout is made in the hard-lid ceiling or in the suspended ceiling tile, and the backbox is secured to the ceiling (via Model 1042), the ceiling joists (via Model 1043), or the building structure (via Model 1044).
"Wireless access points are attached to WAP-specific trim, and the trim is attached to the galvanized steel backbox in the ceiling," Oberon noted. "The solid metallic backbox and firestop grommet for the data cables ensure code compliance." Through this method, the access point is recessed into the ceiling much like a recessed light fixture, the company pointed out. "Access points can be easily swapped for new trim if the WAP brand or model changes in the future."