Turnkey wireless power kits ease charging for IoT designs
IDT's new plug-and-play wireless power reference kits enable engineers to easily integrate wireless charging into a wide range of product designs.
Aug 26th, 2015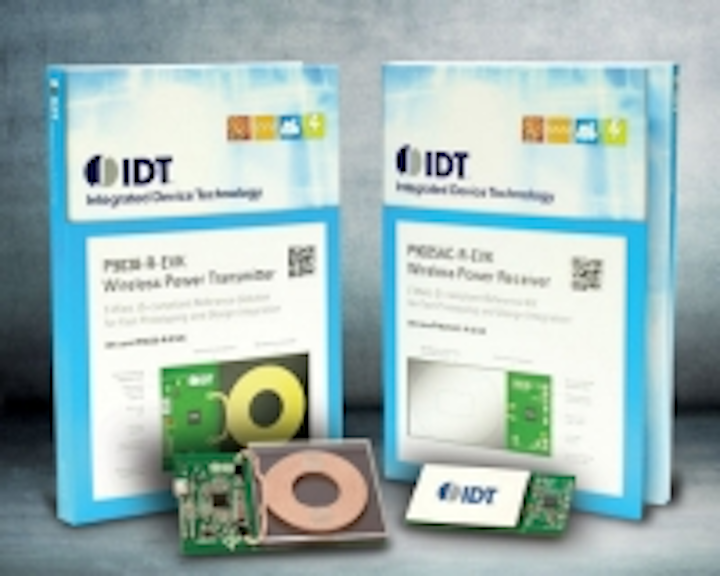 Integrated Device Technology, Inc. (IDT) (NASDAQ: IDTI) has introduced turnkey wireless power kits that the company says make integrating wireless charging easy, affordable and practical for a broad range of consumer electronics designs. IDT says its new Qi-compliant transmitter and receiver reference kits deliver plug-and-play ease of integration, enabling engineers to incorporate wireless charging capabilities into their designs in a matter of hours.

The new 5-Watt, 5-Volt solution is suitable for a wide range of applications, including PC peripherals, furniture, medical devices, and other portable devices still hindered by traditional contact-based charging bases or cables.

"There is heavy demand for wireless power in mid- and low-volume applications that is currently underserved in the market," says Greg Waters, president and CEO at IDT. "By offering a pre-configured, comprehensive, out-of-the-box solution, we make it possible for customers to design a wireless power solution with very little to no engineering support required. This results in a quick-turn and highly-scalable model that enables customers to take full advantage of IDT's industry-leading wireless power products."
Report: IoT integration driving new business into $34B building management systems market
The transmitter and receiver reference kits are built around proven IDT wireless power semiconductors, and include easy-to-use reference boards and comprehensive design support collateral. Support materials include instructional videos, user manuals, foreign object detection (FOD) tuning guides, layout guides, layout instantiation modules, schematics, bill-of-materials (BOM), Gerber files, and more. Both reference kits offer 2-layer board layout files, providing maximum flexibility for most applications. The boards are Qi-compliant for use as-is.

"Integrating wireless power capabilities into existing electronics is a complex process, and one of the factors that has unquestionably slowed its adoption throughout the electronics industry," asserts David Green, research manager, Power Supplies & Wireless Power at IHS. "This approach of providing self-contained, ready-to-go wireless charging kits has the potential to change the landscape for those not yet equipped."

The kits can be used for immediate prototyping. An associated layout module enables direct instantiation on to a system board, while an optimized and fully tested BOM takes the guess-work out of component selection. Foreign object detection (FOD) tuning is supported via selectable pre-programmed curve settings and extensive collateral documenting FOD tuning for these devices.

"Digi-Key anticipates great interest in these industry-first wireless power products, and we're able to offer kits purchased through digikey.com's wireless charging landing page at less than half the price of traditional evaluation kits of this type," concludes David Stein, vice president, Global Semiconductor at Digi-Key Electronics. "With next-day delivery, engineers can go from concept to prototype in fewer than 24 hours. In addition, the full bill-of-materials and pre-production samples can be ordered with just a few clicks, making it easy to place production orders when the time is right."
Digi-Key, Silicon Labs announce IoT design contest winners
The P9038-R-EVK and P9025AC-R-EVK are available now at suggested retail prices of $40 and $30, respectively, and can be ordered directly from participating distribution partners. For the best prototyping and evaluation experience, it is recommended to order both the transmitter and receiver kits. Limited quantities are available and will be sold on a first-come, first-served basis. Free samples are available for approved customers.

To learn more, visit www.idt.com/go/WPkits.