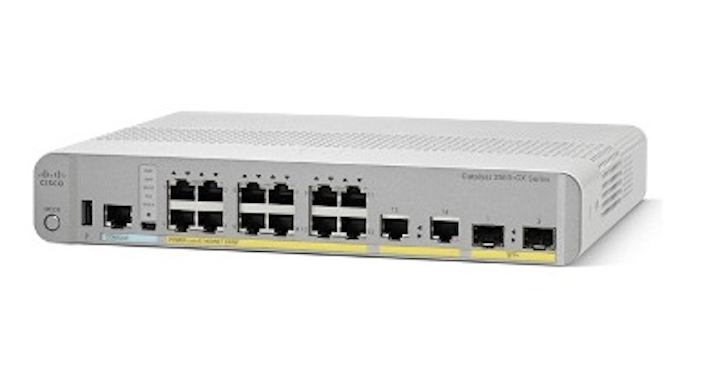 In a blog post, Jeff Reed—vice president and general manager of manageability for Cisco's enterprise networking group—announced the company is adding 2.5- and 5-Gbit/sec ports to several of its switches. The ports will incorporate the technology behind NBase-T, featuring Aquantia's silicon, and essentially are purpose-built to support 802.11ac Wave 2 wireless access points with the installed base of Category 5e or Category 6 cabling.
"In 2013 we introduced Catalyst 3850 and 3560 Stackable Converged Access switches for wired and wireless networks," Reed said. "These switches simplified networks by combining separate wired and wireless networks into a single platform … In 2014 we expanded the converged access portfolio by introducing Converged Access on Catalyst 4500E, our lead modular access platform. Today we take the next big step in our wireless strategy by introducing Cisco Catalyst Multigigabit technology across several campus switches: Catalyst 4500E, 3850 and 3560-CX [pictured].
"As the industry anticipates the shipment of 802.11ac Wave 2 Aps and the future of 802.11x, enterprises are now readying to take advantage of the increase in wireless bandwidth and the ability to run several wireless streams simultaneously on the same AP," he continued. "11ac Wave 2 offers tremendous opportunities, but also has challenges. How can you enable 6.8G wireless speeds being promised by 11ac Wave 2 when your wired port is limited to 1G because of Cat 5e cables? Even if you have cables that support faster speeds, how do you deliver PoE to the wireless Aps? Can you do all this without expensive rip-and-replace of your existing cabling plant?"
Sure you can, with the new multigigabit ports on the 4500E, 3850 and 3560-CX, he said. "Based on NBase-T specifications, our new technology delivers speeds of 1G, 2.5G, 5G and 10G on existing Cat 5e/6 cabling," according to Reed. "By eliminating the need to upgrade the cabling infrastructure, this will result in major cost savings. In fact, based on feedback from industry experts, the cost savings can run from $200 to $1,000 per port—because that's the estimated cost of pulling a new cable based on country, complexity of installation, regulatory requirements and other factors."
Reed also explained that the switches deliver Power over Ethernet, Power over Ethernet Plus , and Cisco's UPOE—Universal Power over Ethernet—on the multigigabit ports. "You get the flexibility to power Wave 2 Aps over your existing cables without changing the cable layout or pulling new electrical circuits in the ceilings or walls."
The new switches are compatible with existing Catalyst access switches, he also stated.