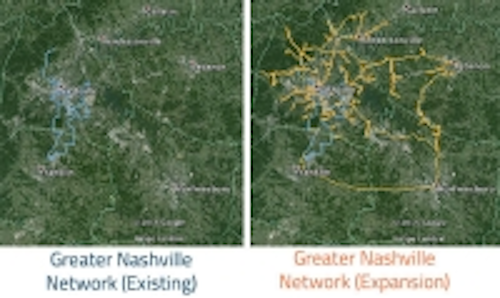 Zayo Group Holdings, Inc. (NYSE: ZAYO), a global provider of bandwidth infrastructure, announced the expansion of its fiber-to-the-tower (FTT) footprint in Nashville, Tennessee to serve an anchor wireless service provider. This is Zayo's first FTT sale in Nashville. Zayo will extend its existing 120-route mile network to provide this FTT service to 147 new towers. Additionally, Zayo is pursuing opportunities to leverage its Nashville network to provide dark fiber service to small cell nodes.
The underlying wireless customer sale (closed in the June fiscal quarter) has a contract term of 20 years and is expected to generate an initial unlevered cash flow yield of approximately six percent per annum on $39 million of expected capital investment, based solely on the initial anchor sale. Zayo estimates the unlevered cash flow yield on the incremental small cell opportunity to be 17 percent per annum, highlighting the attractive follow-on economics. In addition, Zayo will be able to leverage its Nashville network to provide service to second tenants on the 147 towers and to provide additional lit and dark fiber services that leverage the 350 route miles of newly constructed network.
Zayo's FTT solutions and extensible network, which includes approximately 8,000 towers nationwide, are addressing wireless carriers' requirements for scalable, high-capacity infrastructure. "Zayo continues to support our customers' requirements for network capacity that can scale as they grow," said Dave Jones, SVP of Zayo's Mobile Infrastructure Business. "We expect additional services to be provided on this network which will increase the yield over time. We've had significant interest in both small cell deployments and additional FTT services to these 147 towers."
Nashville, long known for its thriving music industry, has experienced significant growth in healthcare, technology and automotive industries. Zayo's fiber network expansion will significantly enhance its ability to deliver high-capacity connectivity to businesses, school districts and other government entities in the broader metropolitan area. For more information, visit zayo.com.