802.11ac Wave 2 access points arrive
Ruckus Wireless's ZoneFlex R710, available this quarter, incorporates 802.11ac Wave 2's multi-user MIMO to achieve aggregate data rates exceeding 2 Gbits/sec.
Apr 2nd, 2015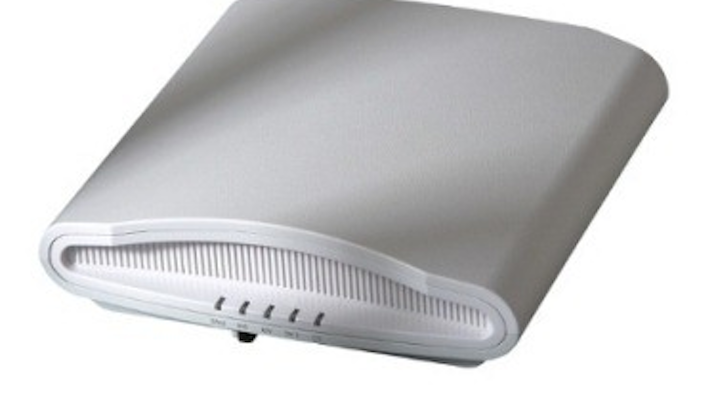 Ruckus Wireless has announced its 802.11ac Wave 2 access point—the Ruckus ZoneFlex R710—will be available this quarter. The company explained the R710 supports "major technical advances in the 802.11ac standard that allow the simultaneous transmission of multiple client streams to different devices over the same frequency, a highly anticipated new capability called multi-user multiple-input/multiple-output (MU-MIMO). This enables over two times the density of mobile devices versus Wave 1, and aggregate data rates exceeding two gigabits per second."
The Ruckus ZoneFlex R710 wireless access point supports up to four spatial streams and 500 concurrent clients, the company further explained. Each access point incorporates the patented BeamFlex+ adaptive antenna technology, which Ruckus said optimizes antenna coverage on a per-client, per-transmission basis. "With four discrete, dual-band smart antenna arrays, the ZoneFlex R710 is capable of dynamically creating over 4,000 unique directional antenna patterns per radio, mitigating up to 15 dB of RF interference while also reducing co-channel interference," Ruckus said. "Dual-polarized smart antennas also allow the R710 to automatically adapt to the changing physical orientation of mobile client devices such as smartphones and tablets, thereby helping to maximize uplink performance and offer unmatched reception of weak mobile client signals."
The access point is equipped with dual Gigabit Ethernet ports that can be aggregated to satisfy peak throughput requirements, Ruckus added. It also said the ZoneFlex R710 maintains full 4x4:4 802.11ac functionality with standard 802.3af Power over Ethernet, "eliminating the need for costly and cumbersome wired switch upgrades."
When announcing the new access point, Ruckus described the experiences of the City of San Jose, CA, which was among the first user organizations to deploy it. "We are at an inflection point in the industry as we deal with insatiable demand for wireless capacity and speed," according to Vijay Sammeta, the city's chief information officer. "We need to be able to plan and prepare for devices and services we haven't even seen yet. Wave 2 represents an investment in a platform that not only meets our current needs, it will also meet those in the future that we can't even predict. Delivering our wickedly Fast WiFi service has become a distinct competitive advantage for the City of San Jose. The Ruckus ZoneFlex R710 helps us take this to the next level. It's simply the best-performing WiFi access point we've ever deployed, even without multi-user MIMO clients."
He also said that deploying the ZoneFlex R710 enabled the city to "achieve dramatic performance improvements, reaching over 445 megabits-per-second speed with two-stream-capable laptops, and over 200 megabits per second with single-stream mobile smart phones," according to Ruckus.
The manufacturer's suggested retail price is $1,295 and the ZoneFlex R710 will be available through authorized Ruckus BiG DOG resellers.