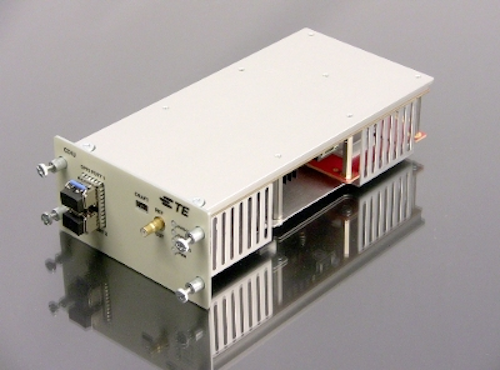 CPRI digital interface unit from Alcatel-Lucent for the TE FlexWave digital DAS Host (Photo: TE Connectivity)
TE Connectivity (NYSE: TEL) announced that its CPRI Digital Interface Unit (CDIU) is rapidly gaining traction with major U.S. mobile operators, slashing distributed antenna system (DAS) installation time, equipment costs and operating costs in key deployments.

TE reports that its CDIU has now been deployed in several venues including:

-- The Grand Hyatt Hotel in New York, N.Y.
-- Mizzou Arena at the University of Missouri in Columbia, Mo.
-- Paul Brown Stadium in Cincinnati, Ohio
-- Washington State University's Martin Stadium in Pullman, Wash.

At these venues, the CDIU has been deployed with TE's FlexWave digital DAS platform using both high-power and low-power remote units. TE notes that its FlexWave DAS host units can drive both high- and low-power remote antennas from the same host unit, giving mobile operators and neutral host operators the flexibility to architect DAS uniquely and use CDIU at any site.

According to the company, the CDIU system establishes a direct digital connection between Alcatel-Lucent base stations and TE's DAS host unit, eliminating remote radio heads, radio-frequency (RF) conversions, and racks of attenuation panels in a DAS head-end. "Typically, deploying a direct digital base station-to-host connection with CDIU reduces physical equipment by more than 50 percent and cost of materials by 40 percent, plus it reduces energy costs by as much as $100,000 per year in large venues," claims a TE press announcement.

In addition to significant savings in capital and operating costs, TE contends that its CDIU delivers simplified installation and shorter deployment times. Rather than spending days cabling and installing racks of attenuators, the CDIU-to-DAS connection is a plug-and-play operation that takes minutes. Further, TE says the CDIU improves performance, testing and commissioning of a DAS. Rather than undertake expensive passive intermodulation (PIM) testing on cables linking antennas and amplifiers, operators can use the CDIU to generate a carrier waveform tone that makes it easy to optimize and troubleshoot the system.

"CDIU is a great example of how TE works with mobile operators and base station manufacturers to lower costs and simplify DAS deployments," says Peter Wraight, president of TE's Wireless business unit. "With industry firsts like CDIU, we are continually pushing DAS evolution into the future, and that's why mobile operators prefer our solutions for their most demanding applications."