Report: DAS market hits $2.2 billion
New IHS/Infonetics research also notes that the DAS vendor ecosystem is fragmented.
May 27th, 2015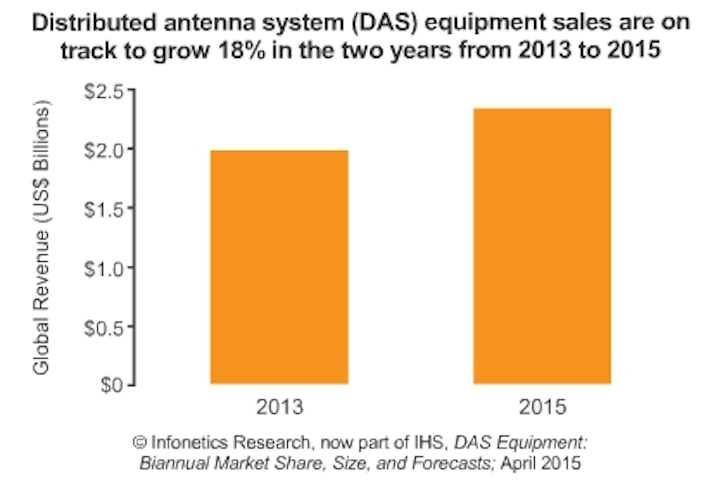 IHS (NYSE: IHS) subsidiary Infonetics Research reports that worldwide distributed antenna system (DAS) revenue reached $2.2 billion in 2014, growing 11 percent over 2013, powered by the Asia Pacific and North American regions.

According to the firm's latest report, in 2014 versus 2013, distributed antenna system revenue is up 17 percent in Asia Pacific, and up 11 percent in North America. IHS/Infonetics believes that China and the US will remain the world's two largest DAS markets through at least 2019, due to the number and magnitude of their sports/entertainment stadiums, convention centers, transport stations and ports.

"China's already in the process of shifting from macro LTE coverage buildouts to capacity and coverage enhancements," said Stéphane Téral, research director for mobile infrastructure and carrier economics at IHS/Infonetics. "In 2014, Comba Telecom, Asia Pacific's DAS bellwether, increased its wireless enhancement business 17 percent year-over-year, showcasing a solid comeback for DAS activity in China. This is a complete reversal of fortune for China after a double-digit decline last year."

The new research also notes that the DAS vendor ecosystem is fragmented, with CommScope, Corning and TE Connectivity leading the North American market and Hong Kong-based Comba Telecom dominating in Asia Pacific, mainly due to major spender China Mobile.

The biannual IHS/Infonetics DAS Equipment market research report tracks and forecasts distributed antenna system equipment units and revenue by vendor, geographic region and category (in-building, outdoor, LTE, multi-standard). Vendors tracked include Axell Wireless, Comba, CommScope, Corning, Ericsson, JMA, Kathrein-Werke KG, Optiway, SOLiD, TE Connectivity, Zinwave and others.

Learn more about the report.