Fortinet acquiring wireless LAN provider Meru Networks
Fortinet, a cyber-security solution provider, is paying approximately $44 million for Meru Networks and promises to bring its highly secure technology to enterprise users.
May 27th, 2015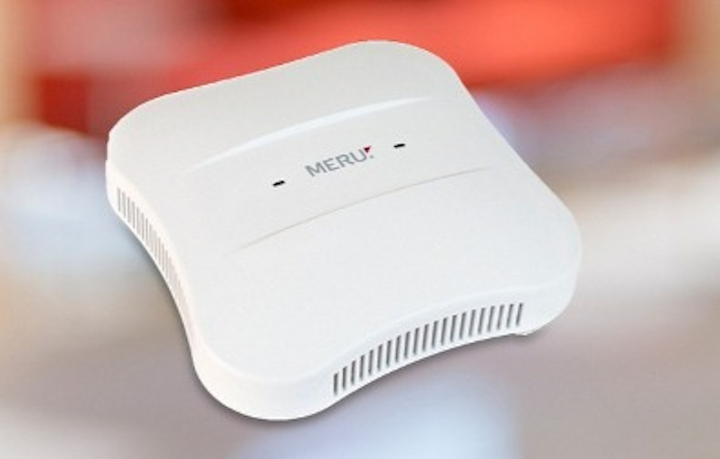 Cyber-security solution provider Fortinet announced on May 27 that it has agreed to acquire wireless LAN equipment manufacturer Meru Networks for $1.63 per share, or approximately $44 million. Meru reported $90.9 million in revenue for the year ended December 2014. The companies said the deal is expected to close in the third quarter of 2015.
"This acquisition is synergistic with Fortinet's secure wireless vision and enterprise growth focus," Fortinet said, adding that the deal "broadens the company's solutions portfolio, and expands its opportunity to uniquely address the $5 billion global enterprise WiFi market with integrated and intelligent secure wireless solutions." Fortinet also commented that the "expansion of the [WiFi] network to unknown and untrusted mobile devices creates significant IT security risks amidst the most dangerous cyber threat environment enterprises have ever experienced." It said its own innovative convergence of security and wireless "is critical and creates value for customers by broadening an integrated, secure network fabric and enabling protection of transmitted information, while allowing efficient management of the network and devices."
Fortinet offers FortiAP brand wireless access points as well as FortiWiFi brand integrated security appliances, which are aimed at branch offices and small businesses. "The addition of Meru's intelligent WiFi solutions to the Fortinet portfolio extends the delivery of a secure, uninterrupted user experience, anytime, anywhere, providing peak performance in environments requiring high capacity load and a high density of wireless users, such as enterprise, education, healthcare, and hospitality."
Among Meru's product and technology portfolio is software-defined network (SDN)-enabled WiFi system software that the company says "seamlessly manages and secures wired and wireless LANs, as well as efficiently provisions WiFi-enabled end-user devices." Meru also provides a range of access points and controllers.
Dr. Bami Bastani, president and chief executive officer of Meru, commented, "The combination of Fortinet and Meru is expected to strengthen our position in the overall enterprise wireless market, addressing the requirements of CIOs to provide secure, uninterrupted connectivity for their highly mobile end users. Meru's technology differentiation, and its position as the only ONF-certified SDN wireless solution, along with Fortinet's core, edge, and access security solutions, will provide a broader solutions portfolio."
Fortinet founder, chairman, and chief executive officer Ken Xie said, "The acquisition of Meru Networks maps to our overall security vision of combining strong network security with ubiquitous connectivity," adding that he expects the deal to accelerate innovation.
Meru has approximately 14,000 customers and Fortinet has approximately 210,000 customers worldwide.