Samsung launches open-platform silicon to accelerate Internet of Things development
Small form-factor ARTIK IoT modules comprise platform for quickly and easily developing and deploying connected devices, says company.

May 26th, 2015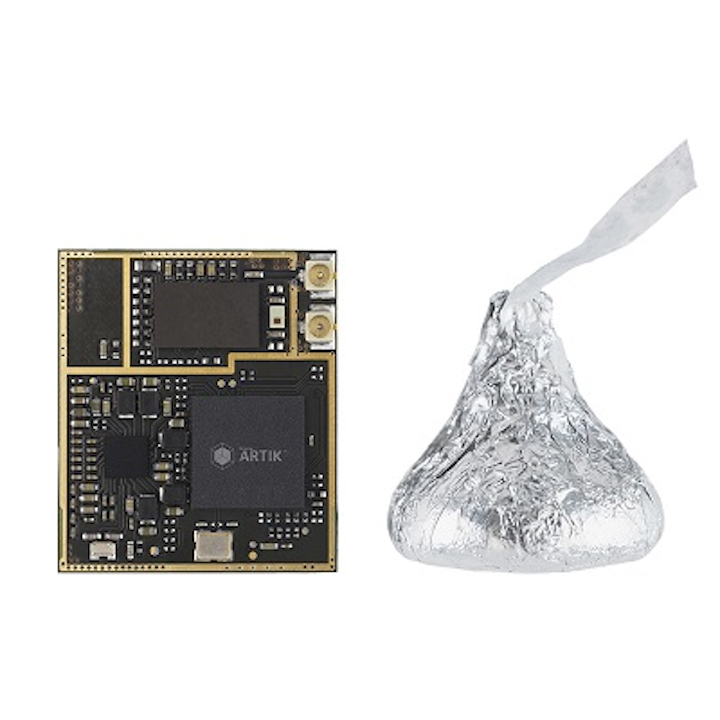 At the recent Internet of Things World (IOT 2015) event in San Francisco, Samsung Electronics Co., Ltd. announced the Samsung ARTIK platform, designed to allow for faster, simpler development of new enterprise, industrial and consumer applications for the Internet of Things (IoT). According to a Samsung press release, "ARTIK is an open platform that includes a best-in-class family of integrated production-ready modules, advanced software, development boards, drivers, tools, security features and cloud connectivity, designed to help accelerate development of a new generation of better, smarter IoT devices, solutions and services."

"We are providing the industry's most advanced, open and secure platform for developing IoT products," commented Young Sohn, president and chief strategy officer, Samsung Electronics. "By leveraging Samsung's high-volume manufacturing, advanced silicon process and packaging technologies, and extensive ecosystem, ARTIK allows developers to rapidly turn great ideas into market-leading IoT products and applications."

Samsung says the ARTIK platform comes in a variety of configurations to meet the specific requirements of a wide range of devices, from wearables and home automation, to smart lighting and industrial applications. All members of the Samsung ARTIK product family incorporate proprietary embedded hardware security technology, on-board memory and advanced processing power in an open platform. Security is also a key element of the advanced software integrated into the platform, along with the ability to connect to the Internet for cloud-based data analytics and enhanced services. As an open platform, Samsung ARTIK can be easily customized for more rapid deployment of IoT devices and the services that can be delivered using them, notes the company.
Initial members of the ARTIK family include: ARTIK 1, billed as the smallest IoT module currently available in the industry at 12mm-by-12mm, which combines Bluetooth/BLE connectivity and a nine-axis sensor with best-in-class computing capabilities and power consumption. This module is specifically designed for low-power, small form-factor IoT applications; ARTIK 5 delivers a balance of size, power and price-performance and is intended for use in home hubs, drones and high-end wearables. This module incorporates a 1GHz dual-core processor and on-board DRAM and flash memory; ARTIK 10 enables high-performance IoT capabilities with an eight-core processor, full 1080p video decoding/encoding, 5.1 audio, and 2GB DRAM along with 16GB flash memory. The ARTIK 10 includes Wi-Fi, Bluetooth/BLE and ZigBee connectivity and is designed for use with home servers, media applications, and in industrial settings.

"Industry requirements for IoT devices vary in terms of battery life, computational horse power and form factor," adds Samsung's Sohn. "With this family of ARTIK offerings, Samsung is directly addressing the needs of the widest range of customers, uses and applications."
More information about the ARTIK platform and development tools may be found at www.artik.io.