Super Bowl final score: 1.7 Terabytes of data over AT&T's DAS network
The carrier reports that in the hour in which fans were filing into University of Phoenix Stadium, more than 125 Gigabytes crossed its in-stadium DAS.
Feb 4th, 2015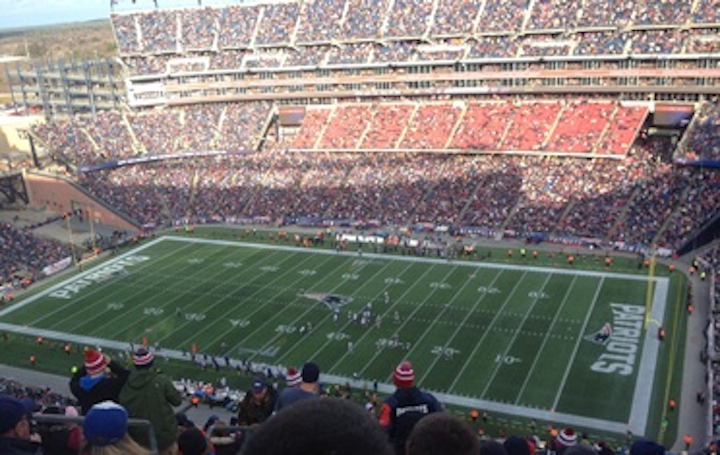 On Monday, February 2, AT&T's senior executive vice president of technology and operations John Donovan reported that on Super Bowl Sunday, more than 1.7 Terabytes of data were transmitted across AT&T's distributed antenna system (DAS) networks inside and immediately surrounding University of Phoenix Stadium. "Total in-venue data usage was more than 696 Gigabytes," Donovan explained in this blog post. "When looking at numbers from both the in-stadium DAS network and outdoor-stadium DAS network serving the parking lot areas, we did more than 1.75 Terabytes of data." He pointed out that is the equivalent of 4.8 social media posts with photos.
"The 1.7 TB total surpasses the total cellular usage of 1.41 TB from the college football championship game in Dallas last month," Donovan noted. On Super Bowl Sunday, he continued, "Fans uploaded and downloaded the most data on the in-venue network from 3-4pm MST, which is the hour in which most fans started filing into the stadium. During this hour 125 Gigabytes crossed our in-stadium network."
Donovan added that AT&T "experienced several high marks this season" around NFL stadiums. "In total, from 253 games at 31 stadiums, our customers have used more than 85.7 Terabytes of mobile data on our venue-specific cellular networks. That's equivalent to more than 245 million social media posts from 253 games, an average of almost 1 million social media posts per game." (The photo at the bottom of this page was taken by a cablinginstall.com editor at Gillette Stadium, home of the eventual Super Bowl champion New England Patriots, on December 27. He posted the photo to Facebook that day via the AT&T network inside Gillette Stadium.)
Donovan added that in preparation for the Super Bowl, AT&T built or upgraded 13 permanent DAS at the stadium and nearby locations, including tripling the stadium's DAS capacity over its end-of-2013-season level. "The stadium is the first venue in the country in which we deployed four-carrier LTE coverage [which] gives us additional lanes on the data highway to provide customers with a faster and more reliable experience."