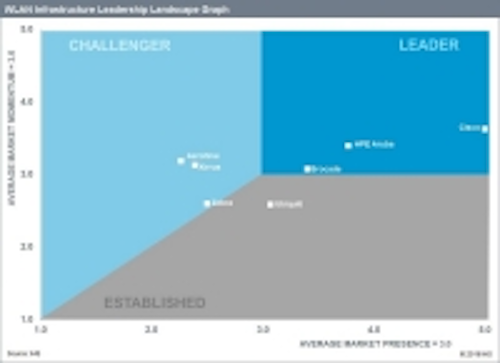 LONDON – IHS Markit (Nasdaq: INFO), a global business information provider, has released excerpts from its 2016 WLAN Infrastructure Vendor Scorecard. The scorecard profiles and analyzes the top seven revenue producers for enterprise wireless local area network (WLAN) infrastructure.

Listed in the scorecard, in alphabetical order, were Aerohive, Brocade (which acquired Ruckus Wireless in 2016), Cisco, HPE Aruba, Ubiquiti, Xirrus and Zebra. The scorecard evaluates the companies on criteria such as direct feedback from buyers, vendor market share, market share momentum, financials, brand recognition, reputation for innovation and other benchmarks. Vendors are classified as leader, established or challenger based on their overall score.

For 2016, Cisco, HPE Aruba and Brocade were named leaders in WLAN infrastructure, while Ubiquiti was classified as established and Aerohive, Xirrus and Zebra were dubbed challengers. Among the leaders, Cisco ranked first in market presence and market momentum; HPE Aruba placed second in presence and momentum; and Brocade was third in presence and fifth in momentum.

Said Matthias Machowinski, senior research director, enterprise networks and video, at IHS Markit, "The leaders in our scorecard—Brocade (Ruckus), Cisco and HPE Aruba—don't just focus on wireless, but deliver a broad range of networking solutions to address the growing, diverse requirements of today's organizations. In addition, they compete broadly in all segments of the WLAN market, leveraging the completeness of their portfolios and installed bases. The remaining vendors consist of wireless specialists who focus on solving problems through new and innovative approaches."

For the purposes of the scorecard, enterprise WLAN infrastructure is defined as equipment—including access points and controllers—used to build wireless networks based on the 802.11 Wi-Fi standard and sold to small and midsized businesses (SMBs) and enterprise organizations, but not carriers and service providers.

About IHS Markit (www.ihsmarkit.com)
IHS Markit (Nasdaq: INFO) is a world leader in critical information, analytics and expertise to forge solutions for the major industries and markets that drive economies worldwide. The company delivers next-generation information, analytics and solutions to customers in business, finance and government, improving their operational efficiency and providing deep insights that lead to well-informed, confident decisions. IHS Markit has more than 50,000 key business and government customers, including 85 percent of the Fortune Global 500 and the world's leading financial institutions. Headquartered in London, IHS Markit is committed to sustainable, profitable growth.
Search the Cabling Installation & Maintenance Buyer's Guide for companies, new products, press releases, and videos: