Carolina Panthers' offseason acquisition: CommScope cabling and wireless network infrastructure
Prior to their conference-championship season, the Panthers deployed the CommScope ION-U distributed antenna system as well as a passive optical LAN.
Jun 7th, 2016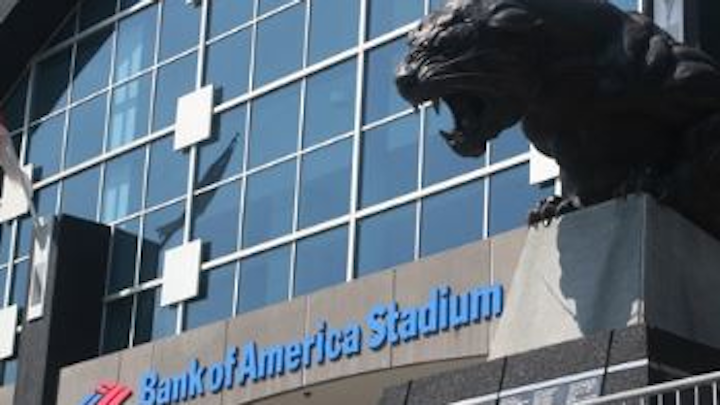 Just prior to the season that culminated in a National Football Conference championship, the Carolina Panthers upgraded the fan-connectivity experience at their home field, Bank of America Stadium, by deploying cabling and wireless technologies supplied by CommScope. During the 2015 season, every time a Cam Newton dab or post-touchdown football handoff to a young fan was captured via mobile device and shared through social media, CommScope infrastructure facilitated the connection. The company recently announced that its ION-U distributed antenna system (DAS) was installed in Bank of America Stadium, and its copper and fiber cabling infrastructure was installed within a passive optical LAN at the facility. The Panthers organization named CommScope an Official Network Solutions Sponsor for Bank of America Stadium.
"In a new survey by CommScope, Millennials and Baby Boomers both agreed that having reliable internet connectivity wherever they are was important to them (89 percent and 81 percent, respectively)," CommScope explained when announcing its affiliation with the Panthers and Bank of America Stadium. "This is why sports and entertainment venue owners, like the Panthers, are willing to invest in dedicated and integrated communications infrastructure to meet and even exceed this expectation."
In addition to supplying equipment for the stadium's networks, the company also provides on-site technical engineering support.
Prior to the 2015 season, the Panthers hired DAS and small cell consultant Beam Wireless Inc. to provide technical services and equipment-selection guidance. The Panthers and Beam Wireless selected CommScope's ION-U "to enable fans to upload photos and videos, text and make calls, and enjoy other mobile applications despite the high concentration of wireless users during football games and other events," CommScope explained. The company added, "The Panthers were able to deploy the DAS in less than 90 days from start to finish, and three wireless operators are now on-air throughout the stadium."
CommScope further explained that the ION-U system "reduces DAS complexity while maximizing performance and making owning and operating the system simpler and more economical. For example, the ION-U enables network engineers to adjust power levels all the way down to individual frequency bands, allowing for more targeted network optimization. To take up less valuable real estate, ION-U incorporates an Intelligent Point of Interface (IPOI) that decreases the amount of space needed at the headend." ION-U supports multiple operators, frequency bands, and air-interface technologies in a single system, CommScope noted.
In addition to those wireless network components and systems, CommScope also supplies copper and fiber network infrastructure "to help the Panthers deliver an integrated, engaging experience to fans, while supporting stadium operations," the company said. It is supplying an optical LAN solution for a passive optical network in stadium suites, as well as high-performance structured cable and connectivity elsewhere. "This integrated infrastructure enables applications such as high-bandwidth data, voice, VoIP and WiFi services; high-definition TV and hospitality services for the suites; and broadband video," CommScope noted.
Qypsys, a system integrator specializing in DAS and passive optical LAN, led the optical-LAN installation.
"The entire Panthers organization is committed to excellence, whether it's in scoring touchdowns or making sure fans absolutely love coming to see this team play," said James Hammond, director of information technology for the Carolina Panthers. "With the help of CommScope, the Panthers are utilizing next-generation network technology to deliver an exceptional experience for visitors."
Ben Cardwell, senior vice president for CommScope's mobility solutions, added, "The Panthers took a leading role in designing and driving these major network upgrades at Bank of America Stadium, highlighting a trend we are seeing at stadiums throughout the U.S. and Europe. Ensuring a premiere fan experience, speeding the deployment process and making upgrades and optimization easier are some of the benefits of venues taking greater control of their networks."