DWDM test set simplifies cell backhaul, metro access network deployment
Designed for use in outside plant (OSP) and central office environments, AFL's WDM900 Lightwave Test Set simplifies DWDM testing for cell backhaul and Metro-E access networks.
Aug 26th, 2013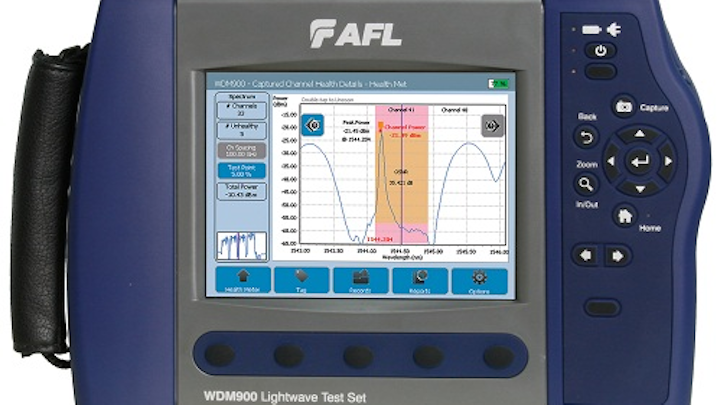 AFL has introduced its WDM900 Lightwave Test Set, designed to provide sophisticated performance analysis combined with ease-of-use to the rapidly growing DWDM test space. "Cell backhaul and metro-Ethernet access networks are rapidly transitioning to DWDM technology," contends Bill Thompson, senior product marketing manager for AFL's test equipment division. "Network managers are learning that the tools available to them today -- complex, delicate, high-cost optical spectrum analyzers and overly-simplified channel checkers -- do not meet their needs."

Designed to operate in both outside plant (OSP) and central office conditions, the WDM900 employs a solid state, no-moving-parts design and resists vibration, mechanical shock, temperature and humidity changes that often damage or disable other WDM analysis systems, says AFL. Equipped with the patent-pending AFL Health Meter capability, the WDM900 enables users to find, analyze, document and report issues related to Optical Signal-to-Noise (OSNR), wavelength drift and channel power.
Related: Report sees 5-year, $5 billion opportunity in outdoor small cell backhaul

The AFL Health Meter validates each DWDM channel against user-defined pass/fail criteria and immediately tells the user the health of their network. With a single touch, the technician can identify measurement details to confirm the exact issue.

"The WDM900 combines integrated photonics technology with an advanced AFL Health Meter display on a proven product platform to deliver the power of an OSA with the speed, economic value and the ruggedness of a channel checker," continues AFL's Thompson. "Designed for ease-of-use from the ground up, the WDM900 allows first-time users to find and document OSNR, wavelength drift and channel power-related issues across their entire network in less than a minute. The user can then generate a comprehensive report onboard the unit which can be easily shared."

"Unlike legacy optical spectrum analyzers, the WDM900 requires minimal training," adds Thompson.

Search for Test Equipment in our Online Buyer's Guide