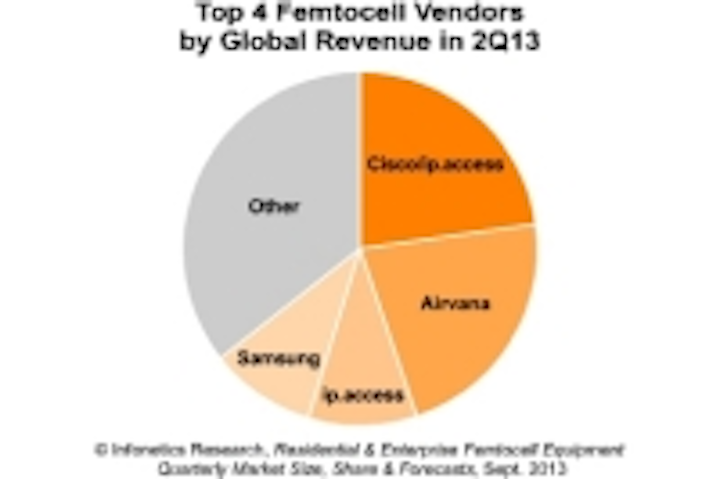 Infonetics Research has released its 2nd quarter 2013 (2Q13) Residential and Enterprise Femtocell Equipment report, which tracks femtocells by market segment, technology, and form factor.

"Sales of 3G femtocells still dominate the market, despite the focus of vendors on 4G," asserts Richard Webb, directing analyst for microwave and carrier WiFi at Infonetics Research.
According to the report, the global 2G/3G/4G residential and enterprise femtocell equipment market grew 4% sequentially in 1Q13, to $115 million, driven by LTE.
Related news: DAS seen passing $2B
Webb adds, "Residential femtocells still account for the bulk of the market, though from this point forward we will see increasing adoption of femtocells from the enterprise segment, which is a key focus for a growing number of operators."

According to the analyst, integrated femtocells are expected to account for nearly half of all femtocell units shipped in 2017, almost entirely within the residential segment. Infonetics forecasts FDD-LTE femtocells to grow at a 76% compound annual growth rate (CAGR) from 2012 to 2017.

In terms of market share, Cisco, who recently acquired Ubiquisys, sprang to the top of the femtocell revenue share leaderboard in 2Q13, thanks also to its work with AT&T, who lays claim to the largest scale femtocell deployment in the world. The report adds that Airvana dropped to the number two spot overall, but moved into the lead in the 3G femtocell segment.
More: Analyst: Small-cell market bouncing back after two rough years

Infonetics' quarterly femtocell report provides worldwide and regional market size, vendor market share, forecasts through 2017, analysis, and trends for 2G (GSM/GPRS and CDMA), 3G (W-CDMA/HSPA, CDMA2000/EV-DO, and TD SCDMA), and 4G (LTE) femtocells.
Femtocells are tracked by form factor (standalone and integrated) and market segment (residential and enterprise). Companies tracked include Airvana, Alcatel-Lucent, Argela, Cisco/, Contela, Fujitsu, Huawei, ip.access, NEC, QuCell, Samsung, Ubee Interactive, and others. Learn more.