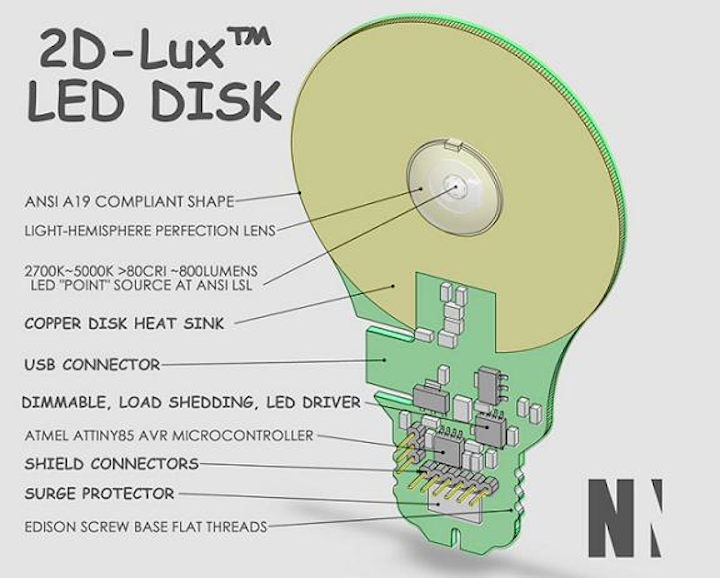 NliteN has released its dimmable 2D-Lux SLEDD [Smart LED Disk], a 60W-incandescent-replacement LED "smart light bulb" aimed primarily at the consumer market which incorporates an Atmel AVR microcontroller, USB interface, and hardware-expansion pins to the company's companion 2D-LiteLED Disk system (also recently released). The new device pulls together intelligence, programmability, additional hardware functions, and the ability for consumers to install, and run light bulb apps, including smartphone control, at a very low cost -- according to NliteN, the new light bulb product is priced at about the average price of "dumb" (connectivity-incapable) LED bulbs found at most retailers (roughly $25).

Both disk systems are based on the company's patent-pending 2D-Light LED Disk technology, featuring a point-source spherical LED illumination pattern, automated assembly, and utility load-shedding capability. Fruther, the 2D-Lux SLEDD's functionality can be augmented and customized by using its expansion connector to add "shields" -- small, low-cost plug-in circuit board modules. Shields can add any number of hardware functions to the 2D-Lux SLEDD system, including microphones (clap on, clap off, clap dim, loudness sensitive brightness, etc), motion sensors, Zigbee, Bluetooth, Wi-Fi, and Linux web appliance capabilities, and battery back-up support. The functions on the shield are then utilized by a light disk "app" (LDA) that the consumer downloads into the AVR microcontroller via the SLEDD's integrated USB connector, fully defining the SLEDD's functionality.

One of the first apps/shield combinations being planned enables remote control of a SLEDD using a standard Android or iPhone mobile device for such functions as on, off, dimming, timed functions, etc. Using a Wi-Fi shield, its LDA and smartphone app, all purchased from NliteN's online store, SLEDDs can be addressed and controlled individually, or as a group, over an Internet or LAN connection without lowering lumen light output, needing a special bridge device, or limiting the number of LED Disks that can be controlled. A set of basic free apps are also planned for release, enabling the SLEDD to perform simple tasks, such as using the AVR's on-board timer to turn its LEDs on or off at defined intervals.

Learn more about the product here.