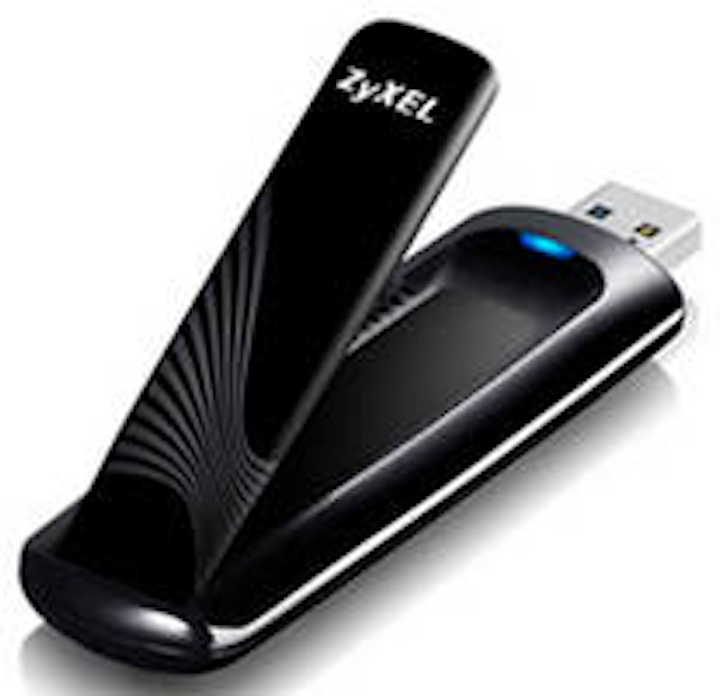 Zyxel Communications has introduced its NWD6505 and NWD6605 802.11ac dual-band wireless USB adapters. The inconspicuous devices enable home users and travelers to upgrade their desktops, laptops and portable devices to the latest 802.11ac Wi-Fi technology, improving media streaming and online communications capabilities.

The Zyxel NWD6605 dual-band wireless AC1200 USB adapter delivers data transfer rates of up to 300 Mbps on its 2.4 GHz channel or 867 Mbps on its 5 GHz channel. The adapter features two antennas, enabling it to deliver wider coverage and provide better wireless performance. It's designed to enable enhanced HD video streaming, online gaming, multiple downloads, and sharing multiple large files simultaneously. The NWD6605 also uses a USB 3.0 interface for a faster networking experience that is 10x faster than USB 2.0 with transfer data rates of up to 5 Gigabit per second.

See also: 802.11ac Gigabit wireless: The great WiFi hope

Zyxel's NWD6505 dual-band wireless AC600 USB adapter delivers data transfer rates of up to 150 Mbps at 2.4 GHz or 433 Mbps at 5 GHz. Both the NWD6505 and NWD6605 dual-band wireless USB adapters take advantage of the latest 802.11ac technology; the accelerated throughput of 802.11ac over the less congested 5-GHz frequency band offers an optimal, lag-free experience for streaming video, audio, VoIP, gaming, web browsing, and other entertainment and communication applications. Each adapter is fully backward compatible with 802.11a/b/g/n wireless networks.

The company says the new adapters are geared for desktop and laptop users who require a dual-band wireless AC network connection for faster HD video, media streaming and online gaming. Their compact, stylish, lightweight design also offers excellent portability for business travelers, vacationers, students, and others on the move. The units are Microsoft Windows 8 certified for usability with the latest PC systems. With included WPS (Wi-Fi Protected Setup) capability, the new adapters offer fast, simple, secured connections at the touch of a button, asserts Zyxel.

More: Why 802.11ac Wi-Fi throughput may still be insufficient