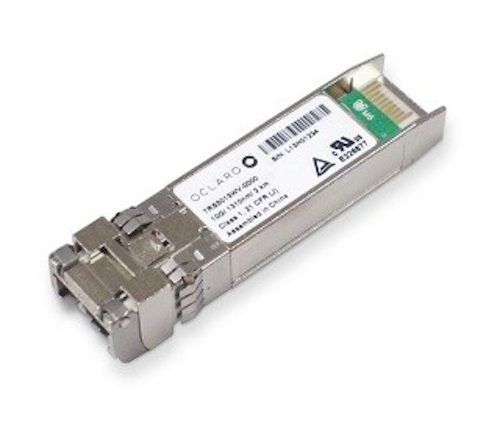 Optical and laser components specialist Oclaro (NASDAQ: OCLR) announced that it is sampling the TRS5013WV, a low-cost 10G Ethernet SFP+ transceiver for single-mode fiber applications up to 2 km. The 10G SFP+ CPRI transceiver is optimized for wireless backhaul applications and is compliant with the IEEE 10G Ethernet transceiver standards as required by the Common Public Radio Interface (CPRI) specification, covering the CPRI rates from 2457.6 Mbit/s (Option 3) to 9830.4 Mbit/s (Option 7).

The SFP+ CPRI transceiver uses a Fabry-Perot (FP) laser to keep design costs low while offering high performance with a reach of 2 km over single-mode fiber and an extended temperature range of -40 to +85 degrees. Oclaro introduced the 10G SFP+ CPRI transceiver with customers during the recent European Conference and Exhibition on Optical Communications (ECOC) in London (September 23-25).

Mobile devices continue to grow in numbers and usage as the preferred interface for high-bandwidth media consumption and video communications. Oclaro contends that this is driving a rapid increase in bandwidth needs throughout the wireless backhaul network including the very cost-sensitive "last mile" to the antenna. A very high percentage of these CPRI links tend to be less than 2 km in length.
However, a CPRI-compliant SFP+ transceiver cost-optimized for these short distances has not been available until now, and the industry has had to rely on more expensive transceivers with a reach of 10 kms. The Oclaro 10G SFP+ CPRI transceiver fills the need for these distances while meeting the harsh environmental requirements for wireless backhaul applications.

"Upgrades of wireless networks to 4G create a strong demand for optical connectivity to support the wireless infrastructure. A high percentage of the connections between the base station and antenna towers are relatively short requiring transceivers that can support distances up to 2 km. Demand for 10 Gbit/s connectivity will be strong within the wireless industry," asserts Vladimir Kozlov, PhD., Founder and CEO of LightCounting Market Research. "Over the past three years, this market segment has experienced annual growth rates of 50-100% per year. This has led the transition to higher data rates: from 3 Gbit/s to 6 Gbit/s and now 10 Gbit/s."

"Today's announcement is another milestone in our quest to offer high-performance cost-efficient transceiver solutions and help enable a bandwidth-rich wireless network infrastructure," concludes Atsushi Takai, Vice President and GM, Oclaro Japan, Inc., Pluggable Division of Modules & Devices Business Unit. "This new standards-compliant 10G SFP+ CPRI transceiver is a product of our industry leading chip technology and expertise in delivering compact high-quality transceivers with low power consumption."