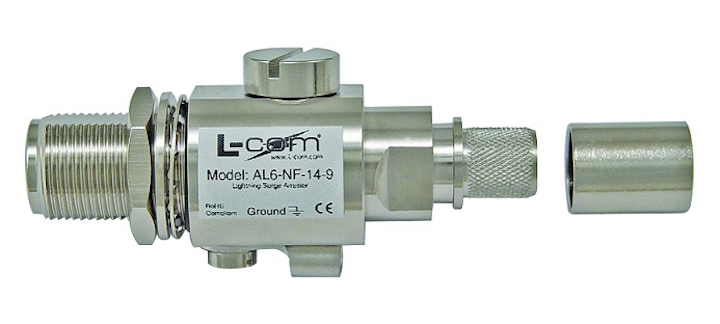 L-com has released two new coaxial lightning protectors designed to be crimped directly onto its 400-series low-loss coaxial cable, thereby reducing insertion loss.
The devices feature DC to 5.8 GHz wide-band operation and are suitable for use in IEEE 802.11a/b/g/n Wi-Fi applications. The company says that by directly crimping the lightning protectors to the cable, technicians can reduce insertion loss while providing very high-performance protection with features such as multi-strike capability, bi-directional protection, and replaceable gas discharge tubes.

"If you are worried that adding a lightning protector to a coax line will cause signal loss or restrict the cable applications, we've built a solution," comments Patrick Pesa, director of product development for L-com. "These products provide the benefits of lightning protection without the side effects that can impact a system."

In addition to the crimp protectors, L-com is offering pre-crimped cable assemblies and the ability to create custom cable assemblies with various connector ends. The new protectors are being stocked in L-com's HyperLink fulfillment center in Boca Raton, FL, for same-day shipment.
Cable assemblies will be made upon order in as little as 2 days or less. Datasheets, diagrams, engineering drawings and 3D CAD models are all available for free download from L-com's website.