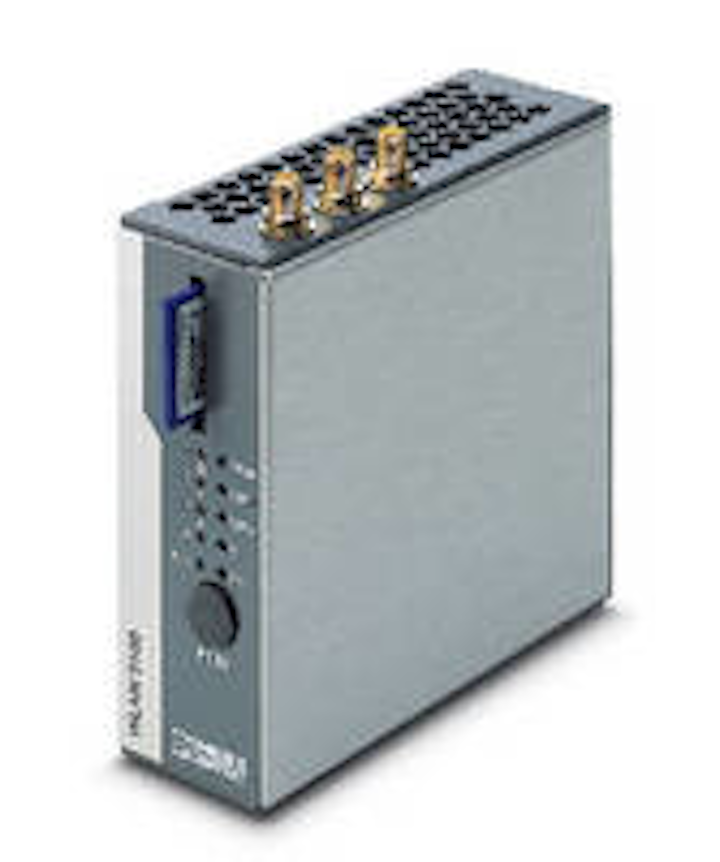 Housed in a 40-mm wide metal case with data and antenna ports located on the unit's top and bottom, Phoenix Contact's FL WLAN 5101 is an 802.11a/b/g/n wireless radio designed to meet the needs of bandwidth-demanding applications in IP-based video surveillance, plant networking, and mobile operator access for programming and maintenance.

Related products: Phoenix Contact adds new cable ties, cable management accessories

The FL WLAN 5101 offers high-speed wireless networking up to 300 Megabits per second (Mbps). According to the company, the radio's Cluster Management technology facilitates wireless network management; all access points in WLAN network can be configured and managed via single Web interface using any wireless access point within network.

Significantly, the FL WLAN 5101 covers a range up to four times larger than legacy Phoenix Contact WLAN radios. Therefore, a network requires fewer access points, which reduces infrastructure costs. When incorporated with the FL WLAN 5101's access point/repeater mode, the new radios make it easier and more cost-effective to cover larger areas contends the company.

"The new FL WLAN 5101 is just 40-mm wide in a metal housing, saving valuable space on the DIN rail," said a company spokesperson. "The data and antenna ports are conveniently placed on the top and bottom of the housing, so that issues with clearance to close the enclosure door are no longer a problem."
More products: Phoenix Contact adds 1300 nm media converters