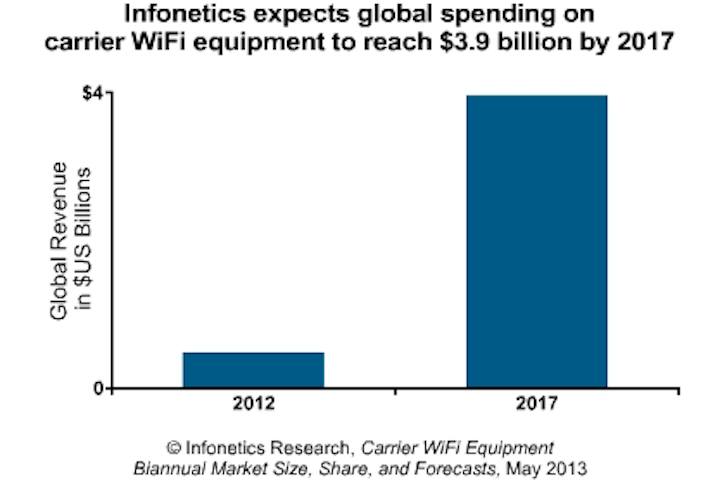 Infonetics Research has released excerpts from its latest Carrier WiFi Equipment report, which tracks WiFi equipment deployed by operators in public spaces for wireless Internet access. The global carrier WiFi equipment market is forecast by Infonetics to top $3.9 billion by 2017, primarily driven by mobile operators deploying carrier WiFi for data offload.

"The Carrier WiFi space is red hot right now, driven by the explosion in demand from mobile operators using WiFi to augment their 3G/4G deployments and offload a portion of mobile data traffic to unlicensed spectrum," reveals Richard Webb, directing analyst for microwave and Carrier WiFi at Infonetics Research.

"Mobile operators by and large have held WiFi at arm's length, fearing that it could cannibalize their opportunity to derive data revenues," Webb continues. "Now operators are embracing WiFi to offload excess data and enhance the broadband experience for users. For the long-term success of carrier WiFi, though, integration with the mobile network is key."

Related: Small cell market forecast to hit $2.7B by 2017

According to Infonetics, Carrier WiFi equipment revenue, including carrier WiFi access points and WiFi hotspot controllers, jumped 53% worldwide in 2012 from 2011. Perennial market leader Cisco again led carrier WiFi revenue share in 2012, followed by Ruckus Wireless and Ericsson; all 3 vendors achieved notable year-over-year growth.

The report notes that dual mode cellular/WiFi access points began shipping in 2012 and are expected to undergo significant growth as more and more mobile operators build out carrier WiFi networks. While all world regions are experiencing robust demand for carrier WiFi, the Asia Pacific region -- especially China, Indonesia and India -- is forecast be the strongest driver of growth through 2017.

Vendors tracked in the new report include 4ipnet, Airspan, Alcatel-Lucent, Alvarion (Wavion), Aptilo, Cisco, Aruba Networks, Edgewater Wireless, EION Wireless, Ericsson (BelAir Networks), GoNet Systems, Huawei, Motorola, Nokia Siemens Networks, Ruckus Wireless, ZTE, and others.
"Mobile operators are in the midst of a land-grab, rapidly claiming prime small cell locations by deploying carrier WiFi and then later replacing the WiFi access points with dual mode 3G/WiFi and LTE/WiFi small cells," concludes Infonetics' Webb.
Learn more about the report here.

Related: $5 billion opportunity seen in outdoor small cell backhaul