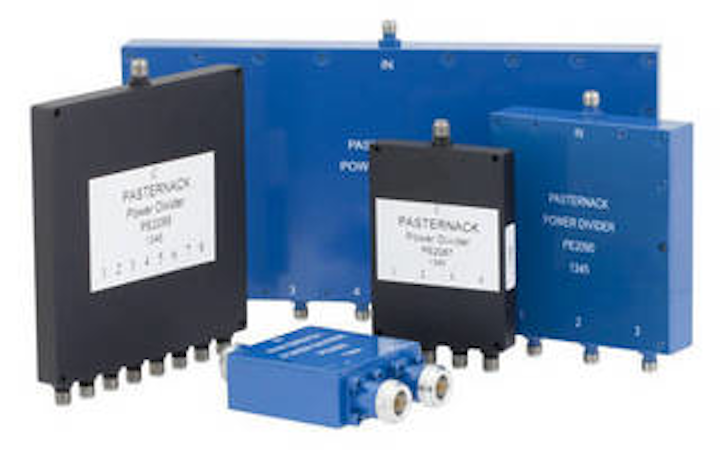 Pasternack Enterprises, Inc. (Irvine, CA), a manufacturer and supplier of RF and microwave products, has introduced its new line of Wilkinson power dividers (i.e. power splitters). These multi-octave power dividers cover popular communications bands from 0.5 to 2.7 GHz including 3G and 4G, plus Wi-Fi bands, and are suited for applications such as in-building distributed antenna systems (DAS) or test environments.

Pasternack is offering two Wilkinson designs covering 0.5 to 2 GHz and 0.7 to 2.7 GHz bands. The 0.5 to 2 GHz band power dividers utilize SMA connectors and are available as 2-way, 4-way and 8-way configurations. The 0.7 to 2.7 GHz band power dividers are available with SMA or N connectors, and are available in 2-way, 3-way, 4-way and 8-way configurations. Both Wilkinson splitter designs provide accurate performance across their designed frequency bands, making them ideal for many wireless applications including in-building DAS.

More news: DAS seen passing $2B

Pasternack's new offering of Wilkinson power splitters consists of eleven part numbers total. Power ratings for the group range from 10 to 30 Watts and have maximum insertion loss of 1.2 dB. Maximum VSWR is 1.4:1 and phase balance ranges between 2 and 8 degrees. Each of the eleven new power dividers meets MIL-STD-348 standards and is RoHS compliant. "These new Wilkinson power dividers complement our breadth of RF power dividers and couplers, expanding our offering of options from 2 MHz to 50 GHz," comments Gerry Camacho, VP of technical marketing at Pasternack.

The new lines of Wilkinson power dividers from Pasternack are in-stock and available now. Learn more.