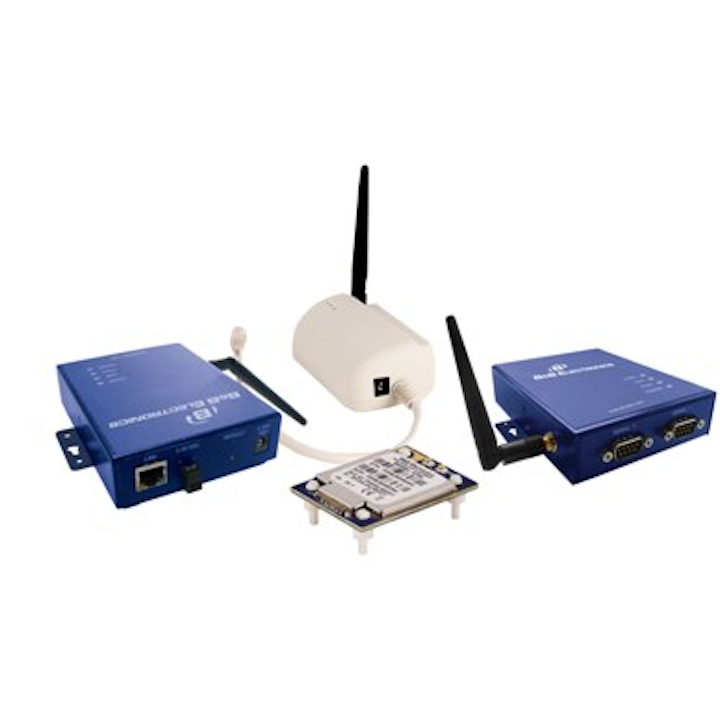 New-generation, dual-band WiFi technology from B&B Electronics, called the Airborne M2M platform, provides "secure, dual-band WiFi connectivity to rugged and mission-critical M2M networks," the company said when announcing the platform's introduction. "With dual-band [2.4- and 5-GHz] support and robust, enterprise-class security options, Airborne M2M is designed to enable integrators, VARs and OEMs to reduce the risk of obsolescence as enterprises both upgrade their security policies, and increasingly migrate their WiFi infrastructure to the 5-GHz band," B&B added. The company said the products feature industrial-strength packaging and a temperature range from -40 to +85 degrees Celsius.
"The WiFi connectivity technology is useful for rugged, mission-critical applications that need both Ethernet connectivity and wireless mobility, such as transportation vehicles [forklifts in warehouse shipping/receiving], mobile printers [rental car companies], medical [hospital patient monitoring systems, nurses' stations] and more," B&B said.
The technology is available in several forms, including a full line of industrial WiFi access points and clients—including Ethernet bridges, Ethernet routers and serial servers. These products "can seamlessly connect most any equipment—RS-232, 422, 485, Ethernet 10/100-Mbit and I/O—to the WiFi network," the company stated, adding that power options for these products include 5-36 VDC and 802.3af Power over Ethernet.
Additionally, embeddable access-point and client modules are plug-compatible with the company's previous-generation models and allow OEMs to integrate WiFi into their own M2M equipment without having to invest in WiFi engineering and certification efforts, the company emphasized. It said, "Leveraging B&B's WLNN [client] series modules with I/O flexibility enables rapid time-to-market with Ethernet, UART-based, or GPIO connectivity over WiFi." The company also offers a design-and-development kit.
Products in the Airborne M2M line are designed to handle the processor-intensive advanced encryption techniques defined for enterprise-class security that are not available on entry-level WiFi products, B&B explained. Features include network security (EAP), wireless security (802.11i and WPA2-PSK), access security (authentication and firewalls), communication security (SSH) and device security (encryption).
Also, B&B's Airborne Management Center device discovery, control and management application software, which is included with all Airborne M2M products, assists customers managing large networks.