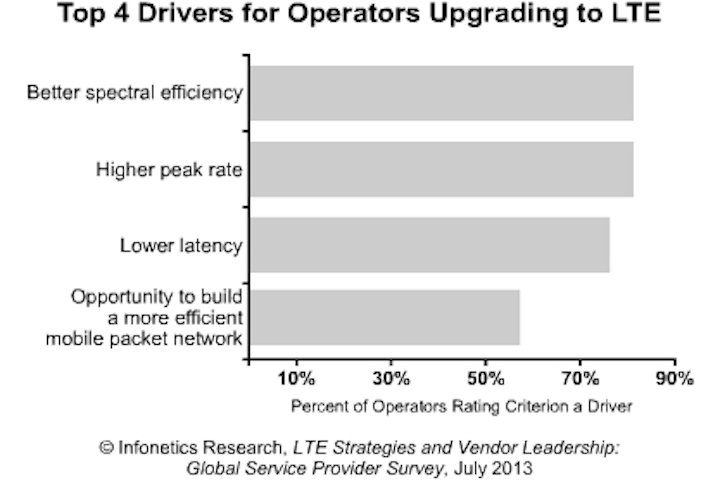 Market research firm Infonetics Research has released highlights from its 2013 LTE Strategies and Vendor Leadership: Global Service Provider Survey, for which operators were interviewed about their Long Term Evolution (LTE) network drivers, deployment plans, challenges and service offerings.

According to the survey's results, the industry is in the midst of a second wave of LTE rollouts, with a total 248 commercial LTE networks in 87 countries anticipated by the end of 2013. The report states that LTE-Advanced technology is gearing up for 4G prime time, with the 1st commercial deployment launched in June 2013 by SK Telecom.

See: Verizon exec predicts broadcast video-over-LTE by 2014

"Installing the access leg of an LTE network or E-UTRAN is going smoothly for many of the operators we interviewed for our latest LTE study, though voice migration to LTE and LTE roaming have emerged as major issues in the core. So don't expect a massive 2G/3G network shutdown anytime soon," advises Stéphane Téral, principal analyst for mobile infrastructure and carrier economics at Infonetics Research.

However, the survey found that heterogeneous solutions comprising macrocells, microcells, picocells and metrocells are gaining momentum for both 3G and LTE networks. Operator respondents rate Ericsson, Huawei and NSN as the top LTE equipment manufacturers, with Alcatel-Lucent close behind.

Related: 4G LTE deployments stall?

Téral adds, "Meanwhile, 'increasing ARPU' was among the top LTE upgrade drivers in our 2012 LTE survey, but it fell back this year. The ARPU boost was short-lived, suggesting that mobile operators need to charge a premium to recoup the cost of their LTE network investment."

For its 2013 39-page LTE survey, Infonetics interviewed purchase-decision makers at 21 mobile, incumbent and competitive operators from EMEA (Europe, Middle East, Africa), Asia Pacific, North America and Latin America that have deployed LTE or plan to trial or deploy it by 2014. Infonetics asked service providers about their LTE network build-out plans; deployment migration scenarios; challenges; technical and commercial drivers; LTE services, features and devices; and suppliers. The operators participating in the study represent 41% of the world's telecom capex and 36% of the world's telecom carrier revenue.
Learn more about the survey at Infonetics Research.

More analysis: Wi-Fi seen trumping LTE , small cells in operator networks