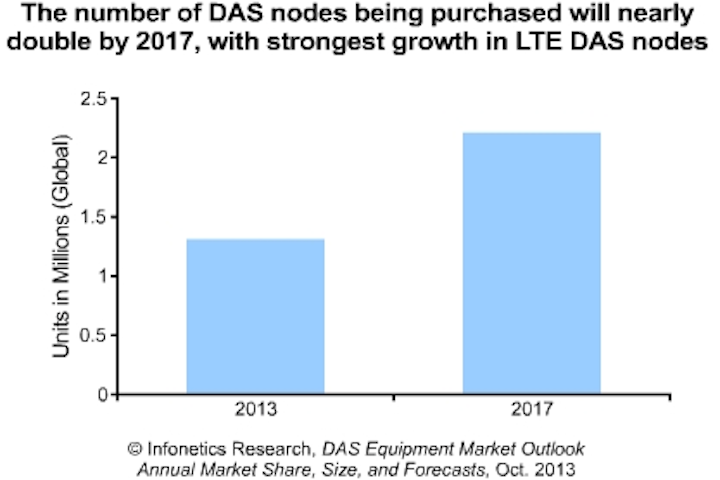 Infonetics Research has released highlights from its new DAS Equipment Market Outlook. According to the report, over 1 million DAS nodes were shipped in 2012, sending worldwide DAS revenue to $1.9 billion—an increase of 4% over 2011.

The new report tracks and forecasts distributed antenna system (DAS) equipment units and revenue by geographic region and category (in-building, LTE, multi-standard, outdoor). Fundamental drivers for deploying DAS include coverage, capacity, spectrum efficiency, interference mitigation, data support, scalability, and adaptability are covered.

The research finds that sports and entertainment stadiums make up the bulk of the DAS business and are considered in-building or indoor DAS; somewhat surprisingly, outdoor DAS is a niche market, adds the analyst.

See also: High-density antennas optimize Wi-Fi for large venues

"DAS first became commercially viable in the late 1980s with the advent of optical fiber installed as a transport medium. Since then, the DAS business has been brisk with its lot of boom and bust, growing into a multi-billion dollar market crowded with a flurry of vendor specialists," explains Stéphane Téral, principal analyst for mobile infrastructure and carrier economics at Infonetics Research.

The U.S. and China are identified as the world's largest DAS markets and are expected to remain so through at least 2017 due to the number and size of their stadiums, convention centers, and transportation stations and ports.

"And contrary to all the hype and buzz surrounding small cells, the need for DAS is not going away anytime soon! In fact, most service providers have already included DAS as a key component of their future 'small cell' mobile network expansion plans," continues Téral.

More coverage: 6 key advantages to using DAS

DAS revenue represents just 5% of the total mobile infrastructure market. U.S.-based CommScope is seen leading the global DAS market with 17% market share, followed by Hong Kong–headquartered Comba.

Teral concludes, "With no signs of abating over the next 5 years, we believe global DAS revenue will grow at a CAGR of 3% from 2012 to 2017 and DAS node shipments will double, driven by a combination of coverage and capacity improvements in specific venues."

Infonetics' DAS equipment market outlook report provides worldwide and regional market size, market share, forecasts through 2017, analysis, and trends for distributed antenna system (DAS) equipment. The report tracks DAS node units and DAS revenue by category (in-building, LTE, multi-standard, outdoor) and includes a Mobile Operator DAS Strategies Tracker. The report tracks equipment made by Axell Wireless, Comba Telecom Systems Holdings, CommScope, Corning Mobile Access, Ericsson, Kathrein-Werke KG, NSN, Optiway, PowerWave Technologies, Solid Technologies, TE Connectivity, Zinwave, and many others.Learn more.