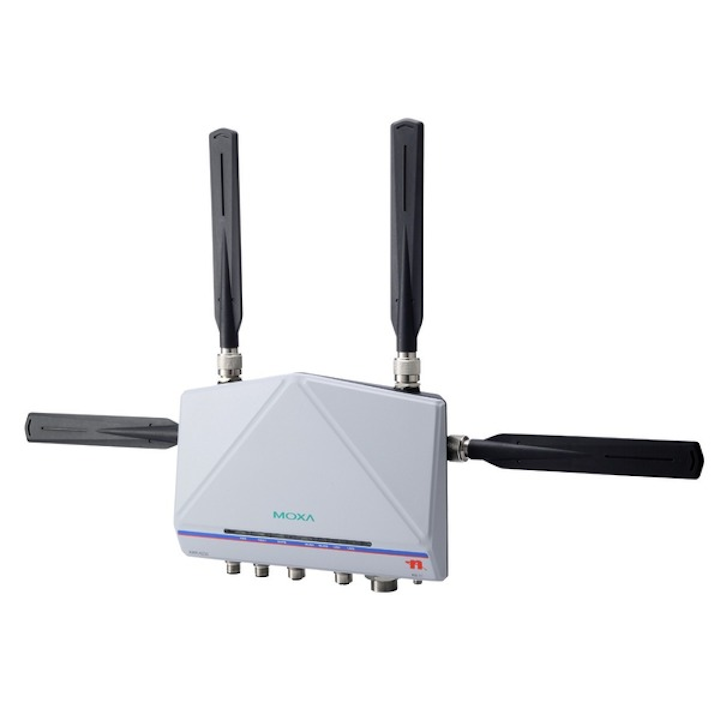 Moxa is meeting the growing need for faster wireless transmission speeds and wider coverage for industrial networks with its new AWK-6232 wireless access point/bridge/client, which allows outdoor networks to scale to higher bandwidth demand while providing maximum availability.

Especially intended for hard-to-wire outdoor locations, the AWK-6232 delivers a net data rate of up to 300 Mbps and supports IEEE 802.11n technology, assuring dependable, high-speed wireless connectivity. Further, the AWK-6232 eliminates costly interruptions in WLAN transmissions via its dual 2.4/5 GHz RF modules that permit two independent wireless connections over different frequencies. Moxa says that these dual modules make zero wireless packet loss possible and qualify the AWK-6232 for deployments where devices must meet the most stringent EMC and noise immunity requirements.

Related: Concurrent dual-radio architecture combats interference in industrial WLANs
Because industrial and outdoor applications expose network devices to extreme heat and cold, moisture, corrosive liquids, and shock, Moxa housed the AWK-6232 inside an IP68-rated metal enclosure complete with waterproof/dustproof M12 (anti-vibration) RJ45 connectors. This feature set is compliant with the essential sections of EN 50155, covering operating temperature, power input voltage, surge, ESD and vibration resistance.
"Anyone who has suffered download delays or interruptions on an outdoor wireless network should welcome the AWK-6232, our top-of-the-line, high-bandwidth outdoor wireless solution," asserts Ariana Drivdahl, Industrial Wireless product marketing manager for Moxa. "Our goal is to expand outdoor and industrial wireless network availability and provide the most consistent, high-quality user experience."

Moxa recently published a guidebook to industrial wireless technology, entitled From Wired To Wireless: Things You Need To Know, which can be downloaded for free at: www.moxa.com/Event/IW/2013/wireless_guidebook/Index.htm.

Search for Wireless Access Points in our Online Buyer's Guide