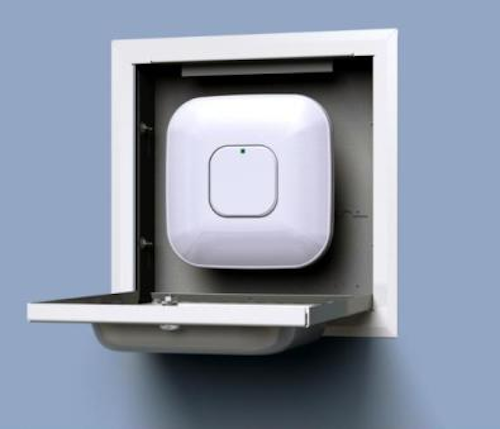 The Model 1076 and 1078 are the newest additions to Oberon Inc.'s line of enclosures designed to secure multimedia gateways like Apple TV or wireless access points. These enclosure mounts secure the APs or gateways without degrading wireless or IR signal coverage, Oberon explains. They are made for use in recessed walls or hard-lid ceilings.
The Model 1076 is a locking, recessed-wall or hard-ceiling insert designed to secure wireless access points and other components, Oberon says, while satisfying UL criteria for heat and visible smoke release in air-handling spaces. Access-point-vendor-specific doors are available.
The image at the bottom of this screen shows the 1076 housing Cisco's 3500i access point.
Installation of the 1076 requires a square opening to be cut into the wall or ceiling. The enclosure has a 15-inch square, powder-coated beveled flange. The Model 1078 series has a perimeter "mud ring," such that the enclosure backbox can be finished into the wall, revealing only the door. Both enclosures are 3 inches deep, allowing them to be installed in just about any wall or ceiling, Oberon explains. Each enclosure is retained in place by two wall bridges, which are included.
As with other recent offerings from Oberon, these enclosures are available with a choice of doors for the same backbox. The company says this option makes the enclosure "highly configurable" and also that it "aids in the migration to new wireless access points or multimedia gateways. This aesthetic, white powder-coat steel enclosure is available with a white ABS plastic lid to conceal a wireless access point [in the 1076-WA] or a clear polycarbonate dome [in the 1076-CP]," Oberon further explains. "Both covers are virtually transparent to wireless signals, and the clear dome allows the use of IR remotes for enclosed multimedia devices. Additional doors have been designed specifically for mounting and securing Cisco [1076-CCOAP] and Aruba Networks [1076-AP135] access points securely and aesthetically."
Enclosure doors from Oberon are interchangeable, simplifying future equipment upgrades, the company adds.