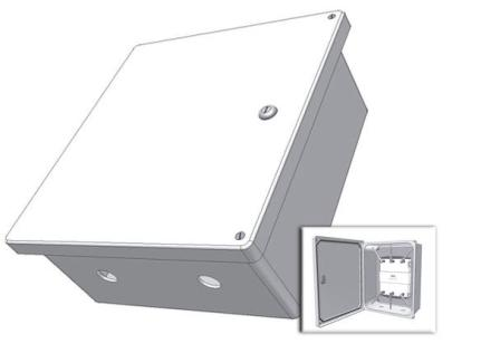 The Model 1025-00 wireless access point enclosure from Oberon Inc. is made of fiberglass and constructed in accordance with NEMA-4. The company says the product is rugged yet aesthetic, and this combination enables network designers to place wireless access points anywhere they are needed, because the Model 1025-00 provides the protection necessary to ensure wireless-system performance outdoors and in other challenging environments.
Oberon explains that the 1025-00's locking cover offers physical security while, like other Oberon access-point enclosures, it is essentially invisible to RF signals and therefore does not provide an interference problem for the access-point antennas stored within it. The company also explains that NEMA, the National Electrical Manufacturers Association, rates enclosures according to their ability to protect against hazards like falling objects, water, ingress, and the formation of ice. The Model 1025-00, Oberon says, is designed to meet NEMA 1, 2, 4, 4X, 12 and 13 specifications as well as IP65. It is also UL-listed, and tested to UL508-4X requirements. Two holes in the bottom of the enclosure accommodate data and power cables. When properly sealed, the 1025-00 is NEMA-4-rated for outdoor use.
The ability to protect wireless access points outdoors and in other environments that is tough on network equipment, is becoming more essential, according to Oberon. The company explains, "As data use continues to rise sharply, cellular providers are expected to continue to offer wireless capabilities as means to reduce the load on their networks. Network designers face enormous challenges in planning and implementing networks to address growing wireless demand throughout larger areas than ever before. Often, this demand exists in environments that put valuable networking equipment at risk, such as outdoors."
You may also be interested in this related article, WiFi offloading, cell-phone battery drain, and dual-band access, by Oberon's president Scott Thompson.