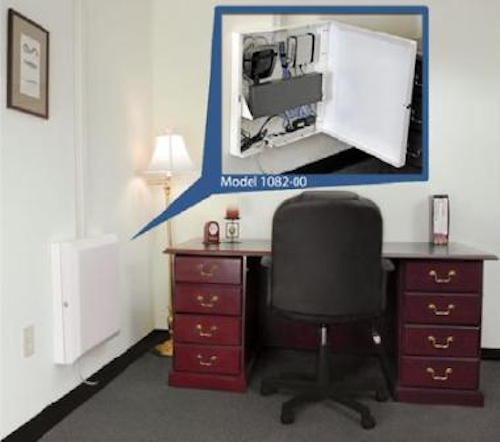 The Home and Office Network Cabinet from Oberon Inc. is a wall-mounted cabinet that orgnanizes network components. It provides a means of stowing and interconnecting broadband modems, wireless routers, small network switches, power strips, network storage, external hard drives and other network components.
"Aesthetics were a major consideration for this project," explained Oberon president and chief engineer Scott D. Thompson. "The typical office has a variety of components sitting around taking up space. This vital equipment is vulnerable to dust, spills, being knocked over, and someone simply walking away with them. The Home and Office Network Cabinet protects those components behind a locking door while at the same time making them basically disappear from view."
The cabinet's door is made of impact-resistant ABS plastic that is designed to be virtually transparent to wireless signals. The white enclosures accept wall paint, and Oberon can produce custom enclosures in any decor-matching color for orders over 50 units. The cabinet measures 22x22 inches and 4 inches deep with a steel black-box. Adjustable shelves, hook-and-loop strips and tie-downs give the user flexibility to mount equipment in a wide variety of configurations. A power strip can be placed directly inside the enclosure, further reducing visual clutter wtihin an office. Ethernet switches and other equipment can be mounted directly in the space where they are needed.
Mounting the unit to the wall takes just minutes, Oberon says, adding that the enclosure's 4-inch profile makes it appropriate for mounting just about anywhere.
The Oberon Home and Office Network Cabinet has an MSRP of $180. It is available directly from Oberon and through the company's partners.