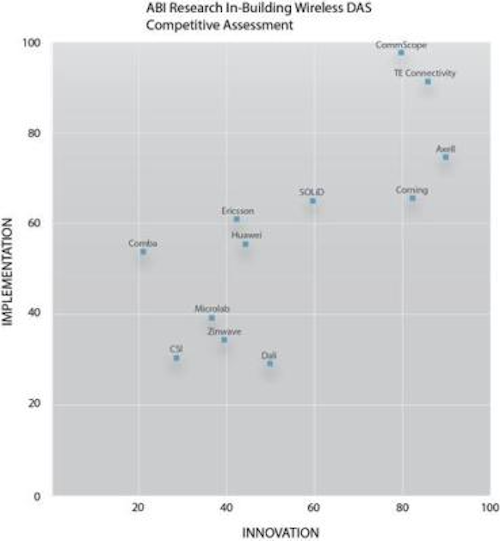 ABI Research has updated its DAS Vendor Competitive Assessment, and puts CommScope at the top of the heap. "CommScope reached the top spot" in the latest refresh, ABI said, "and is closely followed by TE Connectivity, Axell, and Corning." The assessment takes into account both innovation and implementation of distributed antenna systems. The researcher added, "With Axell and SOLiD now joining the ranks of the top five DAS vendors since our last assessment, together these top five vendors now account for more than half of the market, according to our estimates."
When we reported on ABI's competitive assessment in August 2012, Corning ranked first, followed CommScope and TE Connectivity.
This time around, CommScope ranked near 100 on the Implementation axis and at 80 on the Innovation axis. "Axell was our most innovation company thanks to idDAS (Intellilgent Digital DAS)," ABI stated, "which represents a significant change in DAS technology and offers DAS owners and operators significant capex savings.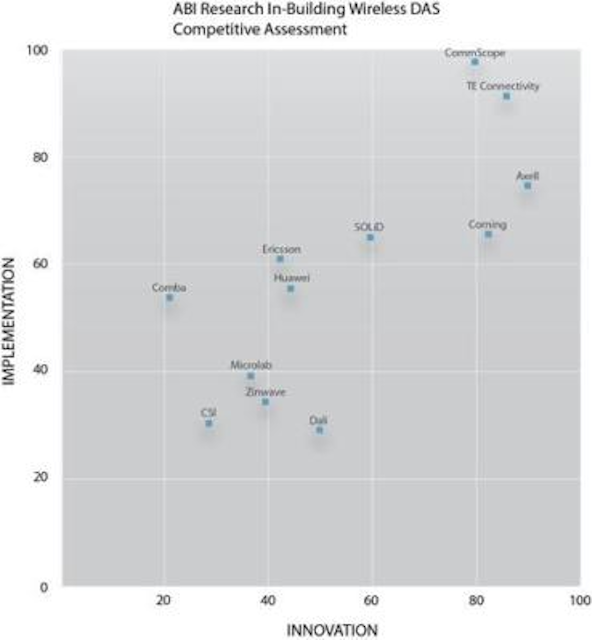 "TE Connectivity was our second choice for the most-innovative vendor thanks to high scores across all criteria as demonstrated by its recent announcement with Alcatel-Lucent on CPRI interfaces between Alcatel-Lucent's mobile Ultra-Broadband access portfolio and the TE FlexWave DAS, and its introduction of the FlexWave AIP all pointing to a highly innovative DAS roadmap," ABI continued.
About Corning, the researcher added that the vendor "was third on our list of the most-innovative DAS vendors for its small cell and hetnet support thanks to the CorningONE platform and its MobileAccess portfolio."
Commenting about the vendors' implementation performance, ABI said, "CommScope scored the top result thanks in large part to its global presence and legacy business in North America and a significant European footprint. We believe that CommScope is the DAS market leader in the U.S. and among the leaders in Europe."
"TE Connectivity was our second choice in the implementation category, again driven by market share and geographic penetration. Our third choice in the implementation category is Axell, which is the largest DAS vendor in Europe and a global leader in public-safety and transportation systems, and a growing presence in North America. With financial and technical backing from its parent Cobham, we expect Axell to continue to challenge for the top spot."
ABI principal analyst Nick Marshall characterized the DAS equipment market as "hyper competitive," adding, "Since we last published a competitive assessment in 2012 there have been several changes to the vendor ecosystem with exits, divestitures and acquisitions. Since we expect the North American market for DAS to grow rapidly it becomes the battleground for market share and innovation for modern DAS systems."