Outdoor-mounted wireless saddle bracket shields smart meter radios
New from Ventev Wireless Infrastructure.

Aug 29th, 2014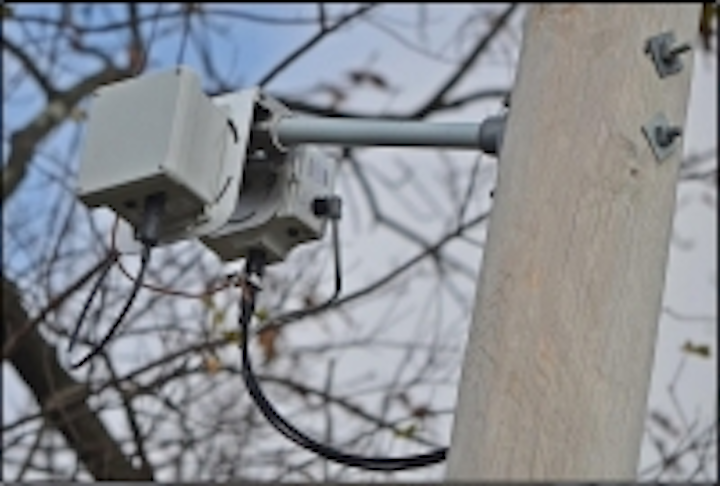 Ventev Wireless Infrastructure, a division of Tessco Technologies (NASDAQ: TESS), has announced Ventev's Wireless Solutions Saddle Bracket, designed specifically for use the with the leading wireless radios used in smart meter upgrades. The bracket's adjustable "saddle" design fits over existing poles with diameters up to 2 3/4 inches to co-locate components such as a battery and antenna with the radio. The bracket is also available to purchase with the pole included. A slotted mounting plate enables precise equipment installation for optimum coverage.

Ventev says the new mount was engineered for, and field-tested by, major utilities for efficient, cost-saving and uniform deployments of radios used in smart meter upgrades across the country. Constructed of durable, rust- and weather-resistant aluminum with Iridite coating, it is suitable for deployment in even the harshest environments. The bracket includes pre-drilled holes for grounding lugs to reduce installation time, and a carriage bolt for increased stability.

The Ventev Saddle Bracket was originally custom-designed for a major utility company performing smart meter upgrades throughout the Northeast U.S, reveals a company press release. "We received excellent feedback from that deployment," says Jeff Lime, vice president of Ventev Wireless Infrastructure. "The ability to co-locate all the components needed with the radio facilitated efficient, cost-saving and uniform deployments. As a result, we developed a universal, off-the-shelf saddle bracket for use by all utility companies."

Source: Utility Products