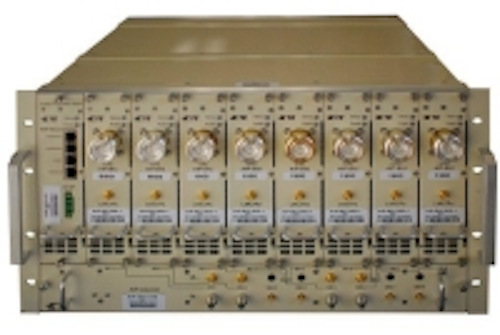 TE Connectivity (NYSE: TEL) has introduced its FlexWave Active Integration Panel (AIP), a product that provides multi-carrier, multi-protocol connectivity between mobile operator base stations (BTS) and distributed antenna systems (DAS). The FlexWave AIP is billed as an integrated BTS-to-DAS interface solution that takes the guesswork and expense out of system commissioning and maintenance. According to TE, the FlexWave AIP slashes deployment time and costs, improves system configuration flexibility, and enables remote monitoring and control of base station power coming into a DAS.

TE contends that many BTS-to-DAS interface solutions are designed with a variety of multiple passive products filling up multiple racks of equipment in telecom rooms. There is extensive cabling connecting these products making adds and changes to the system difficult. Using a variety of components can also introduce RF performance passive intermodulation (PIM) issues, because the components are usually sourced from multiple vendors, and may not be designed to work together. The FlexWave AIP solves these issues by providing a simple, compact, low PIM interface that enables BTS signal splitting and combining, automatic power leveling, and remote and local monitoring and control.

See also: Intelligent platform bridges BTS , DAS connections

The FlexWave AIP is a rack-mountable unit that supports up to eight BTS TX/RX inputs, so it is ideal for connecting multiple BTS in a multi-operator or neutral host application. The FlexWave AIP handles BTS power levels up to 100 Watts. As a member of the FlexWave product family, the AIP is compatible with DAS products from TE Connectivity; it can also be used with other vendors' DAS offerings. The FlexWave digital DAS solutions provide indoor and outdoor mobile wireless coverage and capacity for urban areas, suburban areas, large public venues, campuses, transit systems and office buildings. The AIP will allow small cell networks in any of these areas to be designed, installed and managed more efficiently.

"FlexWave AIP takes the guesswork, complexity, and cost out of integrating multiple BTS in a DAS deployment," comments Tony Lefebvre, director of product management of TE's Wireless business unit. "With this new addition to the FlexWave family, we continue to simplify DAS deployment, delivering remotely-monitored control of BTS power levels in a compact system."
TE will showcase the FlexWave AIP at the Mobile World Congress in Barcelona, Spain, from February 24-27, 2014 in booth 6B52.

More news: TE Connectivity's DAS products deployed to NBA, NHL arenas