Report: China, U.S. vie for distributed antenna system (DAS) market dominance
China bounces back in distributed antenna system (DAS) market, U.S. sees double-digit growth, according to Infonetics Research.
Nov 4th, 2014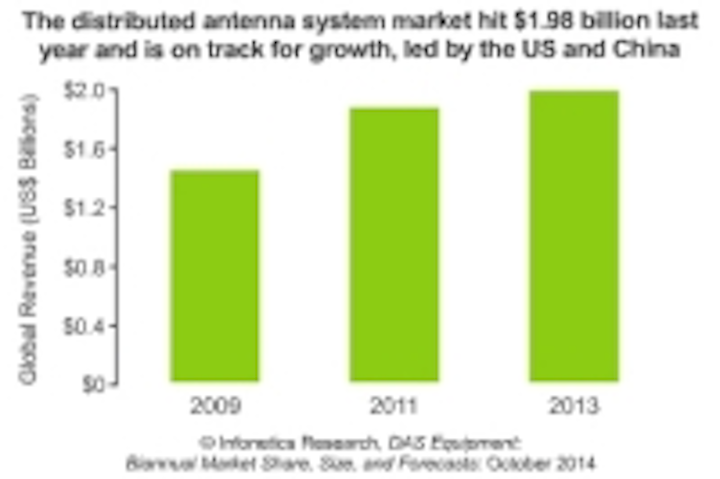 Infonetics Research has released its latest DAS Equipment report, which tracks and forecasts distributed antenna system (DAS) equipment units and revenue by geographic region and category, including in-building, outdoor, LTE, and multi-standard deployments.

"In the distributed antenna system market, it's a U.S. versus China game," explains Stéphane Téral, principal analyst for mobile infrastructure and carrier economics at Infonetics Research. "Last year, China was marked by [an unexpected] slowdown in DAS spending as it was preparing for massive LTE deployments, but the first half of 2014 saw a slight pickup that suggests the shift from LTE coverage buildout to coverage and capacity enhancement is starting."

According to Infonetics, the global distributed antenna system (DAS) market totaled $1.1 billion in the first half of 2014 (1H14), growing 11% over the same period a year ago (1H13). The new report states that, in North America, DAS revenue grew 19% year-over-year in 1H14."The U.S. has reached its DAS spending peak for LTE coverage and capacity enhancement, posting double-digit year-over-year growth during the first half of 2014 and signaling an upcoming slowdown," adds Téral.

Market share leaders in the DAS market are, in alphabetical order, Axell Wireless, CommScope, Corning Mobile, and TE Connectivity, reports Infonetics. The new research adds that fundamental DAS drivers remain unchanged, and include coverage, capacity, spectrum efficiency, interference mitigation, data support, scalability, and adaptability.