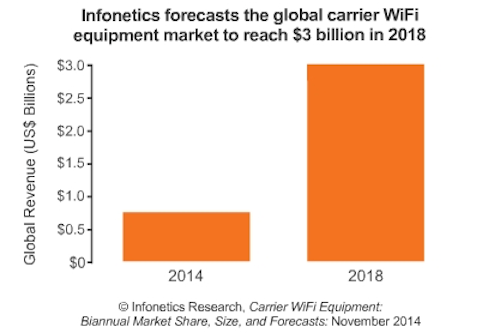 Infonetics Research has released highlights from its latest Carrier Wi-Fi Equipment report, which tracks Wi-Fi equipment deployed by mobile operators in public spaces for wireless Internet access.

The report reveals that the global Carrier Wi-Fi equipment market (carrier Wi-Fi access points and Wi-Fi hotspot controllers) totaled $527 million in 2013, a gain of 9% from the previous year, driven in part by the deployment of small cells with integrated Wi-Fi. "The carrier Wi-Fi market has seen a dynamic injection of growth in the last couple of years, driven by fixed and mobile operators seeking to extend and enhance their broadband subscription services," notes Richard Webb, directing analyst for mobile backhaul and small cells at Infonetics Research.

Cisco, Huawei, and Ruckus Wireless (listed in alphabetical order) were the Carrier Wi-Fi market share leaders in 1H14, states Infonetics. In the first half of 2014 (1H14), Carrier Wi-Fi equipment revenue reached $286 million, finds the report, up 6% from the second half of 2013 (2H13). Notably, 802.11ac access points contributed 11% to 1H14 Wi-Fi access point revenue and are expected to see rapid adoption in the coming years.

"The push for service augmentation and upgrade to the 802.11ac standard, combined with the opportunities presented by Hotspot 2.0, voice over Wi-Fi (VoWi-Fi), and network functions virtualization (NFV) to derive new service models, will drive the carrier Wi-Fi market to $3 billion in 2018," Webb adds. The new report explains how evolution of network functions virtualization (NFV) offers the opportunity for more cost effective Wi-Fi service delivery by a range of service providers as well as enterprises and other organizations with existing Wi-Fi (or wireless LAN) deployments.

Learn more about the report.