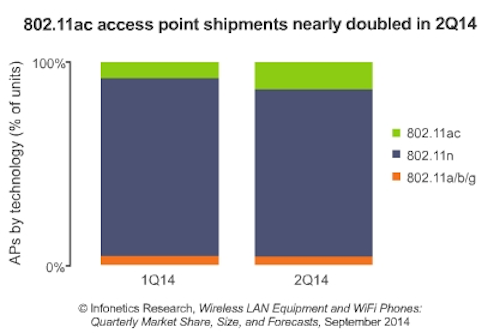 Infonetics Research has issued its 2nd quarter 2014 (2Q14) Wireless LAN Equipment and WiFi Phones report, which tracks enterprise access points, wireless LAN (WLAN) controllers, and WiFi phones.
The report states that global wireless LAN (WLAN) equipment sales totaled $1.2 billion in 2Q14, up 13% sequentially, and up 4% year-over-year. Significantly, Infonetics finds that 802.11ac access point penetration has nearly doubled every quarter, and is starting to cannibalize the 802.11n market. However, while access point shipments are up by a third year-over-year in 2Q14, the data finds that controller revenue is down 5% in 2Q14 from the year-ago 2nd quarter. Notably, WiFi phone revenue was also shown to be down again in 2Q14, declining 1% quarter-over-quarter and 15% year-over-year.

"Despite access point shipments reaching record levels, revenue growth in the WLAN market has been relatively weak so far this year due to temporary declines in service provider and K–12 spending, 802.11ac failing to lift average selling prices, and the rise of lower-cost solutions, including controller-less approaches," comments Matthias Machowinski, directing analyst for enterprise networks and video at Infonetics Research. Machowinski adds, "That said, we expect the WLAN equipment market to accelerate in 2015 as spending by service providers and education comes back, 802.11ac reaches critical mass, and Wave 2 products enter the market."

Infonetics' quarterly WLAN equipment report provides worldwide and regional market size, vendor market share, forecasts through 2018, analysis, and trends for WLAN infrastructure, including access points by type and technology, WLAN controllers, and enterprise single-mode WiFi phones. Vendors tracked include Aerohive, Alcatel-Lucent, Aruba, Brocade, Buffalo, Cisco, D-Link, Extreme, Juniper, Meru, Motorola, Netgear, HP, Huawei, Ruckus, Spectralink, TP Link, Ubiquiti, Vocera, Xirrus, and others.

Learn more about the report.