Millimeter wave antennas handle 60GHz signals at 1km
Pasternack's WR-15 waveguide antennas operate from 50 GHz to 70 GHz.
Jun 4th, 2014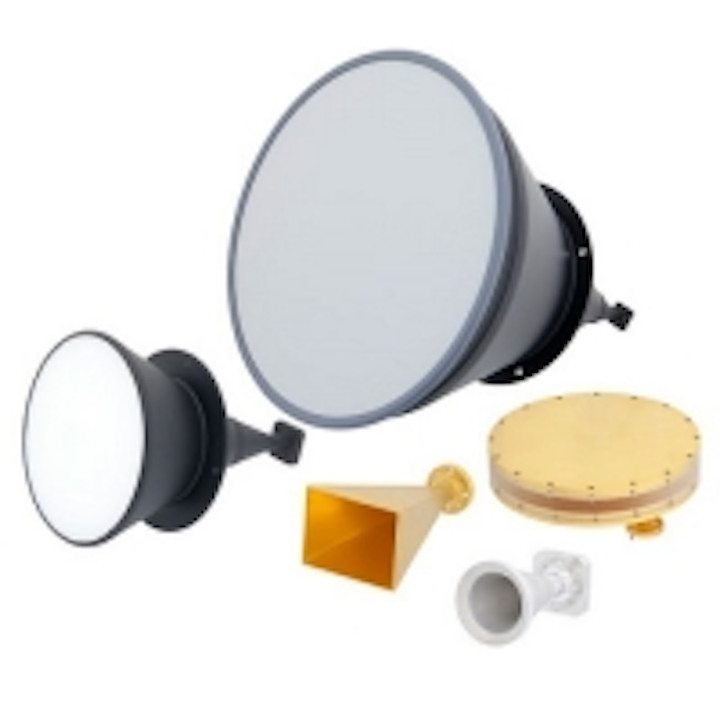 Pasternack Enterprises (Irvine, CA), a manufacturer and supplier of RF, microwave and millimeter wave products, has released its WR-15 family of high frequency waveguide antennas, designed for a range of high-bandwidth applications including point-to-point links, Gigabit Ethernet wireless LANs, millimeter radiometry, uncompressed HD video, FMCW radar, millimeter scintillometry, campus networks, and multi-gigabit wireless communications.

Offered in the new product release are the four high gain WR-15 horn antennas operating between 50 GHz and 70 GHz and available in 20 dBi, 24 dBi, 34 dBi and 42 dBi gain models. Pasternack's WR-15 waveguide horn antennas are designed to pair seamlessly with the company's recently added 60 GHz transmit/receive development system (PEM003-KIT), which enables companies to experiment and develop applications in the globally-unlicensed 60 GHz frequency band.
Using two of Pasternack's WR-15 beam antennas rated to 42 dBi gain (PE9881-42), a user is able to transmit and receive a 60 GHz signal at a distance of one kilometer (km), making these antennas an ideal solution for high frequency point-to-point backhaul.

Related product: Multi-octave power dividers target in-building DAS

Also available now, Pasternack's new omni-directional millimeter wave antenna (PE-W15A001) is a vertically polarized WR-15 waveguide connected antenna using a standard UG387/U flange that operates between 58 GHz and 63 GHz. This omni-directional millimeter wave antenna has a 30 degree vertical beam width and a 360 degree horizontal gain variation, making it suitable for short range wireless communications, indoor networks, high frequency applications and 60 GHz development systems. The millimeter wave omni-directional antenna is constructed with a durable brass waveguide input and light-weight aluminum body.

"The addition of these 60 GHz WR-15 antennas is a great complement to our growing lines of millimeter wave products that help address the emerging markets around 60 GHz technology," comments Gerry Camacho, vice president of technical marketing at Pasternack. For additional information, visit www.pasternack.com/pages/Featured_Products/60-GHz-WR-15-Antennas.htm.

Related product: RF power splitters suit 10G Ethernet, fiber-optic systems