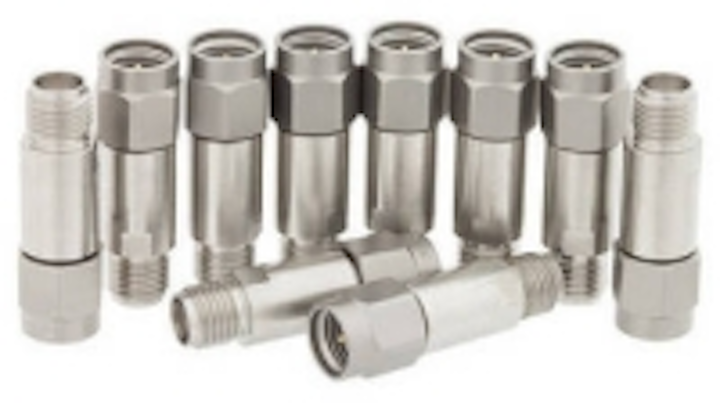 Pasternack Enterprises, Inc. (Irvine, CA), a manufacturer and supplier of RF, microwave and millimeter wave components, has announced its new line of 2 Watt, 40 GHz attenuators (part number PE7395-xx). The high frequency, millimeter wave attenuators are designed for applications requiring reliable broadband performance ranging from DC to 40 GHz (Ka microwave band).

According to Pasternack, the new 40 GHz fixed attenuators are designed with 2.92mm connectors and allow input power of 2 Watts. The range of broadband, high frequency attenuators are available from 0 to 20 dB attenuation depending on model. The attenuation value is denoted by the number following the hyphen in the Pasternack part number.

The 2.92mm attenuators are intended for use in many RF-related applications including test labs, research facilities, military electronics, telecommunications equipment, security devices, production line testing and others. A total of 14 new 40 GHz, 2 Watt attenuators have been added to the company's already expansive range of millimeter wave products. The company notes that the RF attenuators are constructed with passivated stainless steel bodies and Beryllium Copper (BeCu) contacts, meaning they are designed to withstand continued use in demanding environments.

"Our new line of 2 Watt, 40GHz attenuators is a great addition to our vast offering of millimeter wave products," comments Gerry Camacho, VP of technical marketing at Pasternack Enterprises. "This new line of high frequency, broadband attenuators helps us answer the industry's increasing demand for millimeter wave products."

All of the broadband, 40 GHz millimeter wave attenuators are in-stock and available to ship from Pasternack now. Learn more.

Related product:Millimeter wave antennas handle 60GHz signals at 1km